This Crockpot Chicken and Rice is a delicious gluten-free recipe. With a prep time of 15-20 minutes and the slow cooker doing the work, there's minimal effort for maximum flavor. Let the tender chicken, aromatic rice, and savory vegetables simmer together, creating a comforting and satisfying meal. Whether you choose the low or high setting, in 2-5 hours, your Crockpot Chicken and Rice will be ready to serve, making it a perfect option for a hassle-free and delightful gluten-free dinner.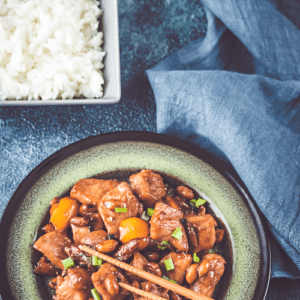 Crockpot Chicken and Rice – Gluten Free
Ingredients
1.5 lbs boneless, skinless chicken thighs or breasts
1 cup long-grain white rice uncooked
1 medium onion finely chopped
3 cloves garlic minced
1 red bell pepper diced
1 cup frozen peas
1.5 cups gluten-free chicken broth make sure it's labeled gluten-free
1/4 cup gluten-free soy sauce or tamari for a gluten-free alternative
1 tablespoon olive oil
1 teaspoon dried thyme
1 teaspoon dried oregano
1/2 teaspoon paprika
Salt and pepper to taste
Fresh parsley chopped (for garnish)
Instructions
In a skillet over medium-high heat, add the olive oil. Brown the chicken thighs or breasts for 2-3 minutes on each side until they get a nice golden color. Remove the chicken and set it aside.

In the same skillet, add the chopped onion, minced garlic, and diced red bell pepper. Sauté until the vegetables are tender and lightly browned.

In your crockpot/slow cooker, add the uncooked white rice, sautéed vegetables, and frozen peas.

Place the browned chicken on top of the rice and vegetables in the crockpot.

In a bowl, mix the gluten-free chicken broth, gluten-free soy sauce, dried thyme, dried oregano, paprika, salt, and pepper. Pour this mixture over the chicken and rice in the crockpot.

Cover the crockpot with a lid and cook on low for 4-5 hours or on high for 2-3 hours until the chicken is cooked through and the rice is tender.

Once the cooking time is complete, fluff the rice with a fork and check for seasoning. Adjust salt and pepper as needed.

Serve the Crockpot Chicken and Rice in bowls, garnished with chopped fresh parsley for a burst of color and flavor.

Enjoy your gluten-free Crockpot Chicken and Rice, a comforting and satisfying dish that's easy to make and perfect for busy days!
Nutrition
Serving: 4g | Calories: 212.2kcal | Carbohydrates: 39.8g | Protein: 3.8g | Fat: 4g | Saturated Fat: 0.6g | Polyunsaturated Fat: 0.5g | Monounsaturated Fat: 2.7g | Sodium: 4.3mg | Potassium: 132.8mg | Fiber: 1.5g | Sugar: 1.4g | Vitamin A: 1064.3IU | Vitamin C: 38.9mg | Calcium: 24.4mg | Iron: 0.9mg