This super flavorful shrimp biryani recipe incorporates peas, peppers, and star anise for added taste and texture. With a prep time of approximately 30 minutes and a cook time of around 40 minutes, you can enjoy it in just over an hour. Shrimp Biryani is a perfect meal to share with family and friends.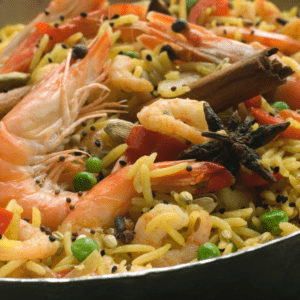 Shrimp Biryani
Gluten free shrimp biryani recipe
Ingredients
1 cup basmati rice soaked in water for 30 minutes and drained
1 lb large shrimp peeled and deveined
1 cup frozen green peas
1 large onion thinly sliced
1 bell pepper sliced
2 tomatoes chopped
1/2 cup plain yogurt
1/4 cup chopped fresh cilantro coriander leaves
1/4 cup chopped fresh mint leaves
1/4 cup fried onions store-bought or homemade
1/4 cup cashew nuts optional
3 tablespoons vegetable oil
2 teaspoons ginger-garlic paste
1 teaspoon cumin seeds
1-2 green chilies finely chopped (adjust to your spice preference)
1 teaspoon ground coriander
1 teaspoon ground cumin
1/2 teaspoon turmeric powder
1/2 teaspoon red chili powder adjust to taste
2-3 green cardamom pods
1-2 dried bay leaves
2-3 whole cloves
1-2 star anise
1 cinnamon stick
Salt to taste
2 cups water
Saffron strands soaked in 2 tablespoons warm milk for garnish
Instructions
In a large heavy-bottomed pot or Dutch oven, heat 2 tablespoons of ghee or oil over medium heat. Add the cumin seeds, green cardamom, cloves, bay leaves, star anise, and cinnamon stick. Sauté for a minute until fragrant.

Add the thinly sliced onions and cook until they become golden brown and caramelized.

Stir in the ginger-garlic paste and chopped green chilies. Cook for another minute until the raw smell disappears.

Add the chopped tomatoes, ground coriander, ground cumin, turmeric powder, red chili powder, and salt. Cook the masala until the tomatoes are soft and the oil starts to separate from the mixture.

Add the shrimp to the masala and cook for about 2-3 minutes or until the shrimp turns pink and partially cooked.

Stir in the sliced bell peppers (capsicum), frozen green peas, chopped cilantro, and mint leaves. Mix well to combine.

In a separate pot, bring 2 cups of water to a boil. Add the soaked and drained basmati rice to the boiling water. Cook the rice until it is 70% cooked (it should still have a slight bite). Drain the partially cooked rice.

Layer the shrimp masala and partially cooked rice in the large pot or Dutch oven. Start with a layer of rice, followed by a layer of shrimp masala, and repeat. End with a layer of rice on top.

Sprinkle the fried onions and cashew nuts (if using) over the top layer of rice.

Drizzle the remaining ghee or oil over the top layer of rice.

Pour the saffron-infused milk over the rice to give it a beautiful aroma and color.

Cover the pot with a tight-fitting lid and reduce the heat to low. Cook the biryani on low heat for about 25-30 minutes or until the rice and shrimp are fully cooked and aromatic.

Once cooked, gently fluff the shrimp biryani with a fork, being careful not to break the shrimp.
Nutrition
Serving: 4g | Calories: 461.4kcal | Carbohydrates: 50.9g | Protein: 22.6g | Fat: 18.6g | Saturated Fat: 3.8g | Polyunsaturated Fat: 6.9g | Monounsaturated Fat: 5g | Trans Fat: 0.1g | Cholesterol: 146.9mg | Sodium: 743.5mg | Potassium: 545.7mg | Fiber: 3.9g | Sugar: 5.3g | Vitamin A: 1770.1IU | Vitamin C: 48.6mg | Calcium: 155.2mg | Iron: 2.7mg