Rice is a vital food source that's versatile in cooking worldwide. It's a staple food for many, providing essential nutrients and energy. But is rice gluten free?
The majority of rice varieties are naturally gluten-free. Plain, unprocessed rice like white, brown, jasmine, basmati, and wild rice are considered gluten-free. Some processed rice products, like seasoned rice mixes, pre-packaged rice dishes, or restaurant rice dishes may contain added ingredients that could include gluten. Make sure to check the labels of these products or ask the restaurant for any potential gluten-containing ingredients.
The question about whether rice is gluten free is growing due to gluten-related disorders, as well as the popularity of gluten free carbs.
Due to a rise in gluten free diets and the availability of GF products, people are becoming more conscious of their food choices.
Table of Contents
Types of Gluten Free Rice
Here is a list of popular rice options we are going to cover along with tasty gluten free recipes.
Brown Rice
White Rice
Jasmine Rice
Wild Rice
Fried Rice
Basmati Rice
Sushi Rice
Glutinous Rice
Rice Pilaf
Is Brown Rice Gluten Free?
Yes, brown rice is naturally gluten free and safe to eat if avoiding gluten-containing foods. Many including myself, love to eat brown rice as a healthy carb option.
Is White Rice Gluten Free?
With white rice being the most cost-effective and popular rice on the market, we are happy to say – yes white rice is gluten free in its natural form. It's always good to have a stache of white rice in your pantry for those just in case moments. It stores well, lasts forever if sealed properly, and most of the time a crowd please even with the occasional picky eater.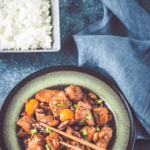 Is Jasmine Rice Gluten Free?
Yes, jasmine rice is gluten free when cooked just as rice. You can easily create amazing recipes with jasmine rice, just make sure the added ingredients are also GF. We eat a lot of jasmine rice in our house. My kids love it! Here's our favorite go-to jasmine rice recipe.
Is Wild Rice Gluten Free?
Yes, wild rice is gluten-free. Wild rice is the seed of aquatic grasses and is unrelated to gluten-containing grains like wheat, barley, and rye. As a result, wild rice is a safe and gluten-free option for individuals with celiac disease or gluten intolerance. It can be enjoyed as part of a gluten-free diet in various culinary dishes such as soups, salads, and pilafs.
Is Fried Rice Gluten Free?
This is a tricky question since fried rice is a combination of ingredients pulled together to make a delicious recipe. You can very easily, make or request gluten free fried rice. The most important ingredient you'll want to make sure if GF is soy sauce. We recommend using tamari sauce. You are able to achieve the same flavor and enjoy it as a gluten free option.
Is Basmati Rice Gluten Free?
No, basmati rice does not naturally contain gluten. You can prefer brown basmati rice and that too is gluten free. Check out this award-winning biryani that's cooked using basmati rice.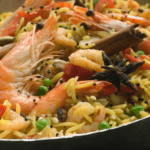 Is Sushi Rice Gluten Free?
Sushi rice is gluten free in its natural form. If you are using soy sauce though as an added ingredient, we recommend using tamari, the gluten free soy sauce option.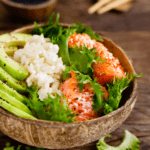 Is Glutinous Rice Gluten Free?
Glutinous rice, also known as sticky rice is gluten free. It's used for sweet and savory dishes. We love to make Khao Niao Mamuang (mango sticky rice).
Glutinous rice gets its name from its sticky and chewy texture when cooked. The stickiness is due to the high amount of amylopectin, a type of starch, in the rice grains.
Is Rice Pilaf Gluten Free?
Rice pilaf is gluten free when prepared and cooked with other gluten free ingredients. It's a lot like fried rice. The star of the show (rice) is gluten free in its natural form, but the additional ingredients used to make the pilaf must also not contain gluten. Here is our most popular Rice Pilaf Recipe.
I seriously could not love without my rice cooker. It is definitely a game changer when it comes to cooking rice. I love my Toshiba.
Does Quinoa Have Gluten?
Quinoa is also a gluten free grain that is a great option. It's easily made like rice and is super filling. Enjoy it as is or spruce it up a bit with this great recipe: Red Quinoa with Sundried Tomatoes
Celiac Disease Symptoms after Eating Rice
If your Doctor has diagnosed you with Celiac autoimmune disease, it really is important to steer clear of gluten-containing products.
Accidental consumption of gluten by individuals with celiac disease triggers an autoimmune response, leading to inflammation. Symptoms may include gastrointestinal issues, fatigue, anemia, skin rashes, weight loss, and more. To manage celiac disease effectively, speaking with your healthcare provider and maintaining a strict gluten-free diet is crucial.
Gluten Free Flavored Rice Mixes to Buy
Heritage Selectoffers amazing gluten-free seasoned rice. It's easy to make and honestly super delish. You can definitely find other great gluten free boxed rice, just make sure you read the labels. Another great option would be Lundberg Family Farms.
For most seasoned boxed rice – even though the main ingredient is rice (gluten-free) you have to watch out for the seasoning that is being used. Most combined seasoning packets or herbs do contain gluten. So you'll want to read the label or make your own seasoning by combining single ingredients together.
Can You "Cure" Gluten Intolerance with Diet?
While a gluten-free diet can help manage symptoms and improve the quality of life for individuals with gluten intolerance, it does not cure the underlying condition itself.
It's always recommended to speak with your healthcare provider when shifting your diet. If you are diagnosed with celiac disease, then avoiding gluten is necessary.
If you do not have celiac but want to avoid gluten for another reason, you can choose to cut down on gluten-containing foods and test out how you feel. Then talk to your dr about the benefits of a gluten free lifestyle.
Rice Mixes to Avoid if Gluten Free
You want to avoid any rice mix that does not specifically say gluten free on the box. Most combined seasoning packets do contain gluten so many boxed seasoned rice will have gluten. You also may see wheat as an ingredient which means you must avoid it. Near East Rice is an example of a gluten-containing rice product.
Summary and FAQ'S
Is rice gluten-free?
Yes, rice is naturally gluten-free. It does not contain gluten, a protein found in wheat, barley, and rye.
Can individuals with celiac disease eat rice?
Yes, individuals with celiac disease can safely consume rice, as it is gluten-free and does not trigger the autoimmune response associated with celiac disease.
Are rice products in the market gluten-free?
Some rice products, such as flavored rice mixes, processed rice snacks, or rice-based cereals, could include gluten. Always check the product labels for gluten-containing ingredients.
Is cross-contamination a concern with rice?
Cross-contamination is generally not a concern with plain rice. However, be cautious when using rice products that may have been processed in facilities that also handle gluten-containing grains. For individuals with severe gluten sensitivity, look for certified gluten-free rice or buy from trusted sources.
Can rice flour be used as a gluten-free alternative in baking?
Yes, rice flour is a popular gluten-free alternative in baking. It can be used alone or in combination with other gluten-free flour to create gluten-free baked goods.
Other Articles that may interest you:
11 Best Gluten Free Carbs Plus Recipes