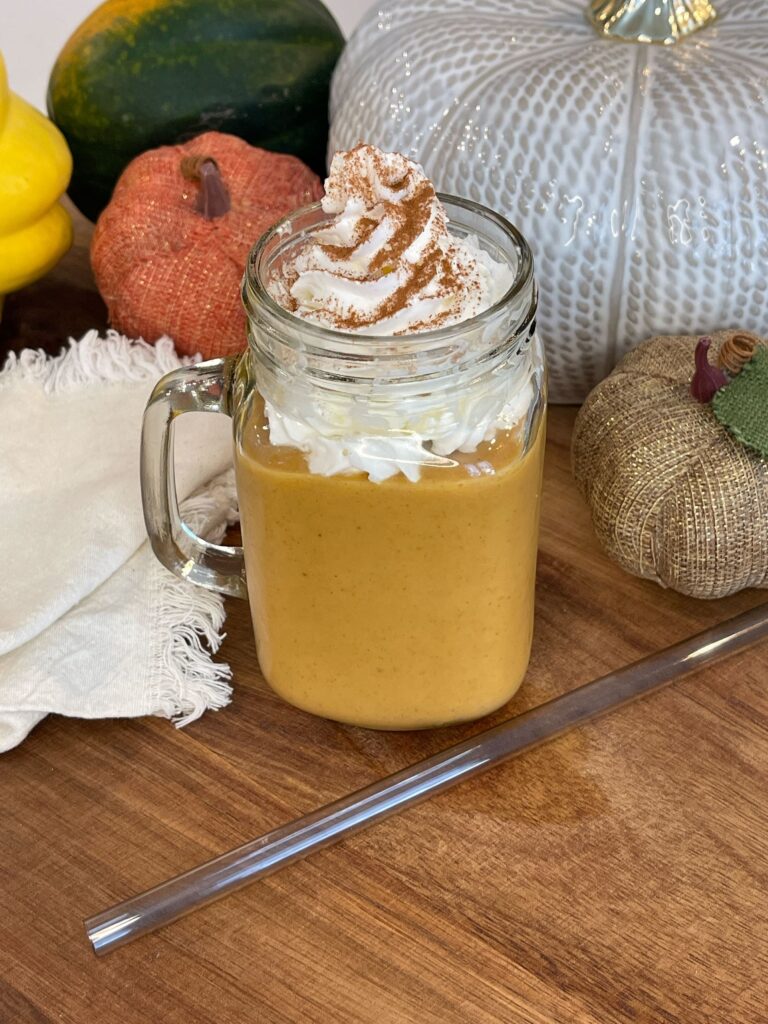 What is fall without pumpkin? You might use it widely for décor, but pumpkin is so much more than that. In fact, it is widely used in cooking and making unique drinks. The most commonly used pumpkin recipe for fall is a pumpkin smoothie. It is creamy, rich, sweet, and offers warmth. You can enjoy it for breakfast, a snack, or a pre-workout drink! It is tasteful, comforting, and just perfect. Just prep, blend, and enjoy!
Pumpkin Smoothie Breakdown
Pumpkin puree: The main ingredient for this smoothie recipe is pumpkin puree. You can easily get it from any grocery store. It comes in a canned version. Moreover, you can also prepare it at home. Pumpkin puree really doesn't have a flavor of its own. It is just a pumpkin that has been pureed.
Banana: The next fruit used for this recipe is bananas. Banana is loaded with nutrients and has a natural sweetness to them. It ensures the smoothie is sweet and has a rich and creamy texture.
Ice cubes: Add ice cubes to make this smoothie chilled.
Almond milk: The liquid base for this pumpkin smoothie is almond. This plant-based milk is rich in nutrients and has a slightly sweet flavor. If you aim for this recipe to stay plant-based, you a use soy milk or oats milk as well.
Pumpkin pie spice: I have used cinnamon, and nutmeg, powder to add flavor and warmth to this fall smoothie, but you can also use premade and store-bought pumpkin pie spice.
Vanilla: Add vanilla extracts for a bit of flavor to this smoothie.
Whip cream: Garnish this smoothie with whipped cream for a creamier texture. It is an optional ingredient, and you can skip it.
Can you make pumpkin puree at home?
Absolutely! Although getting a store-bought pumpkin puree is convenient, making it at home is also a healthy choice. You can easily make pumpkin puree at home. All you have to do is cut the pumpkin in half, remove the seeds and place it on a baking tray. Bake at 325-degree F until the flesh is soft. Take it out of the oven, scoop out the flesh, and process it in a food processor until smooth. The homemade pumpkin puree is ready!
Variation ideas
Brown sugar: Although banana does make this pumpkin smoothie sweet, you can add brown sugar to add sweetness and a rich caramel-like flavor to this smoothie.
Maple syrup: You can also use maple syrup to bring sweetness to the pumpkin smoothie.
Flax seeds: Flax seeds are highly nutritious and offer a unique texture to this smoothie. They are a good ingredient if you want your smoothie to have more nutrients.
Nut butter: To add a hint of sweet yet nutty flavor and healthy fats, you can add any nut butter to this smoothie.
Greek yogurt: You can use a combination of dairy milk and Greek yogurt to make this smoothie extra creamy.
Other Breakfast Ideas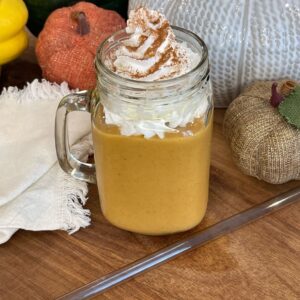 Pumpkin Smoothie
The perfect fall drink to satisfy your pumpkin craving.
Ingredients
1 frozen banana
1/2 cup ice cubes
1/2 cup pumpkin puree
1/2 cup almond milk
1/2 tsp pumpkin pie spice
1/2 tsp vanilla
optional whip cream
Instructions
Place all ingredients in blender and blend until smooth or desired consistency.

You can top with whip cream and add sprinkle of your favorite spice. Our favorite are cinnamin, nutmeg, or pumpkin pie spice.
Video
Notes
If the blender gets stuck while mixing, you can add a bit more almond milk to help smooth everything out.  
Nutrition
Calories: 365kcal