The best garlic mashed potatoes are a true classic that can be enjoyed with almost every dish. They are easy to make and can be used as a side dish or the main course. The ultimate comfort food is creamy, fluffy, and smooth mashed potatoes. They are perfect with almost everything. Even if you serve them with leftover gravy, they will taste delicious.
A dutch oven is the perfect one-pot way of making this dish! You can even serve in it!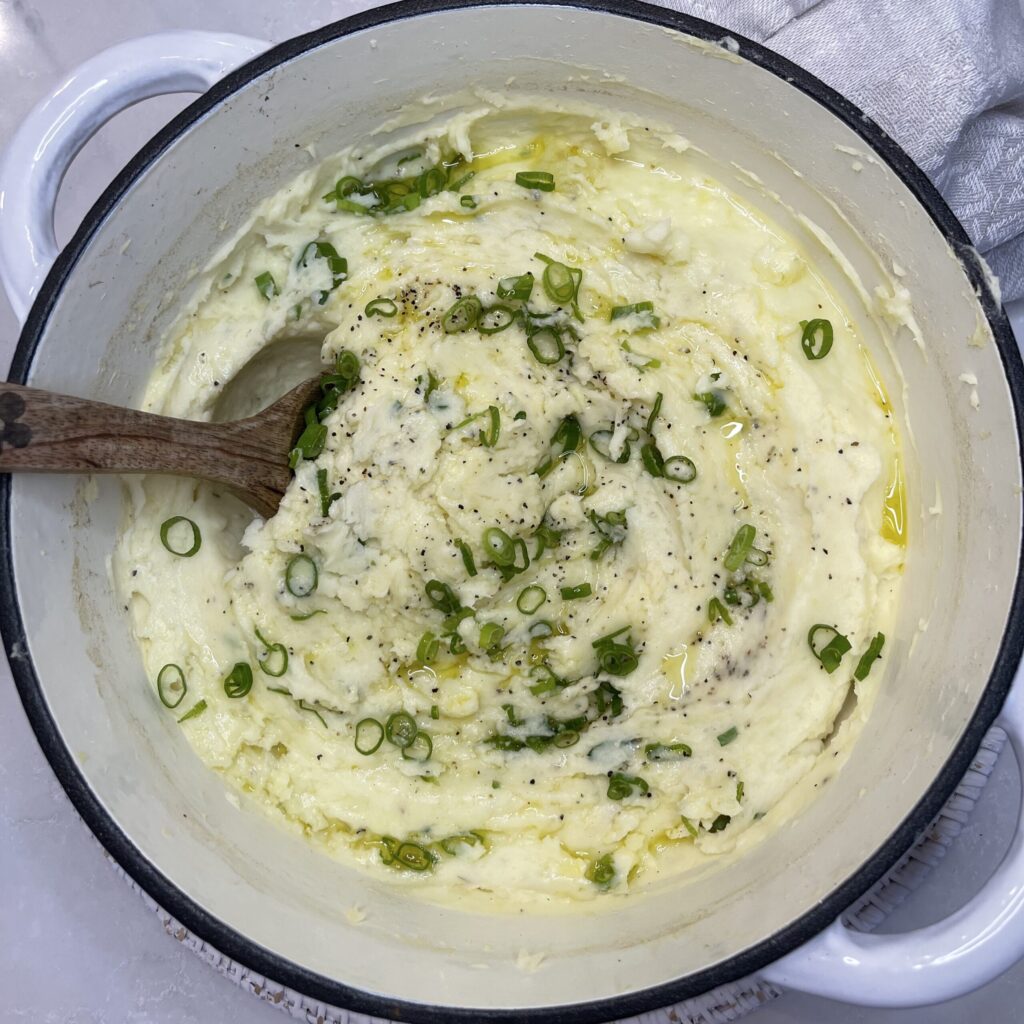 Which potatoes are the best for mashed potatoes?
There are several factors to consider when choosing the best potato for the best garlic mashed potatoes. The first is the starch content of the potato. Potatoes with a higher starch content will produce a creamier and smoother mash, while those with a lower starch content will be lumpier. Another factor to consider is the moisture content of the potato. Moisture can affect how well the potato mashes and how creamy they will be.
The two most common types of potatoes used for mashed potatoes are russet potatoes and Yukon Gold potatoes. Russet potatoes have a high starch content and are, therefore, able to produce a very smooth and creamy mash. Yukon Gold has a buttery flavor that many people enjoy. So you can use either of these potatoes.
Ingredients Breakdown
All ingredients provided follow a gluten-free diet.
Potatoes: Potatoes are the main ingredient of the mashed potatoes recipe. When choosing potatoes, make sure you go for fresh produce. It is crucial for the perfect texture.
Butter: Butter adds flavor and a smooth texture to mashed potatoes.
Garlic: Garlic adds a depth of savory flavor to the dish.
Salt: Salt ensures your mashed potatoes aren't bland and tasteless.
Pepper: Pepper adds flavor to the dish.
Chives: They add a touch of flavor and a bit of crunch.
How to store mashed potatoes?
There are a few different ways to go about it, depending on how long you need to store them.
For short-term storage, you can keep mashed potatoes in the refrigerator for up to a week. Simply place them in an airtight container or wrap them tightly in plastic or aluminum foil and refrigerate them.
For longer-term storage, mashed potatoes can be frozen up to six months. Again, place them in an airtight container or wrap them tightly in plastic or aluminum foil. Be sure to label and date the container, so you know when they were placed in the freezer. When ready to eat, thaw the mashed potatoes in the refrigerator overnight and reheat them on the stovetop or in the microwave.
We hope you love this gluten free potato recipe as much as we do!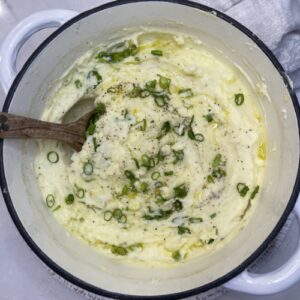 Garlic Mashed Potatoes
Equipment
Dutch oven optional but makes it a one pot side dish!
Ingredients
5 lb bag of potatoes washed and peeled
1 stick butter unsalted
2 cloves garlic minced
1 cup half and a half +1 more cup if needed for desired consistency you can use whole milk as well
Salt and pepper
¼ cup Chives diced
Instructions
In a large pot, fill the water ¾ way full.

Place peeled potatoes in the cold water and bring to a boil.

Once boiling, continue to cook for 15 minutes or until the potatoes are soft throughout the middle. You can use a fork to puncture and if it easily goes through then they are cooked.

Drain the potatoes carefully and place them in a large mixing bowl.

Add the milk and begin to smash it together a bit so the milk begins to heat through. Salt and pepper to taste.

In a small saucepan, heat the butter on medium-low heat. Add the garlic and half of the chives and continue to cook for 1-2 minutes. Be careful not to burn the butter or garlic. This is to just melt and release the garlic and chive aroma.

Pour the butter on top of the potatoes. (Make sure the milk is mixed in and heated through before doing this step)

Using a hand mixer, blend the potatoes until your favorite consistency. You can leave them on the chunky side, or blend them fully smooth. Add more milk if needed.

Plate the potatoes, drizzle them with olive oil, and sprinkle the rest of the chives on top.
Video
Notes
A dutch oven is the perfect one-pot way of making this dish! You can even serve in it!