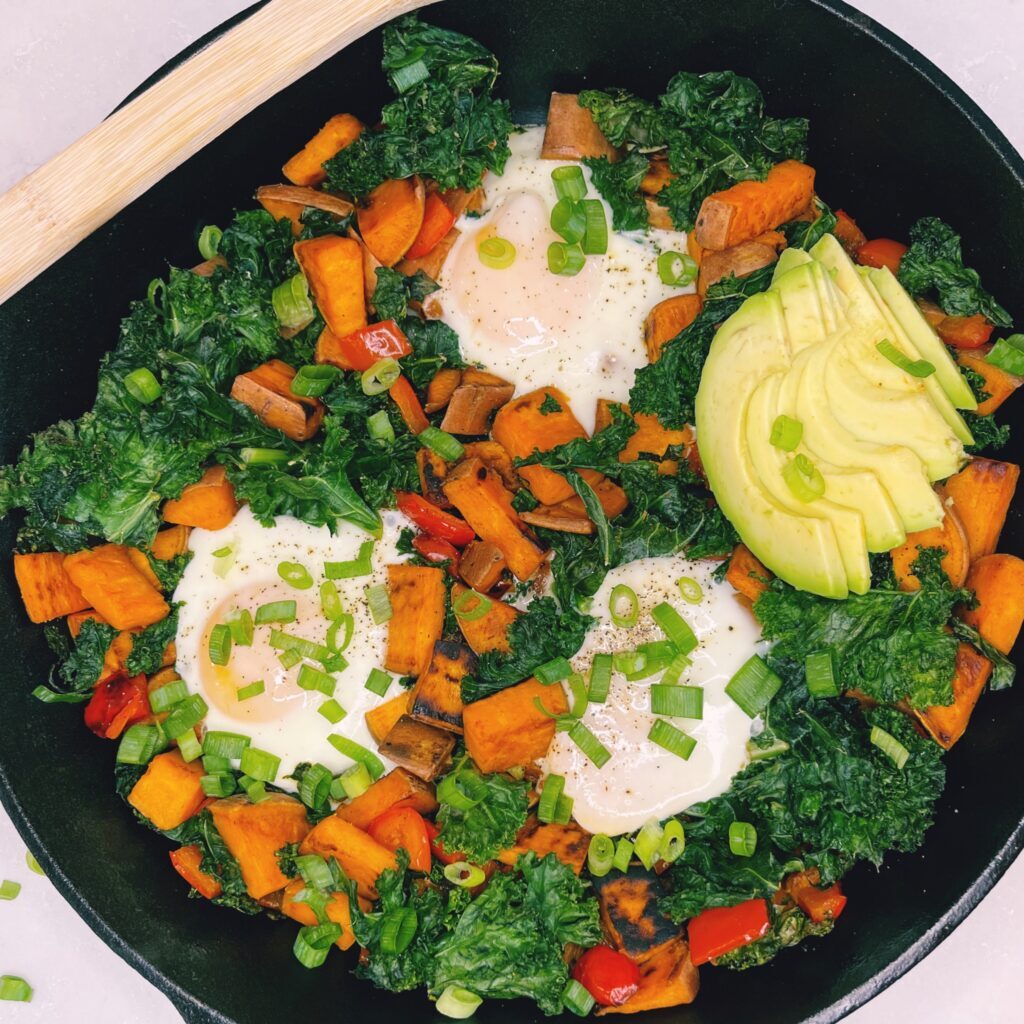 Sweet Potato Hash and Eggs is another delicious breakfast dish you can enjoy with your family over a
weekend breakfast or brunch. It is a quick and effortless dish loaded with nutrients. Made from sweet
potato, kale, and eggs, you can enjoy different textures and flavors.

Breakdown of Ingredients
Coconut Oil: Coconut oil is loaded with healthy fats and is a good choice for cooking. You can, however, use olive oil, avocado oil, or any other vegetable oil.
Sweet Potato: The first main ingredient of this recipe is sweet potato. Sweet potatoes are rich in antioxidants and fiber and are super nutritious. Thus, it is a great choice for breakfast.
Smoked Paprika: It offers a slightly sweet yet smoky flavor with a subtle heat.
Red Bell Pepper: Red bell pepper has a sweet, fruity flavor, but it's the color that really attracts everyone. Plus, you simply can't miss out on the nutrients it offers.
Kale Leaves: Most people don't really like kale leaves, but they are highly nutritious. Plus, they add a crunch and an earthy flavor.
Egg: The next main ingredient for this recipe is eggs. No breakfast seems complete without them!
Seasoning: Season the eggs with Sea Salt & Black Pepper for maximum flavor.
Avocado: I love avocadoes for their smooth texture. Garnish this breakfast dish with avocadoes. It turns out to be a great combination.
Green Onion: Freshly chopped green onions also serve as a good garnish.
Tips for making sweet potato hash and eggs
When making sweet hash and eggs, keep these points in mind:
Using a cast iron skillet is a perfect way to switch between stovetop to oven and not have to use another pan. It also helps prevent the eggs from sticking to the bottom of the pan.
If you don't want fried eggs, you can whisk them and then pour them on the vegetables.
For a meaty element, add bacon pieces or sliced sausages.
Replace kale with spinach if you don't like its flavor.
You can also use green or yellow bell pepper instead of red ones.
You can also add mushrooms, green beans, carrots, and corn to this recipe.
How to store leftover sweet potato hash and eggs?
Refrigerate the leftover hash in an airtight container, and it will last for 3 days. You can prepare the
vegetable mixture at night, allow it to cool down, and refrigerate it. This way, you just have to add eggs
and bake them in the morning.
Other Breakfast Recipes
Turkey Burger Breakfast Burrito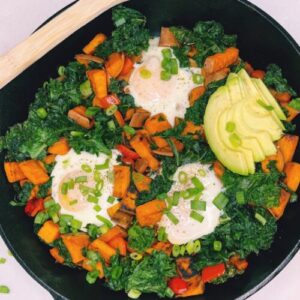 Sweet Potato & Egg Hash
Healthy breakfast that consists on sweet potato and eggs.
Ingredients
1 tbsp cocunut oil
1 sweet potato
2 cups kale
1 red bell pepper
2 eggs
1 avocado
1 green onion
1/2 tsp smoked paprika
salt and pepper to taste
Instructions
Preheat the oven to 400ºF (204ºC)

Heat a cast iron pan over medium heat and add oil. Once melted, add the dicedsweet potato. Cook for about 4 minutes undisturbed. Once browned, flip themaround and continue cooking for 5 more minutes.

Add the smoked paprika and diced pepper and cook for another 2 minutes.Then add the chopped kale and cook until just wilted. Remove the pan from theheat.

Make two spaces in the hash mix and crack eggs into each space. Season withsea salt and pepper and place in the oven to bake for 6 to 8 minutes, or untileggs are cooked to your preference.

Remove from the oven and garnish with avocado and green onion. Divide ontoplates and enjoy!
Video
Nutrition
Calories: 334kcal