Shrimp Linguini is a favorite dish in our home. Luckily, it's simple and delish! You can throw together a 5-star dinner in 30 minutes! The water to boil the pasta will be the longest stretch.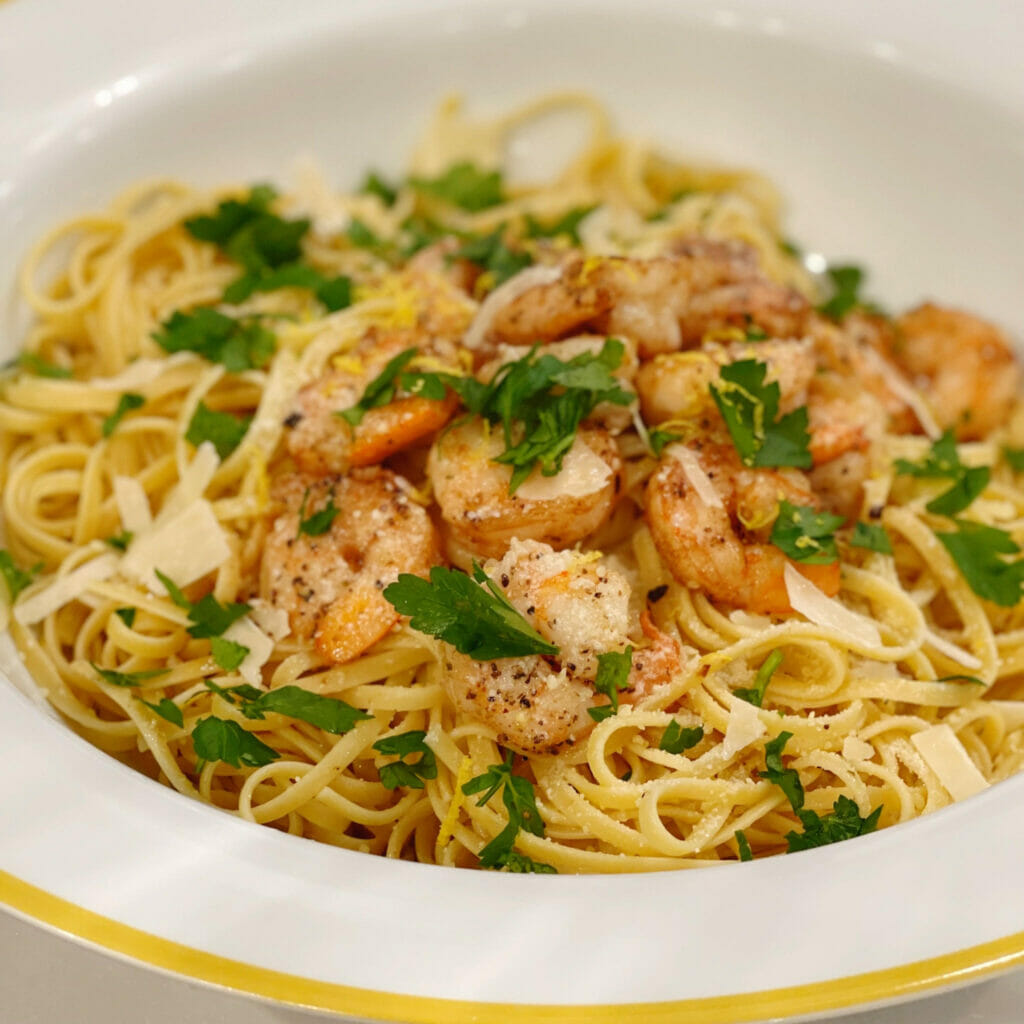 About Shrimp Linguini
Lemons play a huge role in this dish. The fresh lemon juice is so refreshing and the lemon rind is the perfect accent to the shrimp. Your shrimp linguini will thank you!
Let's talk shrimp! To be honest, keeping the shell on the shrimp will offer so much more flavor. It's a bit of a pain because then you're forced to remove it while eating and that can get messy. I typically leave the tails on so you're able to get a bit more flavor running through the sauce.
Do you use red or white sauce?
Choosing the right sauce is also a favorite in our home. We will do it in red or white, depending on the day. If you decide to do a red sauce and do not want to make it from scratch, then Rao's Homemade Marinara is the way to go. It's the closest to Grandma's homemade sauce.
Can you store shrimp linguini for leftovers?
Shrimp linguini is a great dish to have as leftovers. I recommend removing any shrimp tails if still left on. You can then place it in an air-tight container and refrigerate it for up to 2-3 days. When you go to reheat it, just place it in a microwave-safe bowl and place a paper towel over it, and heat it in 30-second increments until the temperature is to your liking.
Spaghetti with Garlic and Olive Oil (Crabmeat) is another favorite in our home! This is another super easy and delicious dish. You can make it in less than 20 minutes.
Be sure to leave a comment if you try our recipes!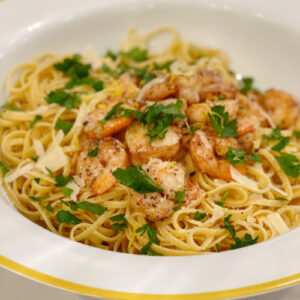 Shrimp Linguini
Lemon and garlic shrimp over pasta.
Ingredients
1 lb shrimp deveined (tails on optional) tails on for added flavor
3 lemons plus the rind
3 cloves garlic minced
4 tbsp olive oil
salt and pepper to taste
1/4 cup grated cheese parmesan or romano
4 tbsp fresh Italian flat leaf parsley
Instructions
In a large pot add 4-6 of water and place on burner to boil pasta.

Lay shrimp out and sprinkle with salt and pepper on each side.

In a large fry pan, heat the olive oil and add the shrimp and cook on each side for 3-4 minutes on med heat or until cooked through to at least 120 degree Fahrenheit.

Once top of water comes to a rolling boil, add a few tablespoons of salt and cook the pasta of choice for the time recommended on back of box.

Using a lemon zester, zest the rind of lemons and put aside.

Cut the lemons in half and put aside

Once pasta is cooked, using tongs scoop the pasta in a large bowl. You can add a few tablespoons of the pasta water to the bowl. This will help add flavor and work to bring all the flavors together

Top the pasta with the shrimp and the oil it was cooked in. You can remove tails or keep on and remove as you eat.

Squeeze the fresh lemons and add the lemon zest directly to the shrimp pasta.

Add the grated cheese and parsley.

Enjoy!