A Maple turkey burger is a quick, easy-to-make, and unique burger recipe. They offer a balance of savor and sweetness in a burger. Plus, they are rich in protein, making them a perfect choice when you are on a high-protein diet.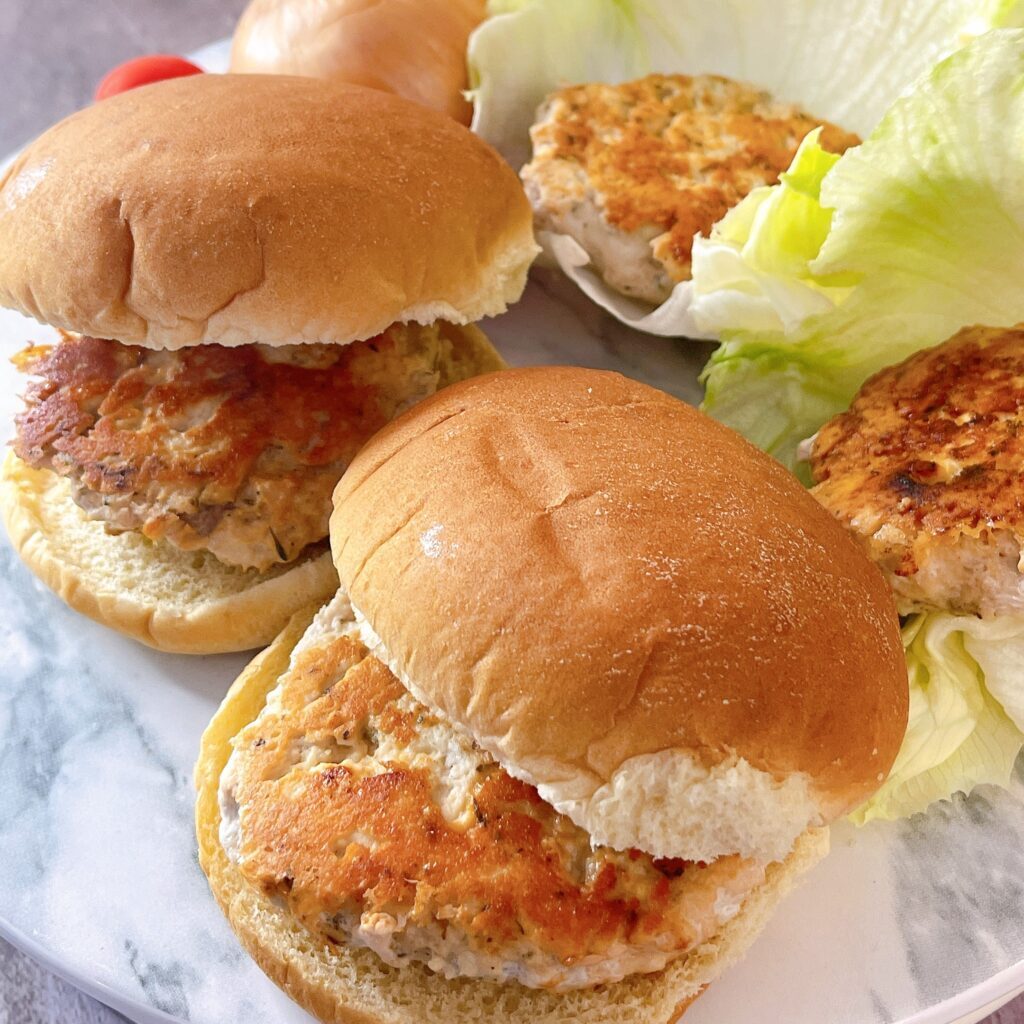 What are Turkey Burgers?
Turkey burgers are a lean and healthy way to make the perfect burger. You can cook on the grill just like a beef burger and enjoy all the toppings that you love a burger to have.
Burger Ingredients
You can make these amazing burgers using only these four ingredients:

Ground turkey: Ground turkey is the main ingredient in this recipe. To ensure you get maximum health and nutrients, choose extra lean ground turkey for this recipe. Turkey meat is not only tasteful but is a great source of protein.
Maple syrup: The main hero of this burger recipe is maple syrup. It adds a sweet, caramel-like flavor, which makes this burger recipe juicy and flavorsome.
Thyme: Dried thyme is aromatic and has an earthy and minty flavor.
Sage: Sage has a bold earthy, peppery flavor, offering notes of lemon and mint.
Salt: Season the burger patties with salt to balance out the sweetness of the maple syrup. You can also add black pepper or red chili flakes for more flavor.
Coconut oil: I have used coconut oil for cooking these burgers. It is loaded with healthy fats and nutrients. It's also great to cook with on med to high heat. You can, however, use olive oil, avocado oil, or any other vegetable oil.
Cooking tips
Keep these tips also in mind when making a maple turkey burger:
You can use apple sauce instead of maple syrup as well.
If you don't have sage, use fresh rosemary, as it has a similar flavor.
Spice up this maple turkey burger using cumin, black pepper, paprika, or red chili flakes.
You can dip the patties in egg wash and then in breadcrumbs and fry to get a crispy texture.
Using a cast iron skillet is a great option for indoor burger cooking.
Burger topping ideas
Although you can add whatever you like to top this delicious and unique burger we have a few ideas that go well with this maple turkey burger:
Dijon and maple sauce: Mix Dijon mustard with maple syrup to create a delicious sauce. It has a kick from Dijon mustard and sweetness from maple syrup.
Honey mustard sauce: Another perfect choice for this burger is honey mustard sauce which is readily available from any grocery store.
Caramelized onions: Caramelized onions have a savory yet sweet flavor. Plus, the slight bitterness makes caramelized onions delicious and is a perfect topping for this recipe.
Bacon: Cooked crispy bacon is also a great topping idea.
Cheese: Finish the burger with cheddar cheese slices.
Other Turkey Burger Recipes
Turkey Burger Breakfast Burrito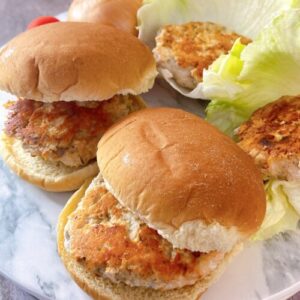 Maple Turkey Burgers
Grilled turkey burgers make with a maple glaze.
Equipment
Large Sautee Pan or Cast Iron Skillet you can also grill outside.
Ingredients
1 pound ground turkey lean
2 tbsp maple syrup
1 tsp dried thyme
1 tsp sage
2 tbsp coconut oil
burger buns or lettuce cups to serve on
Instructions
In a mixing bowl,combine the ground turkey, maple syrup, thyme, sage and salt/pepper.

Divide and form the mixture into half-inch thick patties. Place on a parchment lined tray and chill in the freezer for approximately 15 minutes.

Heat the coconut oil in a large pan over medium heat. Fry each burger patty until cooked through, about 4 to 6 minutes per Side.

Set aside to COOI Slightly. Enjoy!
Video