Air Fryer Carrot Fries is a popular and easy-to-eat dish often enjoyed as a snack or as part of a meal. These are perfect for quick and easy cooking. Loaded with nutrients, these fries are a great way to switch from traditional potato fries and enjoy something different yet flavorful.
The air fryer is a perfect way to create your favorite recipes in a healthy way.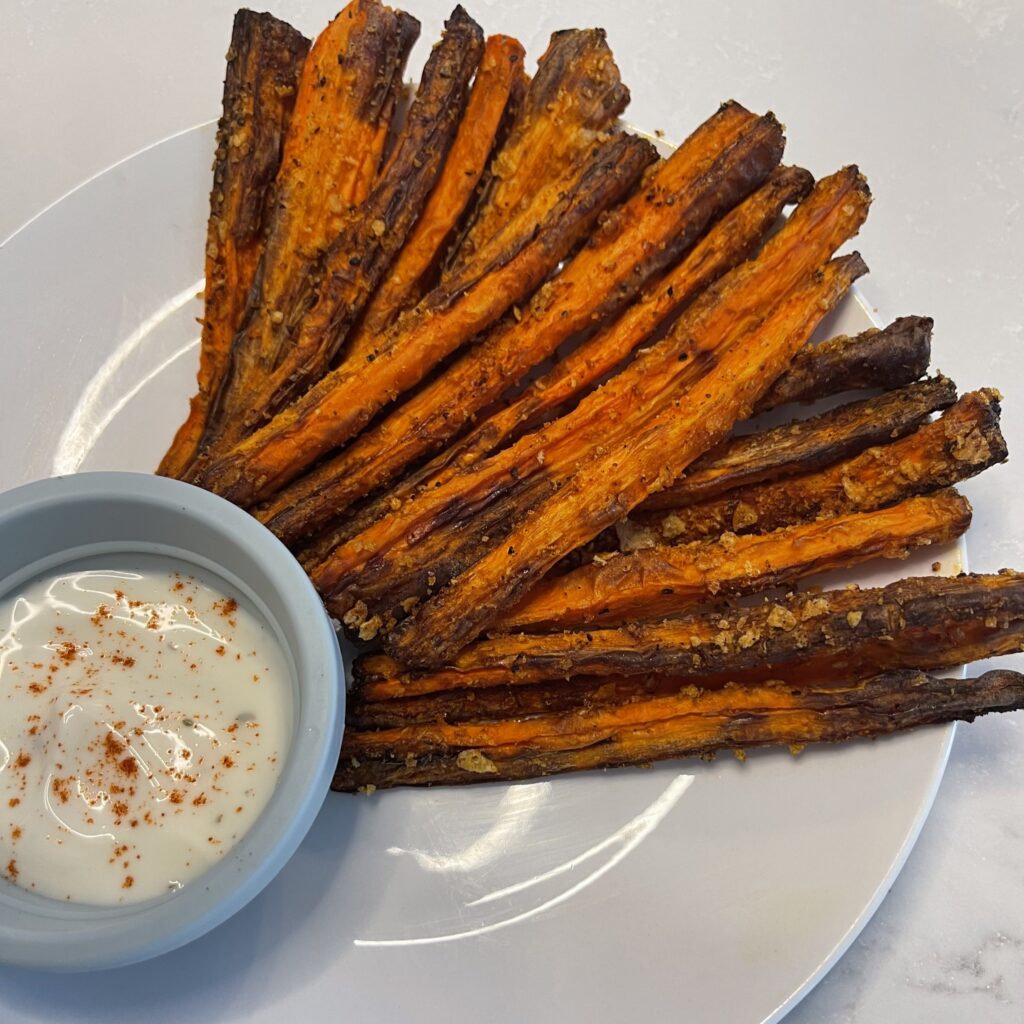 Why should you make air fryer carrot fries?
If you're a fan of fries, there is a solid reason you should try carrot fries. Here are some huge benefits to making them at home:
They are very flavorsome. The natural sweetness of the carrots, plus the seasonings, make them a treat for your taste buds. Thus they have a sweet and savory taste that's perfect for any occasion.
They cook quickly, and there is minimal prep time. So they're perfect for quick snacks or sides.
Lastly, They're nutritious. So they help you maintain your health overall.
Variation ideas
Here are a few ideas on how to add more flavor to the recipe:
Honey/maple: you can make these fries sweet as well. Drizzle maple syrup of honey, and you can enjoy a delicious sweet snack perfect for combating your untimely sugar craving.
Cinnamon: Cinnamon is a cherry on top in many sweet dishes; therefore, you can enjoy its warm flavor by sprinkling it over sweet carrot fries.
Cajun seasoning: Want to oomph up carrot fries? Try seasoning them with Cajun seasoning. It adds flavor to your humble fries and makes them perfect for every occasion.
Cheese: you can turn these fries into loaded fries by adding cheese. Try parmesan of mozzarella. I bet you will enjoy the cheesiness with the crisp fries.
What to serve with carrot fries?
Hummus: If you're looking for a delicious and healthy way to serve your carrot fries, Humus is the perfect solution! It is a great way to add flavor and texture to the dish.
Ranch Dip: The dipping sauce provides a level of sweetness and butteriness that helps to perfect the vegetable's natural flavors.
Spinach Artichoke Dips: Artichoke dips are a popular appetizer or side dish in many areas. This dip is simple to make and pairs well with carrots fries for an easy game day or movie night snack.
How to store carrot fries?
I recommend you enjoy these fries fresh because storing them either at room temperature or in the refrigerator will make them soggy.
Other Recipes
String Bean Casserole (Cast Iron Skillet)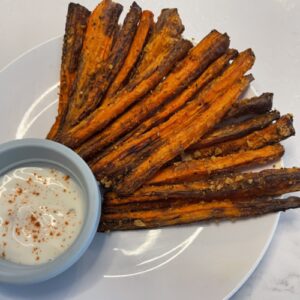 Air Fryer Carrot Fries
Sliced carrots air fried to create a crispy french fry like consistency.
Ingredients
7-8 carrots
2 tbsp Olive oil
1 tsp Smoked paprika
Salt and pepper to taste
1 cup Cornflakes crushed
Instructions
Slice the carrots lengthwise into strips.

Place in a bowl and mix in the olive oil, smoked paprika, salt and pepper.

Stir to combine.

Add the cornflakes and mix so each carrot is evenly distributed.

Place carrots in the air fryer basket making sure they the fries do not overlap each other.

Airfry on 390 degrees for 15 minutes or until crispy.
Video