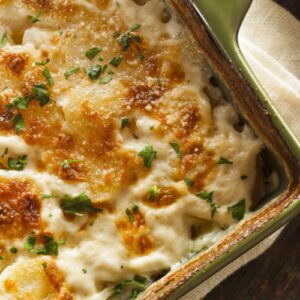 The Best Potatoes Au Gratin (Gluten-Free)
Ingredients
5 lb Bag of Yukon potatoes
2 tbsp Butter
2 1/2 cups Heavy whipping cream
1/3 cup Shredded Swiss
1/3 cup Shredded Gruyere
1/3 cup Shredded Cheddar
2 tbsp Garlic powder
1 tbsp Chives optional
salt and pepper to taste
Instructions
Preheat oven to 375℉

Grease the bottom of a 9 by 13 baking dish with olive oil

Wash the potatoes under cold water and towel dry.

Slice the potatoes into ⅛-inch slices. (you can use a knife or mandolin)

Place the potato slices in a large pot filled with cold water and soak for 5 minutes.

Drain and pat dry the potatoes so there's no excess water.

Line the bottom of the greased baking dish with a layer of ⅓ of the potatoes.

Pour ¾ cups cream over the top and sprinkle ⅓ swiss cheese and a pinch of garlic powder on top.

Repeat by adding a second layer using ⅓ of the potatoes on top with adding ¾cup of cream and top with the ⅓ gruyere and a pinch of garlic powder.

Repeat for the third and final layer using the remaining sliced potatoes on top and pouring the remaining milk and sprinkling the ⅓ cheddar cheese and remaining garlic powder on top.

You can add salt and pepper to taste.

Cover with foil and bake in the oven for 1 hour or until the potatoes are fork-tender.

At this point remove the foil and continue to bake for 20 minutes or until the cheese and edges are golden brown.

Sprinkle the chives on top.

Serve warm and enjoy!