Chocolate chia pudding is a quick, tasteful, creamy, and healthy dessert. It is low in calories and loaded with nutrients making it a perfect dessert for those who prefer a healthy lifestyle. You can make it in advance and store it for later as well.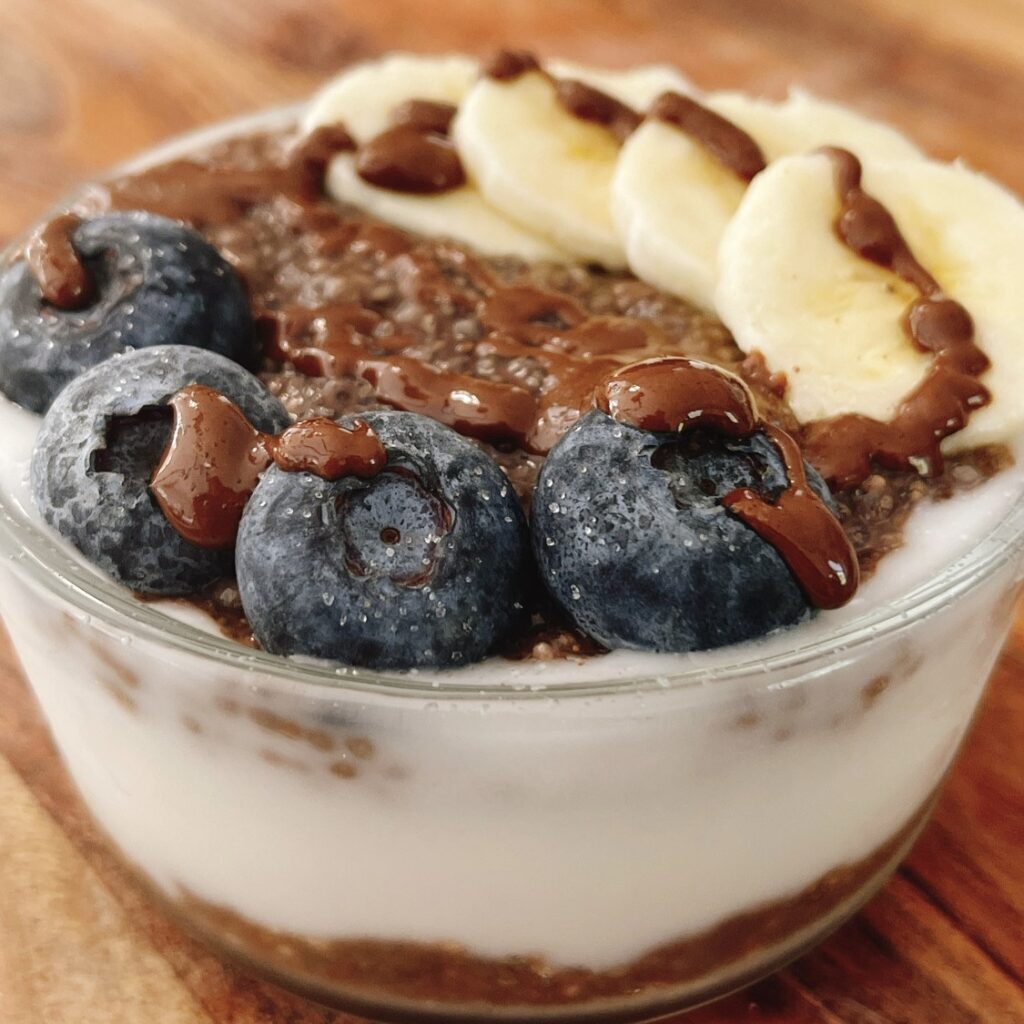 Ingredient breakdown
With three simple ingredients, you can make this delicious pudding.
Chia seeds: Chai seeds are often referred to as superfoods. They are low in calories and high in fiber. Not to forget the minerals, omega-3 fatty acids, and other nutrients that make them exceptional ingredients. It is the main ingredient of this delicious pudding.
Water: You will need water to soak chia seeds. Water helps chia seeds swell up and thicken, giving you the consistency you require for making this quick pudding.
Cocoa powder: Cocoa powder adds a deep and rich chocolaty flavor to this recipe. We are not using milk chocolate here; rather, we are sticking to cocoa powder. If you prefer sweetness, you can use sweetened cocoa powder.
Unsweetened coconut yogurt: Coconut yogurt is a plant-based substitute for dairy yogurt. It is a healthy ingredient made from coconut. You can easily get it from grocery stores. Make sure you choose an unsweetened version to enjoy the natural flavor.
Strawberries: I have used strawberries to add freshness to this pudding. Plus, strawberries go very well with chocolate. You can, however, use any other fruit or berries you like.
Hemp seeds: We have used hemp seeds to garnish this pudding. Hemp seeds are also nutrient-dense and thus perfect for this healthy dessert recipe.
You can make a larger batch and store for the week. Using jars that seal will help the pudding stay fresh and last for up to 5 days. That's a great afternoon snack prep for the week!
Variation ideas
By adding or changing a few ingredients, you can bring more flavor to this simple yet tasteful pudding:
Although this recipe specifically speaks of chia seeds, you can use flax seeds in its lace as well. They are also nutrient-rich and offer the same texture.
You might not like the overpowering flavor of cocoa powder. If so, you can either mix powdered sugar with it or simply use sweetened cocoa powder.
If you don't have any problem with using dairy ingredients, you can replace coconut yogurt with plain Greek yogurt.
Use your favorite fruit other than strawberries like mango, pineapple, blueberries, raspberries, etc., to garnish this dessert.
You can also use white or brown chocolate shavings as toppings. Chocolate or strawberry syrup is also a great idea.
Add toasted nuts like walnuts, pecans, or pistachios for a crunchy texture.
How to store Chocolate Layered Chia Pudding?
The best thing about this dessert is you can make it in large batches and store it for up to 5 days in the refrigerator. This way, you can enjoy a healthy dessert to satisfy your untimely sugar craving. Just make sure you keep the toppings and garnishes to the last minute. Garnish just before serving this pudding.
Other Recipes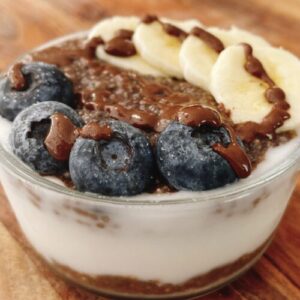 Chocolate Chia Pudding
Chiaseeds with chocolate and ycoconut ogurt
Ingredients
2 tbsp chia seeds
1/3 cup water
1 tbsp cocoa powder
1/2 cup unsweetened coconut yogurt
fresh fruit of choice banana, blueberry, strawberry, kiwi, etc.
1 tbsp melted chocolate for drizzle (optional)
Instructions
In a large bowl, combine the chia seeds, water, and cocoa powder. Whisk thoroughly making sure the seeds are mixed well. Refrigerate for at least 20 minutes or overnight to thicken.Divide the chia pudding and coconut yogurt between jars into layers. Top with strawberries and hemp seeds & enjoy!
Video
Notes
You can also add hemp seeds. 
Nutrition
Calories: 254kcal