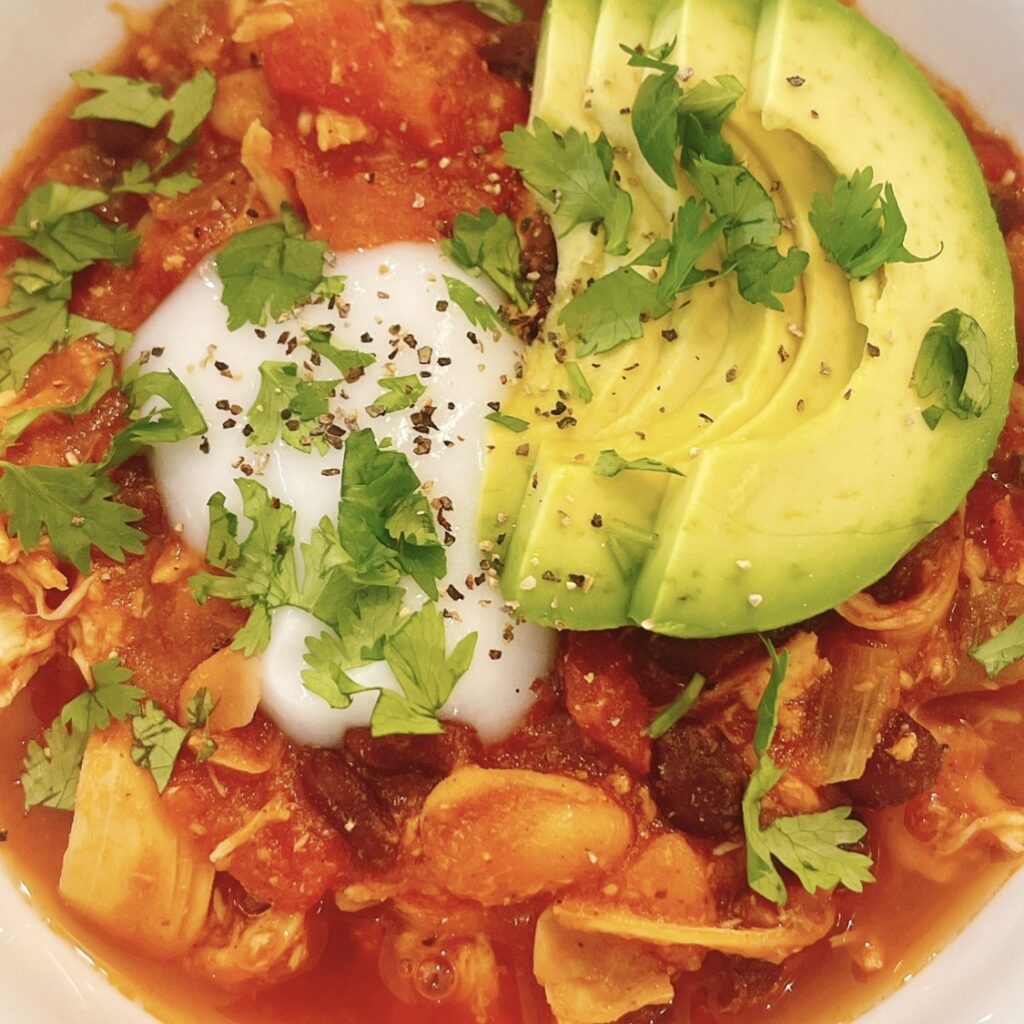 Why should you make chicken taco chili?
Chicken taco chili is a widely loved and enjoyed dish. It is usually a great choice when you have several mouths to feed and is also quite versatile. Most chili recipes call for a longer cooking time since they believe that maximum flavor comes from slow and longer cooking. A crock pot makes it easy to make and easy to clean up. Prep the ingredient, place them in the crock pot, and turn them on high for 2 hours or low for 4 hours. It can cook throughout the day. You can serve and enjoy as a group or store for the week.
An instant pot is an electric kitchen appliance that allows you to cook a dish in less time. It works n the pressure cooker technique only is a more modern and safer version. Cooking in an instant pot is super convenient. That's because it is a one-pot operation. You can adjust the time and temperature according to your liking. Because it cooks food instantly, you don't have to unnecessarily hover over the pot or in the kitchen. Thus, saving you tons of time and effort!
Can we make taco seasoning at home?
Although premade taco seasoning is readily available in almost every grocery store. However, most people prefer to adjust the flavors according to their liking. In such a case, you can also prepare taco seasoning at home. Here is what you need:
¼ tsp onion powder
¼ tsp garlic powder
1 tbsp chili powder
½ tsp paprika
¼ tsp dried oregano
1 ½ tsp cumin powder
1 tsp black pepper
1 tsp salt
Note: Combine everything and store it in a spice jar.
What to serve chicken taco chili with?
Bread: Chili and bread is a match made in heaven. It is a complete meal. You can either use cornbread, cheese bread, garlic bread or breadsticks. As long as it is bread, it will work.
Sour cream: Sour cream is a perfect garnish for chili. It makes the dish creamy and adds a unique flavor. You can serve sour cream on the side to enjoy its flavor.
Cheese crackers: Cheese crackers are crunchy and cheesy, thus perfect with this instant pot chili dish.
Salad: You can also serve a refreshing garden salad or a creamy potato salad with chili.
Guacamole: Serve guacamole with bread on the side. It is yet another delicious combination that works just fine.
How to store chicken taco chili?
Store the leftover chicken chili in an airtight container and refrigerate for up to 3 days. Reheat it in the microwave and enjoy!
You can freeze it in a freezer-safe container for 3 months. Let it thaw overnight and reheat it on the stovetop to adjust its consistency.
Other Recipes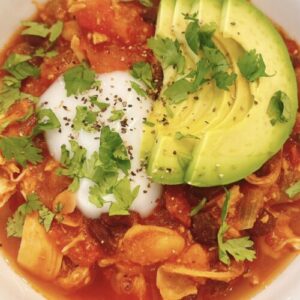 Chicken Taco Chili
Ingredients
1 onion
1 can black beans rinsed and drained
1 can kidney beans rinsed and drained
1 can tomato sauce
2 cup diced tomatoes
1 1/2 lbs boneless skinless chicken breast
4 oz chopped green chili peppers
1/4 cup cilantro
Homemade Taco Seasoning
1 1/2 tbsp cumin
1 1/2 tbsp chili powder
1/4 tsp garlic powder
1/4 tsp onion powder
1/2 tsp paprika
salt and pepper to taste
Optional
1/2 avocado
1 tbsp coconut yogurt
Instructions
Crockpot
Add the chopped onion with a small amount of olive oil and sautee in crock pot for 2-3 minutes.

Add the chicken and seasoning. Por 1/4 cup water over.

Add the beans, green chili's, diced tomatoes and tomato sauce.

Cook on high for 2 hours or on low for 4 hours.

Remove chicken and shred a part. Place back in pot.

Serve warm and top with cilantro.
Video
Nutrition
Calories: 97kcal