Loaded french fries are the ultimate fries. They are typically topped with cheese, bacon, sour cream, and chives. Using an air fryer to cook the potato slices cuts out time, and provides a healthier approach instead of deep frying. We chose all gluten-free ingredients to make this amazing side dish.
If you're looking for more potato side dishes that are delicious and gluten-free check out our Loaded Baked Potatoes and Garlic Mashed Potatoes.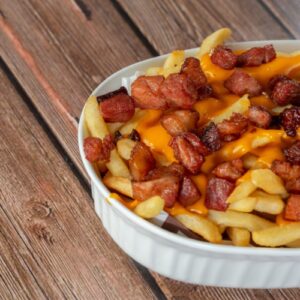 Loaded French Fry Recipe (Gluten-Free)
Ingredients
4 Russet potatoes
4 tbsp Vegetable oil
salt/pepper to taste
1/2 cup Shredded Cheese
1/3 cup Bacon
1/3 cup Sour Cream
1/3 Chives chopped
Instructions
Run the potatoes under cold water and gently scrub until clean. Dry the potatoes with a towel.

Cut the potatoes into quarter-inch thick slices.

Drizzle the oil over the potato slices and sprnkle with salt and pepper.

Place the potato slices in the air fryer and fry for 15 minutes at 390°. Toss and cook for an additional 5 minutes or until the fries are golden and crispy. Note: While the fries are cooking preheat the oven to 400°

Remove the fries from the air fryer and place in an oven-safe dish and top with the shredded cheese and cooked crumbled bacon. Place in oven for 10 minutes or until cheese is bubbly and melted.

Remove from oven and top with sour cream and chives.

Serve warm and enjoy!