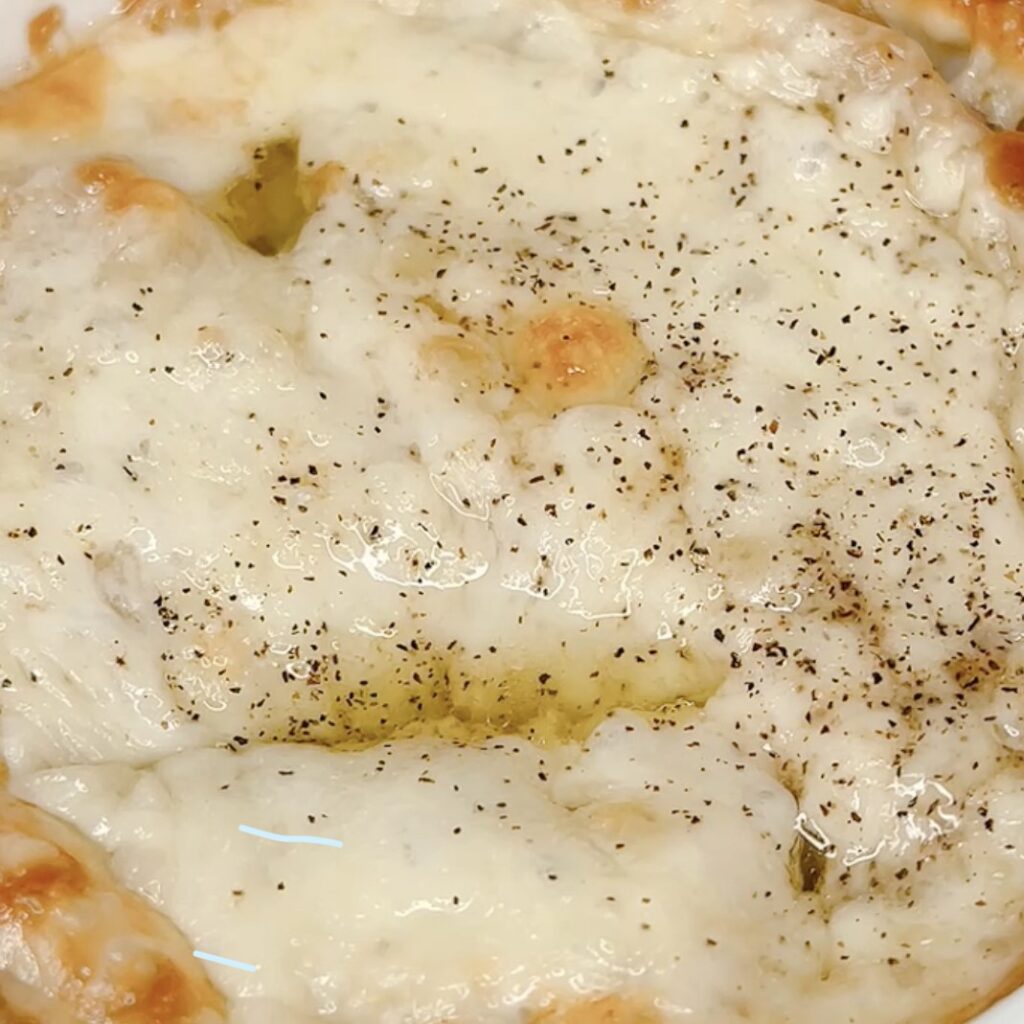 Our house LOVES a good French Onion Soup. Even the kids go crazy for it! I think the gooey yummy cheese that sits on top makes it look and taste amazing to them.
French Onion soup does take some TLC when making, The ingredients and process are simple and delish. You will feel so accomplished once you make this soup from scratch. Trust me, it's so worth making!
Caramelizing the Onions
The onions are sliced and added to the large pot. The heat is on medium to medium-low to prevent the onions from burning. The first part is all about softening and releasing the flavor of the onions.
Adding the butter, sugar, and salt once the onions are soft will help to brown them a bit. This is when the magic happens and the start to perfect caramelized onions!
The bay leaves and thyme are added and help give the soup an amazing flavor.
You can choose to use beef stock or beef broth or BOTH! The stock is made from bones so the coloring is darker and thicker, The broth is primarily made from meat and vegetables so the color is lighter. You get great flavor with both! You can always use 4 cups of stock and 4 cups of broth. Making this recipe your own is so fun and whoever has the chance to sample it will love you!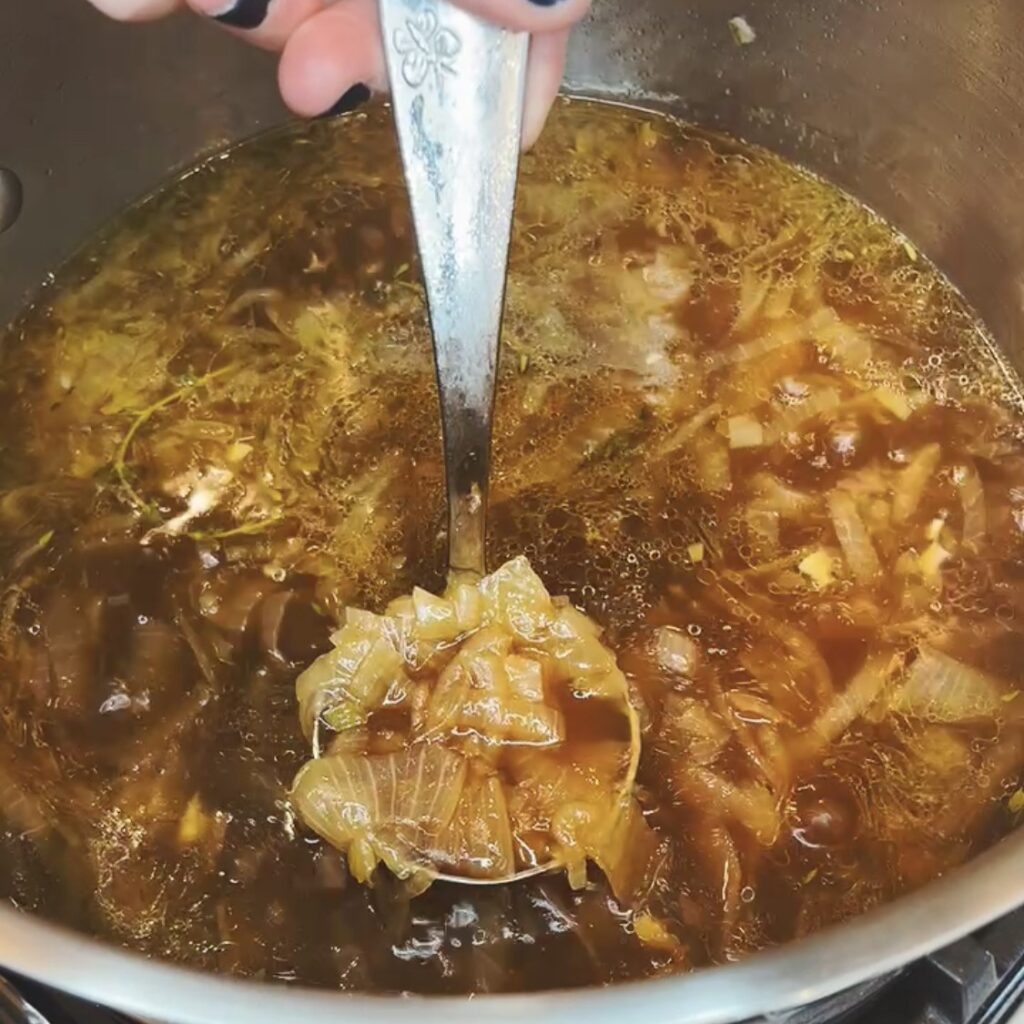 Choosing a crusty hearty bread is important. You want it to be on the harder side. This is so it does not dissolve right away when placed in the soup. It will soften once added and you'll find it easy to scoop out.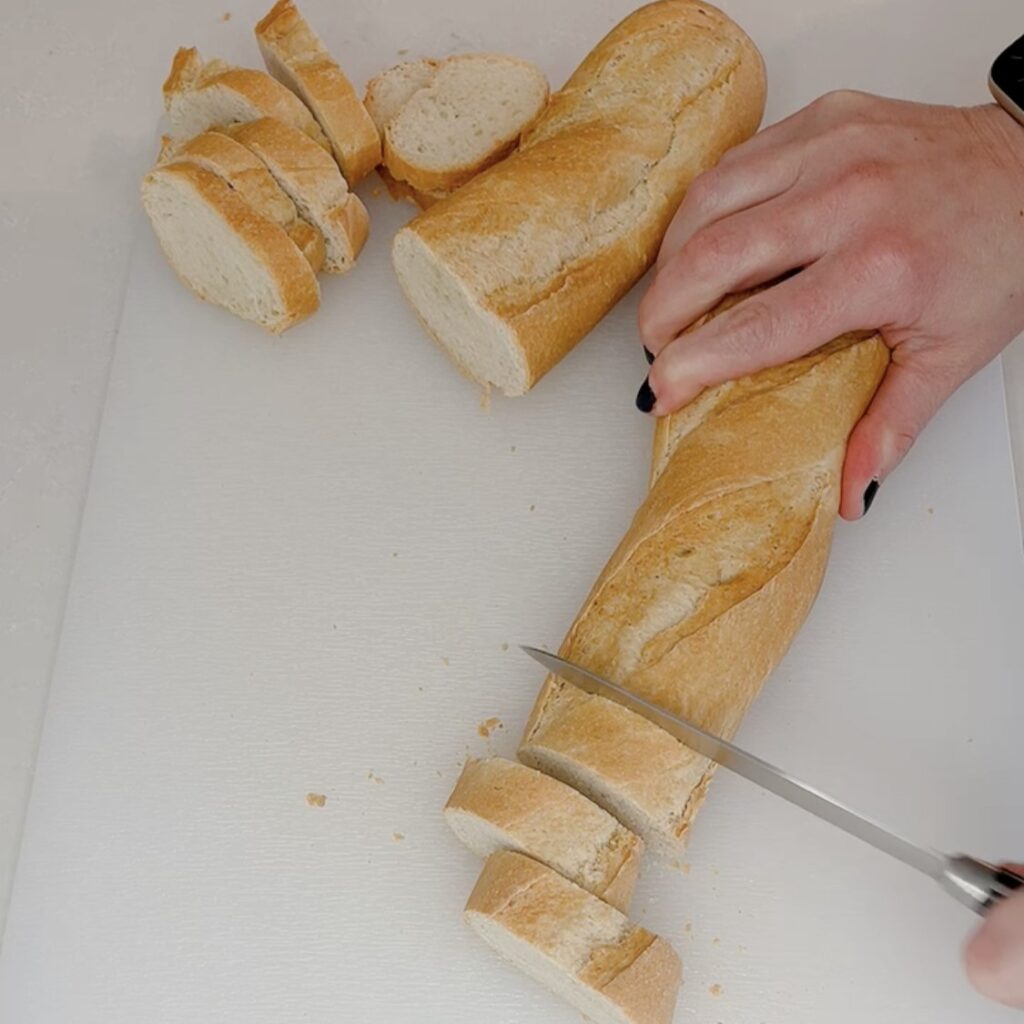 Make sure your bowl is oven proof. You do not want to see what soup looks like on the bottom of your oven because the bowl cracked from the high broiler heat!
Adding different types of cheese is the absolute best part! Provolone, gruyere and parmesan work so so well but feel free to add others if you must!
If you are cooking without an oven proof bowl OR cooking for a larger crowd I have created an alternate way of making this yummy soup. Below you will find all the ingredients and instructions.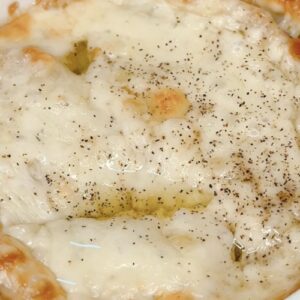 Classic French Onion Soup
Classic French onion soup made with an array of yummy cheeses to melt on top.
Ingredients
6 Large Yellow onions enough to make 10 cups when sliced
3 tbsp Olive oil
2 tbsp Butter unsalted or salted depending on your preference
1 tsp Sugar
1 tsp Salt You add less if you are using salted butter. The broth will have salt so try not to over do it.
2 cloves Garlic minced
8 cups Beef Stock or Broth Stock (made from bones) will make a bolder thicker soup, broth (made mostly from meat and vegetables) will make a thinner more flavorful soup.
1/2 cup Dry white wine or white wine vinegar
2 bay leaves
1 tbsp thyme a few fresh sprigs or dry thyme
Sliced baguette (2 per serving) any loaf that is more hearty to withstand being in soup without dissolving right away
Provolone Cheese 1 slice per serving
Gruyere Cheese grated and sprinkled on top
Parmesan Cheese grated and sprinkled on top
1/2 tsp Pepper optional
Instructions
Making the Soup
Cook the onions: Slice the onions. In a large pot on medium heat, add 3 tbsp of olive oil. Add onions and toss in olive oil. Cook for 15 min checking frequently and stirring. (make sure burner is on medium and no too high)Next you can increase the heat to medium high. Add the butter and cook, for 10 minutes stirring frequently. (the onions will begin to slightly brown in this step)Add the sugar and salt (this will help with the caramelization) and continue to cook for 10 minutes stirring frequently.

Deglaze with pot:Add the dry white wine (or white wine vinegar) to the pot and scrape the bottom and sides so that the flavoring that is stuck to the pot is released and mixed in with the onions.

Add the bay leaves, thyme and beef stock (or broth) to the pot.Set the burner to low so the soup and cook and simmer for up to 30 minutes.
Serving the Soup
Turn oven broiler on high

Scoop soup into an oven proof bowl. (if you do not have, read below for an alternate way to create)

Place two slices of baguette into the soupTop with a slice of provolone cheese.Sprinkle the gruyere and parmesan on top of the provoloneSprinkle with pepper (optional)

Place the bowl on a baking sheet place in broiler for 5 minutes or until cheese is melted and golden in color.
Alternate way to cook (if you do not have an oven safe bowl)
Turn oven broiler on high

On a baking sheet, lay the baguette out.Top with a slice of provolone cheese.Sprinkle with gruyere and parmesan cheese.Place in broiler for 5 min or until cheese is melted and golden in color.Scoop soup in a bowl and top with the bread and enjoy!
Video
Notes
If cooking for a larger crowd, you can also place in a large oven proof casserole dish.  Add the soup and baguette to fill the dish.  Add the cheese and bake in broiler for 10 minutes or until cheese is melted and golden in color.