Vegetables and soup are a match made in heaven! This Italian Tuscan vegetable soup checks all the boxes. It's filling, packed with nutrients, healthy, and most importantly easy to make. I suggest making a big batch and freezing it. You can use a stock pot so you have enough room to pack all those delicious veggies in.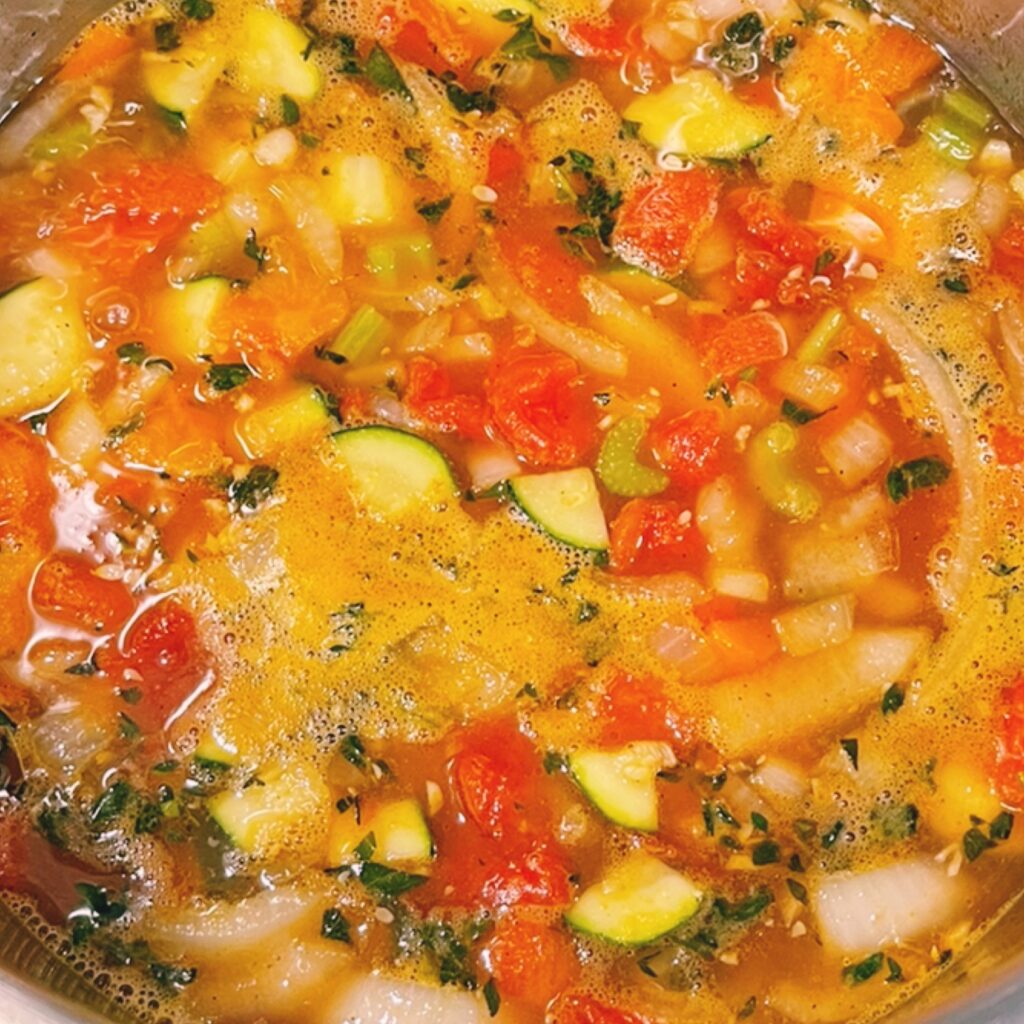 Other Recipes
Tuscan Vegetable Soup
Loads of Veggies and beans in a vegetable or chickin broth.
Ingredients
1 cup carrots chopped
1 cup onion chopped, white or yellow
1 cup celery chopped
1 cup zuccini chopped
2 cups spinach chopped
2 cloves garlic minced
2 tbsp fresh thyme
2 tbsp sage
1 can low-sodium canellini beans, drained and rinsed 15 ounce
1-2 32 low sodium chicken broth you can substitute with vegetable broth. If you plan to save for leftovers, air on the lesser side of broth and add more when you reheat.
1 can diced tomatoes 15 ounce, you can buy just tomatoes or the can with herbs.
2 tbsp olive oil
salt and pepper to taste
Instructions
Prepping the ingredients
Chop the carrots, onion, celery and zucchini and place in a bowl.Dice the thyme, sage and garlic and put aside. Chop spinach and put aside.

Rinse and drain beans and split the can into 2.Smash 1/2 the can of the beans with the back of a spoon.Leave the other 1/2 as is.

In a large stock pot on medium heat, add the olive oil. Once heated through add the carrots, onion, celery, zucchini, thyme, sage and garlic. Salt and Pepper to taste. Sautee for a 4-5 minutes.

Add the can of diced tomatoes and broth and bring to a simmer.

Once the broth is simmering, add the crushed and whole beans and the spinach. Let all ingredients cool through (10 minutes or so) and serve.

TOptional step: top with grated cheese.
Notes
I recommend using 1 32 ounce broth to start.  You can add more broth if needed.  The extra broth is also good for eating as leftovers. The veggies will absorb a lot of the juice when you store it.