Chicken with vegetables is the perfect busy weeknight dinner. You can have a veggie-packed, high-protein meal in 25minutes or less. One-pan cooking is the best cooking!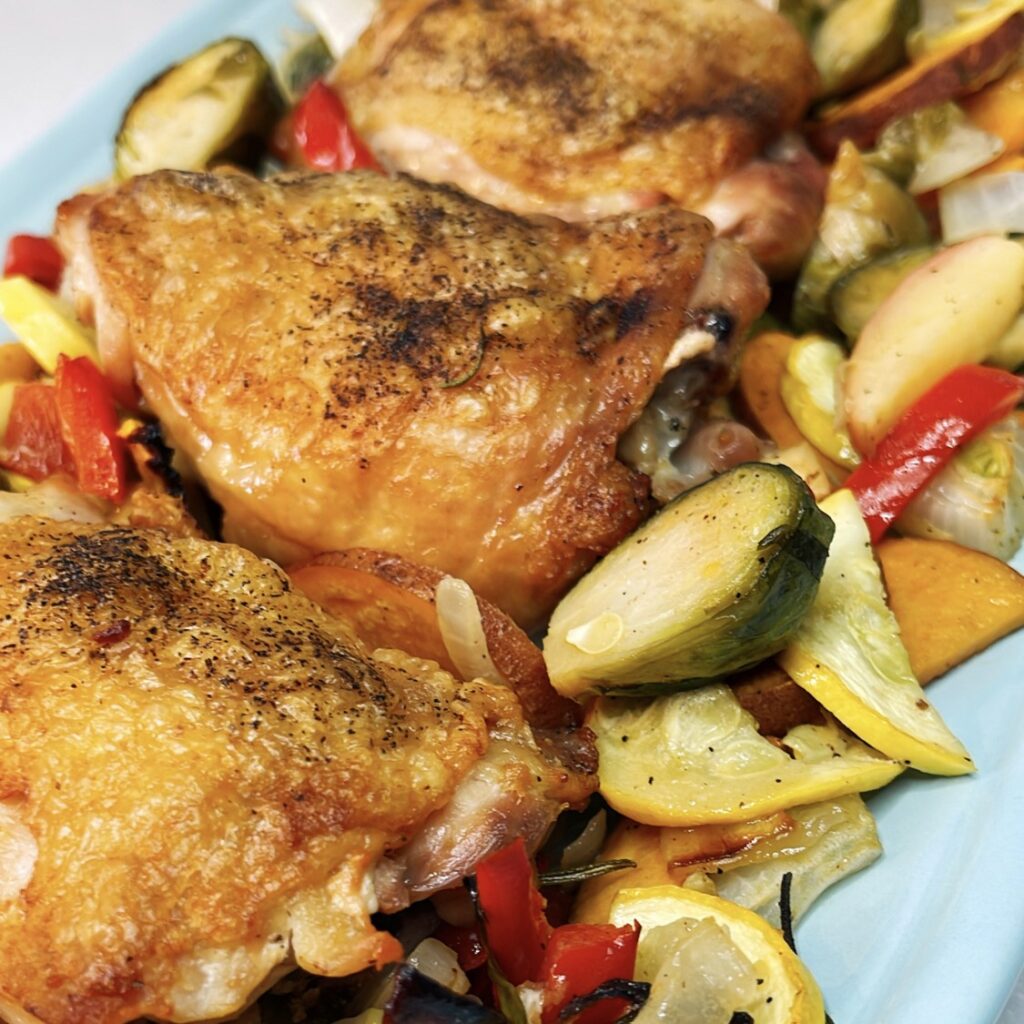 It's light, healthy and so delish!
Other Recipes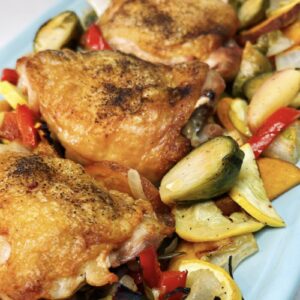 Pan Roasted Chicken Thighs with Vegetables
One pan cooking
Equipment
Oven

Rice Cooker optional

Cast iron skillet optional
Ingredients
1 White Onion
1 Yellow Squash
1 Red Pepper
2 cups Brussel Sprouts
2 small Apples (or1 large) of your choosing
1 large Sweet Potato
2 cloves Garlic
4 Chicken Thighs bone in and skin on
1 cup Rice optional
Sauce
1 tbsp olive oil
1 tbsp dijon
1 tbsp honey
Instructions
Preheat oven to 400 degrees and place rack closer to the top of oven (the second to highest) This is important for the vegetables cook properly.

Slice the onion, squash, pepper, and sweet potato into a large bowl.

Slice brussels sprouts in half. Make sure to slice long ways to keep them from falling apart. Add to the bowl.

Mince the two garlic cloves and add in.

Mix in the olive oil, dijon mustard and honey and spread all ingredients out on a non stick or well greased pan. *If using foil make sure to spray with non stick cooking spray or you can wipe the foil with a paper towel that has olive oil on it.

Salt and Pepper Chicken Thighs

OPTIONAL STEP: Brown the chicken thighs on the stove top for 3 min on each side, Start by placing skin face down onto the pan. This will help give a golden crisp to the skin and lock in all the moisture. If you choose to just place directly into oven then you may want to broil them at the end to allow them to brown a bit.

Place Chicken Thighs on the pan with the vegetables, Make a space to place them rather than laying overtop.

Cook for 30 minutes or when the chicken is fully cooked through to 165 degrees fahrenheit.

OPTIONAL STEP: Once cooked through, switch oven over to broil and continue to cook for a few minutes until everything is golden brown. Be sure to watch this step carefully, You do not want to burn the chicken or vegetables.