Pita flatbread is such a great homemade treat. It takes little time to make this pita bread recipe and can last for days. It is great to snack on with hummus, wrap up with a bunch of veggies, dunk into your favorite sauces, and so on. Would love to hear your favorite way to enjoy it in the comments below!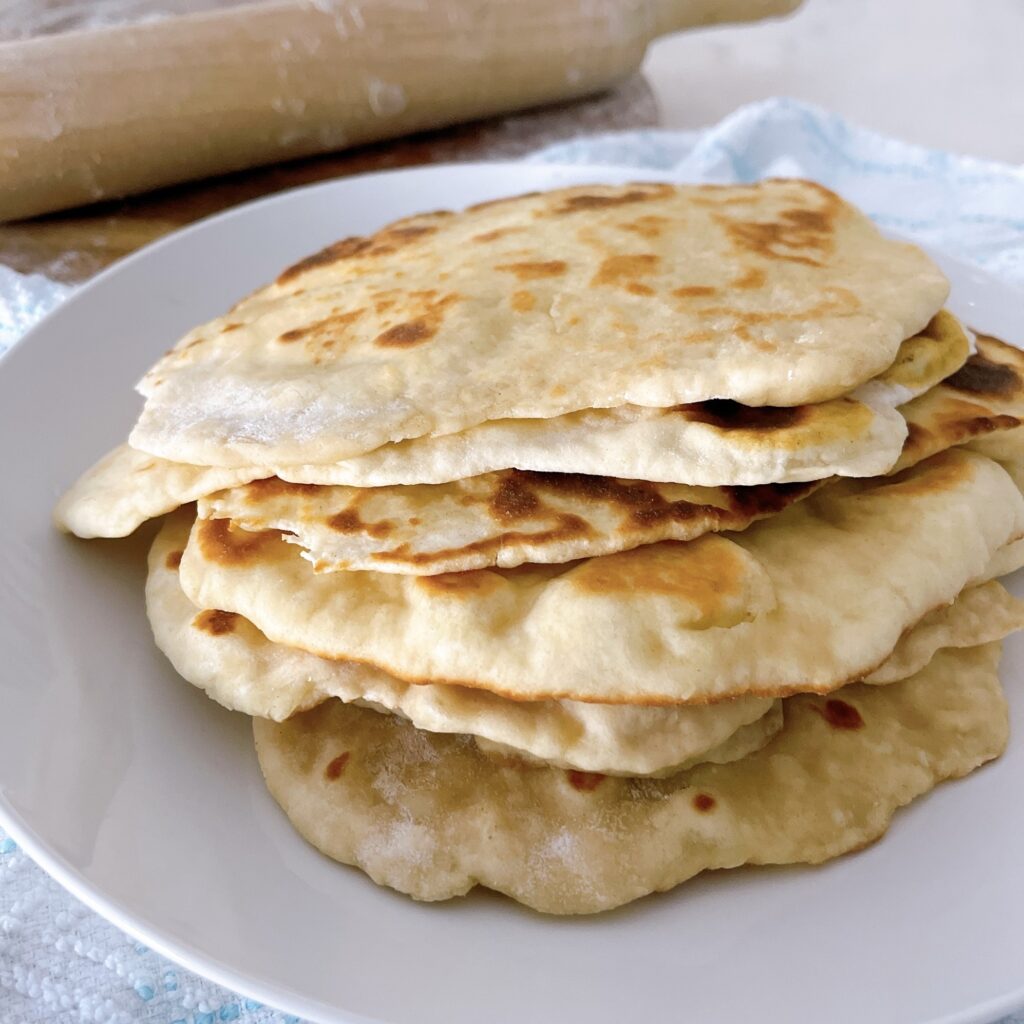 Beginner five-ingredient recipe.
Most of the ingredients are likely in your pantry. It really takes no time to prepare. I recommend using a cast iron skillet and rolling pin to p make this pita bread recipe super quick and easy to prepare.
Other recipes you may enjoy:
Spaghetti Aglio e Olio with Crabmeat
Homemade Pita Bread
Greek yogurt flatbread is made with only four simple ingredients.
Equipment
cast iron skillet or non-stick pan

Rolling Pin
Ingredients
3 cups all-purpose flour + 1/4 cup more to sprinkle down to roll out dough
3 3/4 tsp baking powder
3/4 tsp salt
1 1/2 cups plain greek yogurt.
2 tbsp olive oil
Instructions
In a large bowl combine the flour, baking powder, salt, and yogurt. Mix well into a dough ball. Cover with a cloth and let sit for 20 min.

Sprinkle flour down on your workspace. Starting with your hands, roll the dough into a long log. (like the look of a rolling pin) Make 7 equal cuts and separate the dough. This means you will have 8 equal pieces of dough.

Using more flour on your workspace and the dough roller, begin to roll out each piece into a round and flat pita.

On a cast-ron skillet or non-stick pan, drizzle a little olive oil (1/2 tbsp) and cook each dough one by one cooking for 2 minutes on each side. Make sure you add a little olive oil to the skillet before cooking each piece.

Serve warm or store in a plastic zip-lock bag for up to 5 days. You can refridgerate to keep its freshness and microwave for 10 seconds to reheat.
Notes
You can use the self-rising dough.  If you choose to do so, you will not need to add the baking powder or salt.