Air fryer potato skins are a delicious and easy-to-make appetizer or snack. Luckily, potatoes are naturally gluten-free. We also chose to keep all ingredients gluten-free and I promise they're scrumptious.
Why Cook Potato Skins in an Air-Fryer
Using an air fryer to cook potato skins has many benefits. First, it's much quicker than cooking them in a traditional oven. The air fryer can reach high temperatures in just a few minutes. Second, air frying results in crispier skin that's similar to deep frying, but with using little to no oil. Last, an air fryer is much more energy-efficient than an oven, so you'll save money on your energy bills while cooking your favorite snacks. That's a win-win for me!
Potato Skin Variations
While classic toppings like cheese, bacon, and green onions are always a hit for potato skins, there's plenty of other variations you can try. For a spicy twist, add some sliced jalapeños. For a healthier option, try topping your potato skins with salsa, and guacamole. Substituting sour cream with greek yogurt is also a healthy alternative. You could also experiment with different types of cheese, such as pepper jack, gruyere, or swiss for a unique but yummy flavor.
Tips For Air Frying Potato Skins
To ensure your air fryer potato skins turn out perfect, here are some tips to keep in mind:
Choose russet potatoes for the best texture and flavor. They also hold up well.
Brush the potato skins with olive oil to help them crisp.
Season the inside of the potato skins with salt and spices before air frying.
Don't overfill the air fryer basket, as this can prevent the potato skins from getting crispy.
Keep an eye on your potatoes while they're cooking. You want to avoid burning or overcooking them.
This article contains affiliate links that I may receive a small commission at no cost to you.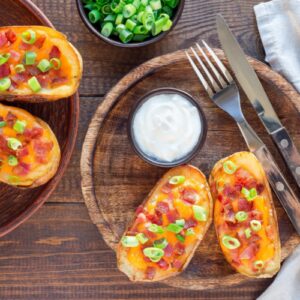 Air Fryer Potato Skins (Loaded and Gluten Free)
Ingredients
4 Russet Potatoes cooked and halved see below for how to cook them quickly
4 Slices Cooked Bacon chopped
1 cup shredded cheddar cheese
Additional Toppings (optional)
Sour cream
Jalepenos
Green Onion
Instructions
Slice the cooked baked potato in half lengthwise.

Using a spoon, scoop out about 1/3 of the potato. (it is important that you do not scoop all the potato out, you want some left in the skin.

Sprinkle the cheese on top.

Spray the inside of the air fryer with a non-stick cooking spray.

Place the potatoes in and cook at 390° for 5-8 minutes.

Open the air fryer and sprinkle the cooked bacon on top.

Continue to cook for 3-5 minutes. (make sure you do not burn the cheese, you want a golden color)

Remove from the air-fryer and place on a plate.
Toppings (optional)
Top each potato with a tbsp of sour cream and a few sliced jalapenos.

Sprinkle green onions on top.

Serve warm and enjoy!
Nutrition
Calories: 1480kcal | Carbohydrates: 163.1g | Protein: 58.1g | Fat: 69g | Saturated Fat: 35.5g | Polyunsaturated Fat: 4.4g | Monounsaturated Fat: 17.8g | Trans Fat: 0.1g | Cholesterol: 201.3mg | Sodium: 1351.9mg | Potassium: 3971.7mg | Fiber: 11.6g | Sugar: 9.4g | Vitamin A: 1940.9IU | Vitamin C: 54mg | Calcium: 1023.2mg | Iron: 8.2mg