Rice Paper Spring Rolls are a healthy and delicious option for a light meal or snack. They are perfect for summertime when you want something cool and refreshing.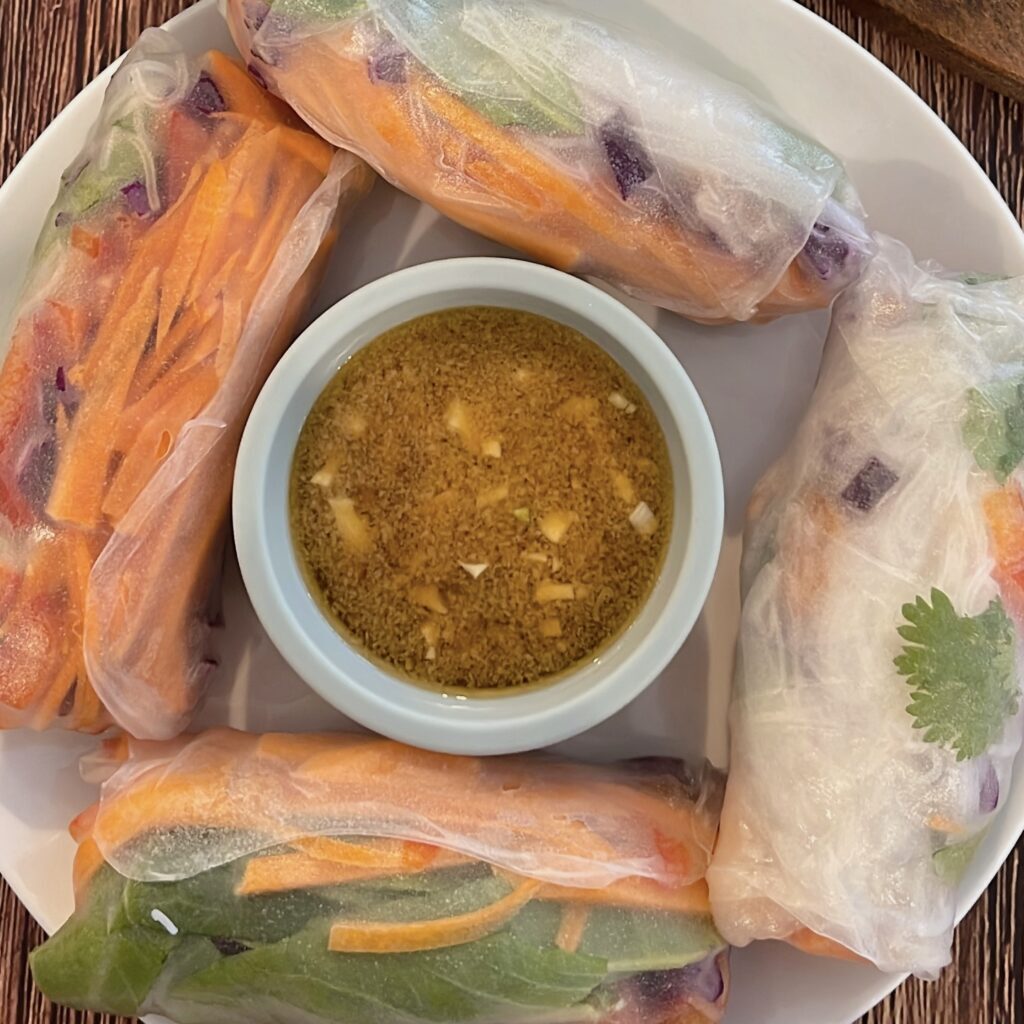 What ingredients do I need to make rice paper spring rolls?
Rice Vermicelli Noodles: The rice vermicelli noodles add a slight chewiness to the roll and absorb the flavors of the filling.
Tamari: Tamari adds flavor and depth to the dish. It has a slightly salty yet umami taste.
Rice vinegar: Rice vinegar adds acidity and helps to balance out the flavors of the other ingredients in the roll.
Garlic: Garlic provides a subtle flavor that enhances the other ingredients in the roll.
Ginger: It has a slightly sweet and spicy flavor that pairs well with other fresh ingredients.
Rice Paper Wraps: Rice paper wraps are light and delicate wrappers perfect for holding all the delicious fillings inside. It absorbs any excess moisture, keeping the salad roll nice and crunchy.
Iceberg Lettuce: It adds freshness and crunch to these rolls.
Red Bell Pepper: Red bell peppers add color, crunch, and a slight sweetness that complements the other ingredients in the roll.
Carrots: it adds sweetness and a crunchy texture to the rolls.
Purple Cabbage: Purple cabbage adds a deep color contrast with other ingredients, thus making these rolls eye-catching.
Can you use a dipping sauce?
Plain Soy sauce: Plain soy sauce is a great dip for fresh salad rolls. The umami flavor of soy sauce compliments the rolls' crisp veggies and rice paper.
Tahini: Tahini is a delicious, nutty-flavored dip perfect for fresh salad rolls. It's made from ground sesame seeds and contains healthy fats and protein.
Honey Mustard: The sweetness and tanginess of the honey mustard complement the freshness of the salad roll, making it a perfect combination.
Hoisin Sauce: It has a sweet and savory flavor, perfect for dipping fresh salad rolls.
Bar B Q Sauce: Barbecue sauce is the perfect way to add a little extra flavor to your salad rolls. The sweetness of the sauce pairs perfectly with the dish.
Chili oil: Chili oil is the perfect addition to any salad roll. Its bold flavor pairs perfectly with the freshness of the vegetables and herbs in the roll. Plus, it adds a nice bit of spice to the dish.
How to store rice paper spring rolls?
You can store them in an airtight container in the refrigerator if you decide to make them in advance. If you plan on eating the salad rolls within a day or two, you can store them in plastic bags or wrap them tightly in foil.
If you want the rice paper spring rolls to last longer than a few days, you can freeze them. Simply wrap them in foil or plastic wrap before freezing.
Other Recipes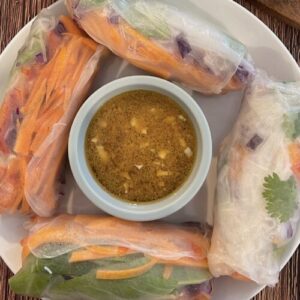 Rice Paper Spring Rolls
Vegetables rolled into a spring roll using rice paper.
Ingredients
1/4 head Iceberg Lettuce or spinach
2 tbsps Tamari
1 1/2 tbsps Rice Vinegar
2 Garlic cloves, minced
1 1/2 tsps Ginger minced
1 tbsp Water
8 Rice Paper Wraps
3 ozs Rice Vermicelli Noodles
Instructions
Cook the vermicelli noodles acording to the package instructions. Rinse under cold water and drain. Set Aside.

In a bowl, mix together the tamari, rice vinegar, garlic, ginger and water.

Soften a sheet of rice paper underwater by submerging it in a shallow dish for 5 seconds. Transfer to a plate. Arrange the lettuce, vermicelli, bell pepper, carrot and cabbage in the middle of the wrap. Fold the bottom over the filling, then fold the sides. Tightly roll the rice paper until it's completely wrapped. Transfer to a separate plate and repeat this process until all the ingredients are used up.

Dip into the sauce and enjoy!
Nutrition
Calories: 190kcal