A Thai Chicken Bowl is a simple, healthy yet delicious way to enjoy a meal. Buddha bowls are popular for their well-balanced ingredients and the fact that you can prepare them in advance. This recipe offers delicious Thai flavors and nutrients, perfect for lunch and dinner.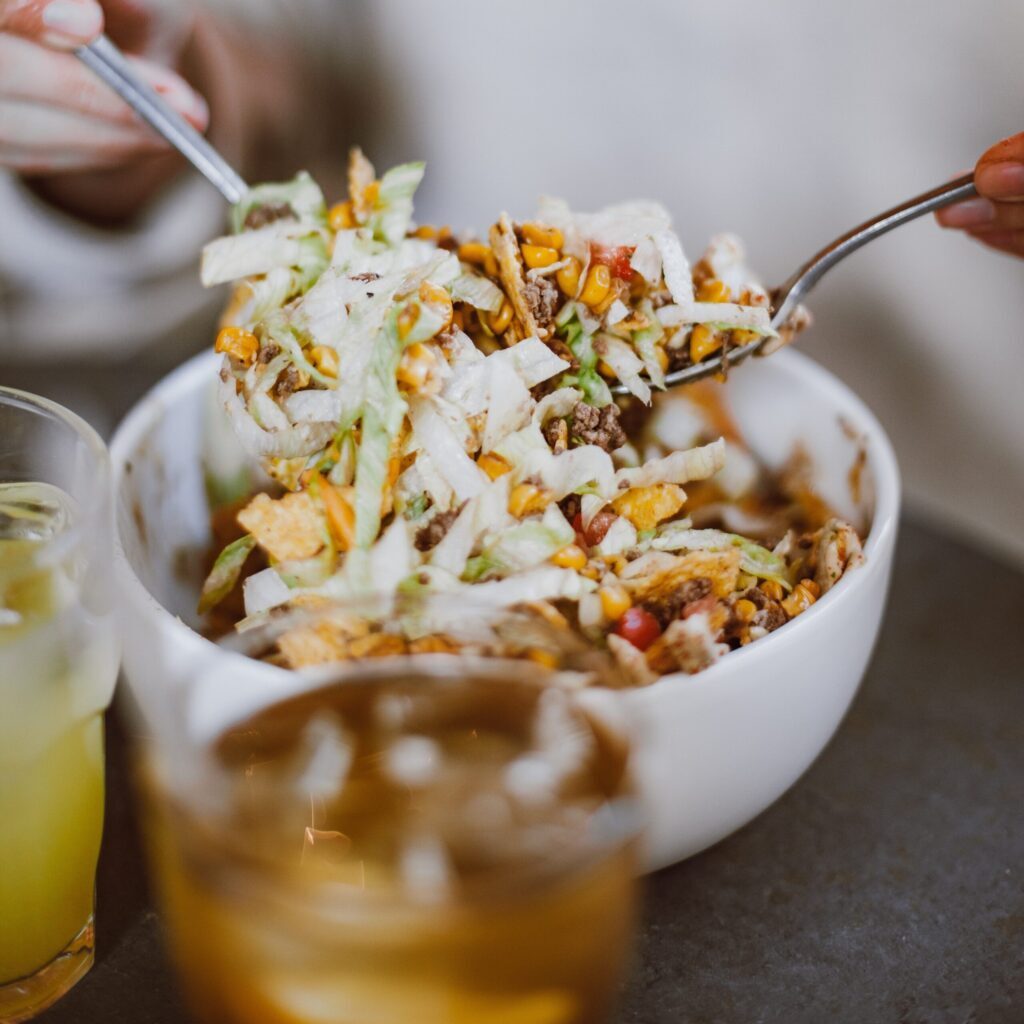 What is a Buddha bowl?
A Buddha bowl is a type of dish that is typically served in a bowl and includes a variety of different components. Buddha bowls are named after the Buddhist concept of balance and harmony. The idea is to create a nutritionally balanced dish that provides a healthy meal. This type of bowl is typically high in fiber and low in fat, making it an ideal option for those looking for a healthy meal option.
Main components of the Thai Chicken Bowl
There are many different ways to make a Buddha bowl, but there are some common ingredients. Most Buddha bowls will include the following:
Grain: It includes grains such as rice, faro, or quinoa.
Vegetables: They can contain one or more than one cooked or raw vegetables.
Protein: add protein in the form of meat, Tofu, Tempeh, Beans, or Eggs.
Dressing: Finally, many Buddha bowls are topped with a sauce or dressing for more flavor.
Variation ideas
Here are a few ideas you can try with this Thai chicken Buddha bowl:
Seafood: Whether you use shrimp, fish, or squid, seafood is a great way to add protein and flavor to these Buddha bowls.
Red Meat: Red meat is often overlooked as an option for chicken in Thai Chicken Buddha Bowls. However, red meat can provide a heartier and more filling meal.
Veggie: You can add your favorite vegetables like corn, onions, bell peppers and other leafy greens.
Rice: Use brown or white rice instead of faro. For a vegan option, you can use cauliflower rice.
Tofu: You can replace chicken with tofu as well. It is a great vegan option.
Can you make Thai Chicken Buddha Bowls in advance?
When it comes to weekday meal prep, Buddha bowls are a popular option. Therefore, you make them in advance and store them for later use. You can prepare the ingredients ahead of time and refrigerate until use. But the dish is best assembled and served fresh. If you're short on time, you can cook the rice and chicken ahead of time. Then, simply assemble the bowls with the other ingredients when you're ready to eat.
Other Recipes: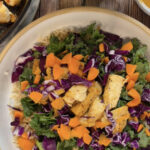 Print
Thai Chicken Bowl
Instructions
Ingredients
1 cup Farro (Or Brown rice, quinoa or cauliflower rice)1/4 cup Chicken Stock 1 1/2 tbsps Sambal Oelek (groundfresh Chile paste)I tbsp Brown Sugar (optional (or maple syrup))I tbsp Freshly Squeezed Lime Juice 1 1b Boneless,Skinless Chicken Breast(cut into I-inch chunks)1 tbsp Fish SauceI tbsp Olive Oil2 cloves Garlic (minced)I Shallot (minced)1  tbspFreshly Grated GingerKosher Salt And Freshly Ground BlackPepper, (to taste)2  CupsShredded Kale1 1/2 cups Shredded Purple CabbageI Cup Bean Sprouts2  Carrots(peeled and grated)1/2 cup Fresh Cilantro Leaves1/4 cup Roasted Peanuts (optional – can sub toastedalmond)3  tbspsCreamy Natural Peanut Butter2 tbsps Freshly Squeezed Lime Juice1  tbspTamari Sauce (or braggs) tspsDark Brown Sugar
Directions
1 To make the spicy peanut sauce, whisk together peanut butter, lime juice, soy sauce, brown sugar, sambal oelek, and 2-3tablespoons water in a small bowl, set aside. To avoid spicy – avoid using sambal!2 Cook farro according to package instructions; set aside.3 In a small bowl, whisk together chicken stock, sambal oelek, brown sugar, and lime juice; set aside.4 In a large bowl, combine chicken and fish sauce, tossing to coat.5 Heat Olive Oil in a large skillet over medium heat. Add chicken and cook until golden, about 3-5minutes. Add garlic, shallot, and ginger, and cook, stirring frequently, until fragrant, about 2 minutes. Stir in the chicken stock mixture until slightly thickened, about 1 minute; season with salt and pepper, to taste.6 Divide farro into bowls. Top with chicken, kale, cabbage, bean sprouts, carrots, cilantro, and peanuts.7 Serve with spicy peanut sauce.
Video