Spaghetti Aglio e Olio – Spaghetti with garlic and olive oil is a famous dish from Naples, Italy. Pasta, garlic, olive oil, and cheese are the main components. We decided to kick it up a notch and add lump crabmeat on top.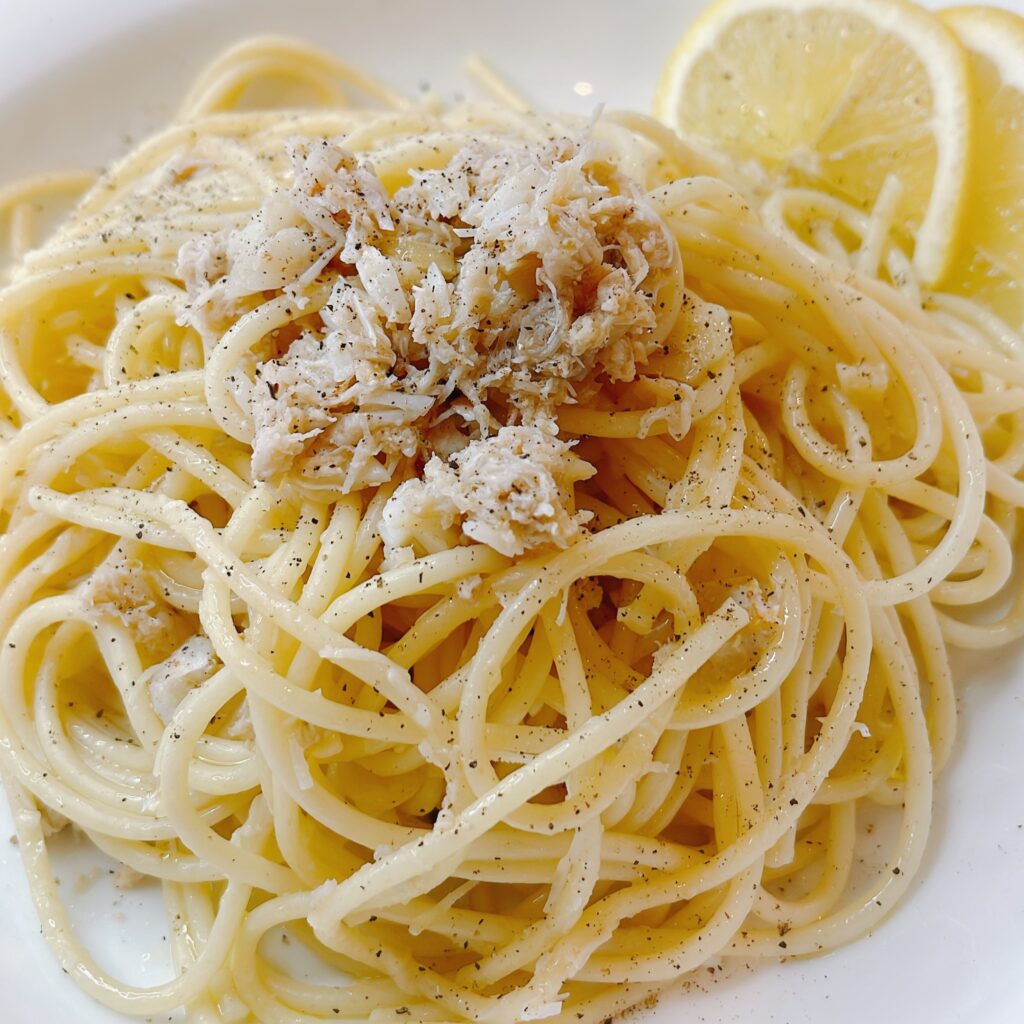 The main part of making this amazing flavorful spaghetti with garlic and olive oil meal is lightly sauteing the garlic. This is where ALL the flavor comes from. You must make sure that you are using good olive oil. It is rich in heart-healthy fats, along with vitamins E and K. I cook with it all the time.
So let's get to the cooking. IMPORTANT STEP…The olive oil and garlic should be placed in a cool unheated pan. You do not want to burn the garlic. If the pan is blazing hot and you add it to the oil, the garlic will burn.
You can choose to grate your own cheese or go with store-bought grated cheese. My absolute favorite and I use it on all my pasta dishes is Locatelli. A good parmesan can also do the trick. I think we can all agree on spaghetti with garlic and olive is one of the most delicious dishes out there.
As for the crabmeat, I typically buy a can of crab legs. The flavor is great and it's half the price of white lump crabmeat.! WIN WIN!! The can is pretty large you can double the recipe or save it for another awesome dish. We usually make crab with endives the next day. They're so delish!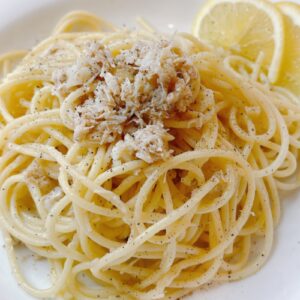 Spaghetti aglio e olio with Crabmeat
Spaghtetti tossed in a olive oil and garlic sauce topped with crabmeat.
Ingredients
1 pound Spaghetti
7-10 Cloves of garlic
1/2 cup Extra Virgin Olive Oil
1/4 cup Locatelli Cheese Parmesan and Romano are also a great choice
1 cup Lump crabmeat
2 tbsp Lemon
Salt and Pepper to taste
Instructions
In a large pot, bring 4-5 quarts of water to a rolling boil.

Slice the garlic into thin pieces. (see video below)

Place the olive oil and garlic into a large pan. (The pan should not be hot)

Turn on stove to a low simmer. Have the garlic lightly simmer for a few minutes without burning.

Add the crabmeat to the oil and garlic and cook until warm.

Once pot is boiling, add a handful of salt and cook the pasta until al dente. This is usually 10-11 minutes.

Combine all ingredients.

Squeeze fresh lemon juice on top and mix up,

Sprinkle cheese on top.

Salt and Pepper to taste