If you are looking for a fresh and colorful meal, then you're in the right place! This Greek pasta salad is perfect as a meal or paired as a side dish.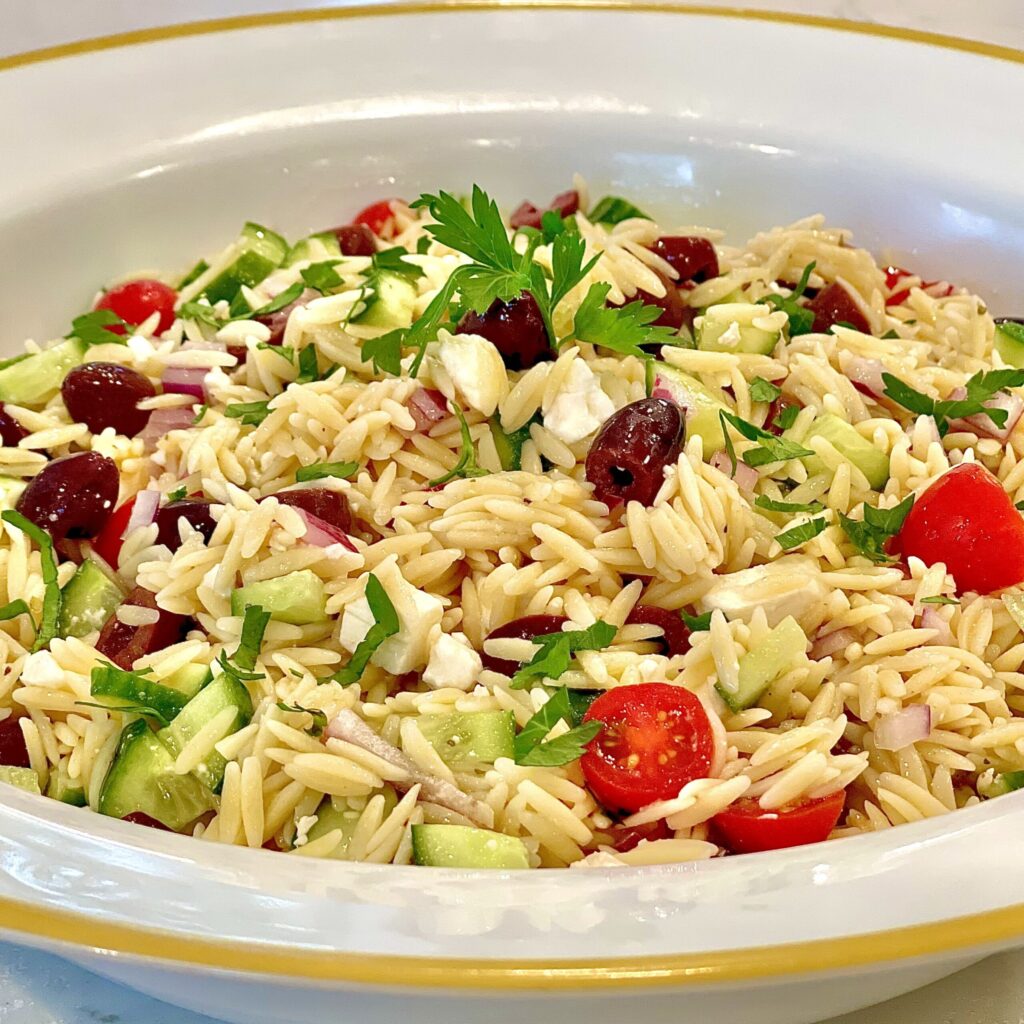 We make this Greek pasta salad a lot in our house. It's the perfect warm-weather dish. Grilled chicken or even shrimp would go perfectly! A crowd-pleaser! If you're looking for the perfect bowls to serve check this out! I love adding color to an already colorful dish!
Greek Yogurt Bagels is another fantastic dish to check out!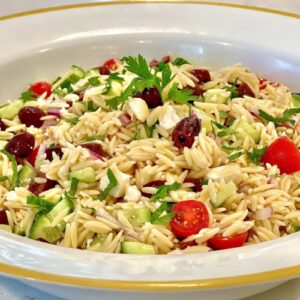 Greek Mediterranean Pasta Salad
Orzo pasta tossed with fresh veggies in a simply made vinegrette.
Ingredients
2 cups Cucumbers
1/2 cup Purple Onion
1 cup Grape tomatos
1/2 cup Kalamata olives
1 cup Feta cheese
1 box Orzo pasta
Oil oil
fresh parsley for garnish (optional)
Pasta Salad Dressing
2/3 cup olive oil
1/3 cup balsamic
2 tbsp lemon
1 tsp oregano
salt and pepper to taste
Instructions
In a large pot heat waterfor the orzo until a rumbling boil.

Slice and dice the cucmber, onion, tomato and kalamata olives.

Once pasta water is boiling, add a handful of salt to the water. Place the orzo in the water and cook for 8-10 minutes. (If you prefer to have a more aldente or more cooked.)

Drain Pasta and place in a large bowl. Drizzle olive oil and mix through. Let pasta cool. It is NOT recommended to rinse the pasta under cool water. This will release the startch that is needed to help adhere the pasta to the dressing.

Once cool, add all the diced vegetables and sprinkle in the feta cheese. Garnish with parsley!
Dressing
In a measuring bowl, combine the oil, vinegar, oregano, salt and pepper.

Mix well and drizzle on pasta salad.

You can store extra dressing in a air tight container in the refrigerator for up to 10 days.