Mini Carrot Cake bites are inspired by traditional carrot cake. These are healthier and tastier version which is easy to make, quick, and a perfectly healthy snack you can enjoy any time of the day.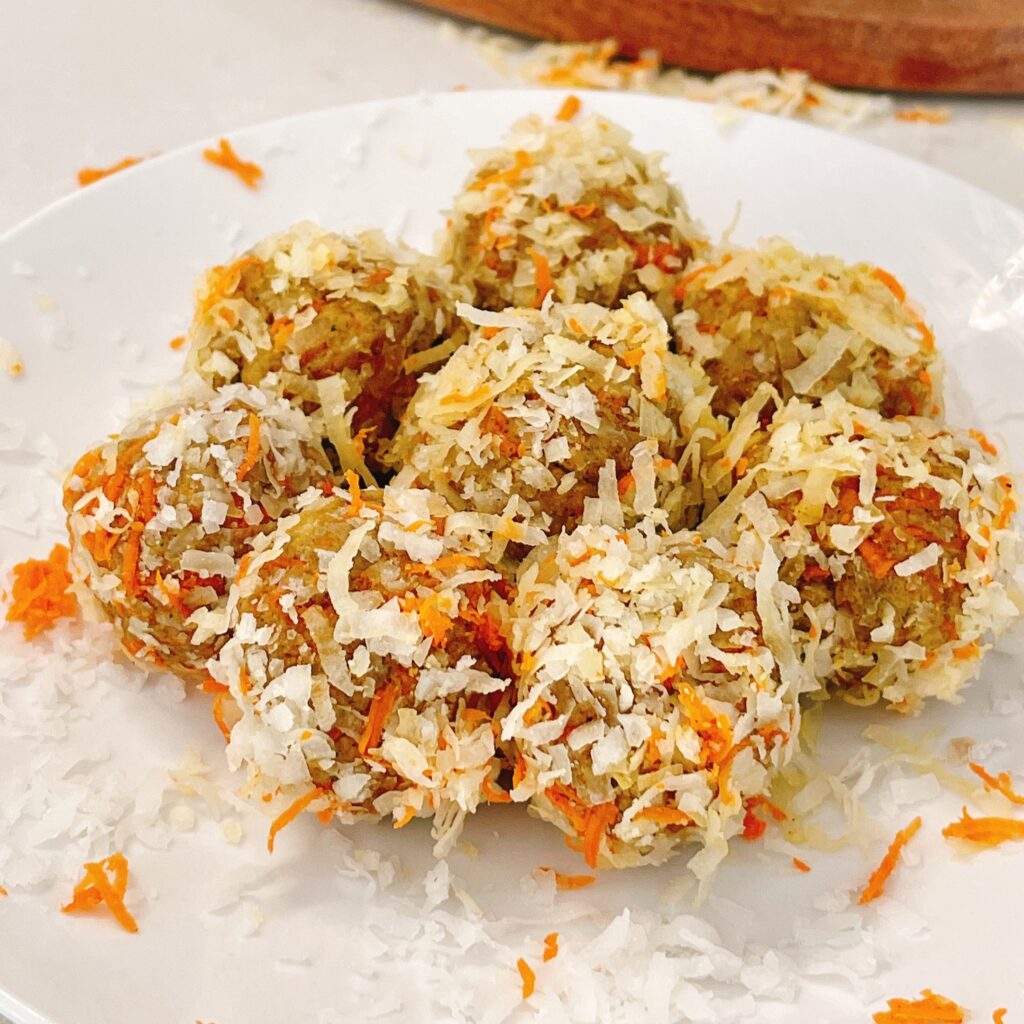 Why make carrot cake bites?
If you love traditional carrot cake, you will love this simple, quick, and healthy no-bake version! This recipe is unbelievable. Here is why you should try mini carrot cake bites:
This recipe is super easy to make. It is quick, and all the ingredients are easy to find. You can make it in no time!
Since it is a no-bake recipe, it is fuss-free. Especially when you are not good at baking, you can enjoy this amazing recipe without using an oven.
It is a healthier version of carrot cake. It is rich in protein and thus a healthy choice for a snack. It is also a gluten-free and plant-based recipe.
Ingredient breakdown
Coconut flour: The base for this recipe is coconut flour. Coconut flour is a plant-based and gluten-free ingredient. It is rich in fiber and protein and offers several health benefits. You can quickly get it from any grocery store.
Protein powder: Adding protein powder to this recipe ensures you get the required amount of protein. You might use protein powder in smoothies, but they also go well in snacks. You can use plain or vanilla-flavored protein powder for this recipe. Many protein powders contain artificial sweeteners. We highly recommend Vega Protein. They have a bunch of flavors. This particular recipe uses vanilla.
Cinnamon: Cinnamon adds a woodsy and slightly sweet, warm flavor to these bites.
Nutmeg: Nutmeg also adds an aroma and slightly sweet and nutty flavor.
Salt: A dash of salt acts as a flavor enhancer and balances the sweetness.
Maple syrup: To add natural sweetness to these bites, add maple syrup. Its toffee-like flavor makes these bites flavorsome.
Vanilla extract: It adds a unique umami flavor to this recipe.
Coconut oil: Coconut oil is rich in healthy fats and offers many health benefits.
Shredded coconut: Shredded coconut has a tropical flavor and adds a texture to these carrot cake bites.
Carrot: Finally, the hero ingredient is the carrot. It adds a sweet, earthy, and woodsy flavor to these bites.
Variation and substitution ideas
Here are a few ways you can add more flavor and texture to these mini carrot cakes:
Nut butter: You can replace coconut oil with nut butter, like almond butter or cashew butter.
Extract: Adding vanilla extract to this recipe is optional. You can replace it with almond extract or even peppermint extract.
Dates: To add more flavor and texture to these bites, add Medjool dates. They provide instant energy and are abundant in natural sugar as well.
Dried fruits: You can bring in a chewy element by adding dried fruits like dried raisins, mulberries, etc.
Nuts: Add chopped walnuts, pecans, or almonds for a crunchy element and more nutrients.
How to store mini carrot cakes?
You can place these mini carrot cakes in an air-tight container and refrigerate them or place them in a cool, dry place. They will last for up to 7 days.
Other Recipes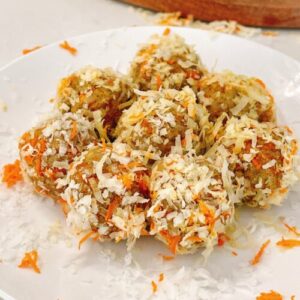 Carrot Cake Bites
Healthy no bake carrot bites.
Ingredients
1/2 cup coconut or almond flour
1/2 cup vanilla protein powder
1 tsp cinnamin
1/4 tsp nutmeg
1/4 cup maple syrup
1/4 tsp salt
Instructions
In a bowl, add the coconut flour, protein powder, cinnamon, nutmeg, and salt. Stir to combine.

Add the maple syrup, vanilla, and melted coconut and stir again.

Fold in a quarter of the shredded coconut and all of the grated carrot.

Form into even balls with your hands, approximately one inch in diameter. Add the remaining shredded coconut to a plate for rolling. If the batter is too sticky, add some more flour.

Place in a sealed container in the fridge for about 20 minutes to slightly harden. Enjoy!
Video
Nutrition
Calories: 130kcal