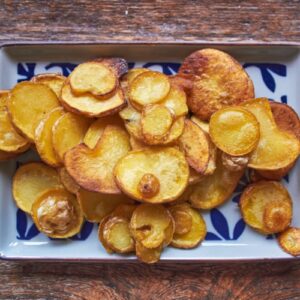 Air Fryer Potato Chips (Gluten Free)
Ingredients
2 medium Russet Potatoes
2 tbsp Canola Oil
Salt and Pepper to Taste
1 tbsp Fresh Chopped Rosemary optional
Instructions
Using a mandoline or knife, slice the potato into 1/8-inch slices.

Fill a large bowl with cold water and add the sliced potatoes and soak for 10 minutes.

Remove from bowl and lay them on a towel separated from one another and pat dry well.

Wipe away any excess water from the bowl and place the potato slices back in once they're patted dry.

Add the olive oil, salt, and pepper.

Mix well so every slice has the oil coating.

Using oil spray, grease the air fryer base so nothing will stick.

Place enough slices in that they're not overlapping each other too much. It is good to make this recipe in 2-3 batches. (if the potato slices are on top of one another it will not crisp in that area leaving them soggy)

Cook on 390° for 20-25 minutes or until the slices are crisp like a potato chip. Make sure to check in between to prevent them from overcooking and burning.

Carefully remove the cooked potato chips onto a plate lined with a paper towel. Continue to cook the next batch until all the potato slices are cooked.

NOTE* When they come out of the air fryer, you can sprinkle them with more salt and fresh rosemary.