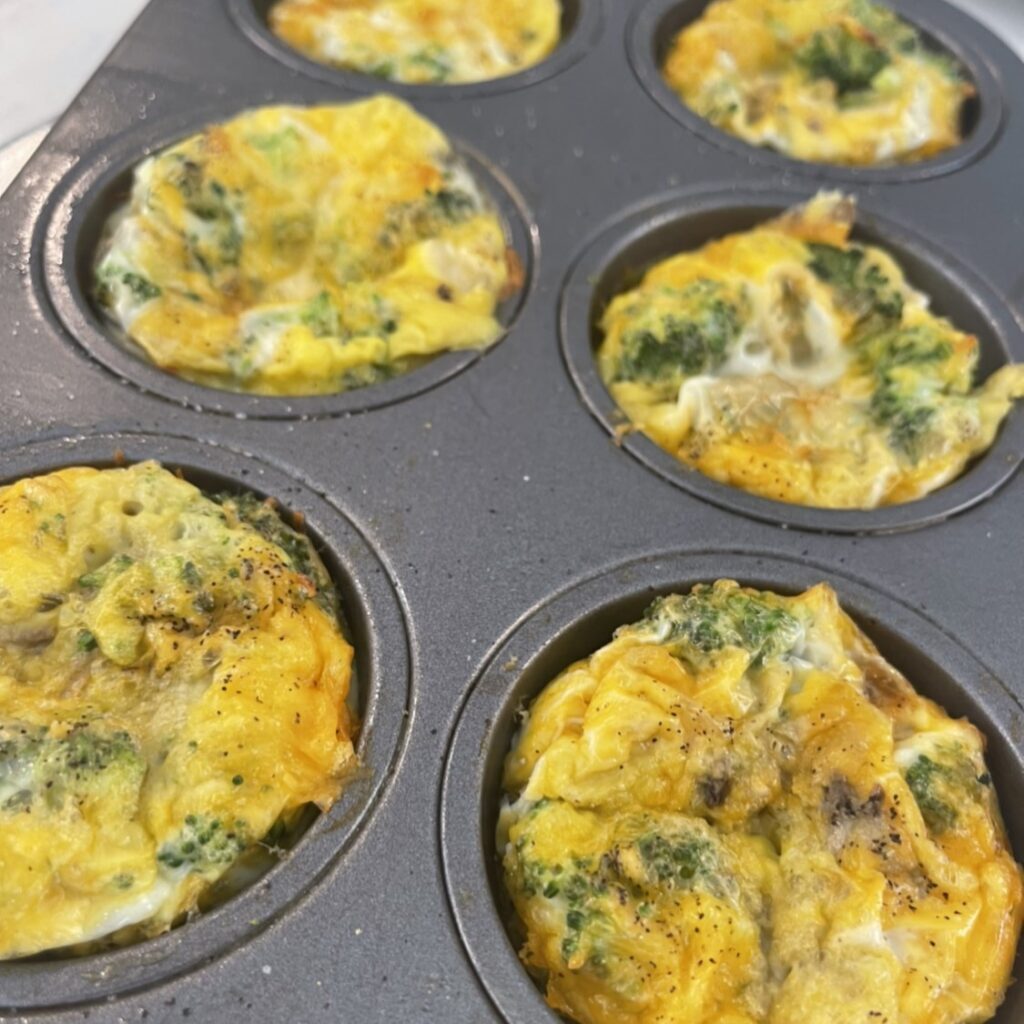 Broccoli & cheddar egg muffin cups are a quick, effortless, and tasteful breakfast for everyone. It is low in
calories and protein-rich; thus a perfect choice to kick start your day.
Ingredient Breakdown for recipe

Broccoli: who doesn't know the many benefits f broccoli? This green vegetable is loaded with minerals and offers so many nutrients. Adding it to your diet, especially in breakfast, allows you to start your day with loads of energy. You can either use fresh or frozen broccoli for this recipe. If you are using frozen broccoli, I recommend you thaw it first to eliminate extra moisture.
Mushrooms: mushrooms are not only a healthy ingredient but also offer flavor and a texture to your egg muffins. You can use any edible mushroom for this recipe.
Cheddar cheese: a little shredded cheese is always perfect for brightening your day. It adds cheesiness and flavor to these humble muffins.
Egg: the main ingredient of these muffins is eggs. We all want eggs for breakfast as they are rich in protein and tasty.
Sea salt: a little salt ensures the muffins aren't bland.
Variation ideas to make other yummy egg muffin cups
Using a muffin tin works but I personally have found the silicone muffin cups to work best.
You can add so much to make these muffins special or nutritious. Here are a few ideas you should try:
Although I have just used salt to add flavor to these muffins, you don't have to restrict yourself
to it. You can spice up the muffins by adding your favorite spices and seasonings. Try cumin
powder, red pepper flakes, paprika, or black pepper. Whisk these spices in eggs for more flavor
and oomph.
The texture is everything. So, you can add a crunch by adding bacon bits to these muffins and
make it an even more perfect breakfast item.
Start your day with more greens by adding fresh spinach leaves, green onions, chives, or even
kale to this recipe.
There are so many amazing vegetables you can add to these muffins. So don't get shy and add
freshly grated carrots, diced bell peppers, tomatoes, onions, etc. To these muffins to make them
more wholesome.
Although cheddar cheese does the work, you can use other cheeses like cottage cheese, feta
cheese, or mozzarella cheese as well.
You can also use leftover meat like shredded chicken or steak bites in these muffins.
Can you make Broccoli & Cheddar Egg Muffin Cups in advance?
You can make these muffins in advance and refrigerate them in an air-tight container for 3 days. Simply
reheat and enjoy! Moreover, you can also freeze these muffins in a zip lock bag for up to a month.
Other Breakfast Recipes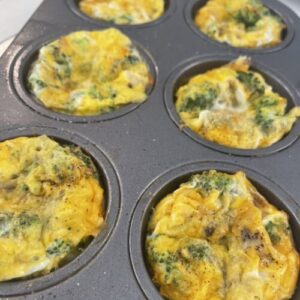 Egg Muffin Cups
Eggs, vegetables, and cheese baked in muffin molds.
Equipment
muffin tray metal or silicone works
Ingredients
1/2 cup broccoli
1/2 cup mushrooms
1/2 cup cheese
5-6 eggs egg
salt and pepper to taste
Instructions
Preheat the oven to 350ºF (175ºC). Grease a muffin tray or use a silicone muffintray.

Divide the broccoli, mushrooms, and cheese evenly between the cups of theprepared muffin tray.

Mix the eggs and salt together and pour into the muffin tray. Bake for 18 to 20minutes or until the eggs are cooked through. Let cool for five minutes. Enjoy!
Video
Notes
You can substitute whole eggs for egg whites or egg beaters.  
Nutrition
Calories: 91kcal