When fall is around the corner, you start smelling freshly baked goods with pumpkins. To celebrate the fall spirit and enjoy the goodness of pumpkin, try this amazingly simple yet tasteful Pumpkin Oatmeal Pancakes recipe. These pancakes are healthy, tasteful, comforting, and super fluffy.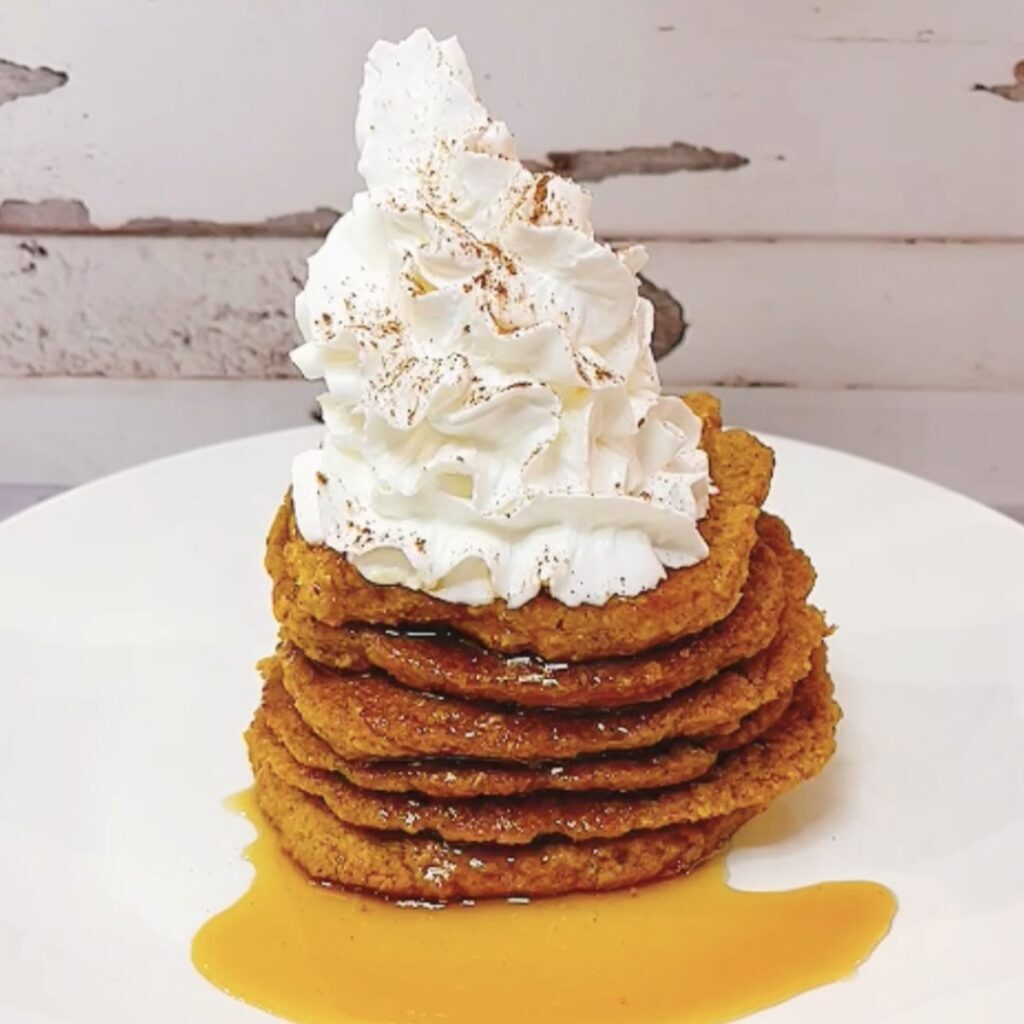 Why make pumpkin oatmeal pancakes?
Among the many different pancake recipes, pumpkin oatmeal pancakes are unique. That's mainly because they use pumpkin puree in them. However, it is not just pumpkin that makes these pancakes stand out. Here are a few reasons you should skip your traditional pancake recipe and try this one!
Healthy: These pancakes are loaded with nutrients. Every ingredient used in this recipe offers health benefits. We have used oats, almond milk, and pumpkin puree, known for their many benefits. So, you can start your day with a healthy and nutrient-dense breakfast.
Flavorsome: These pancakes are very tasty. The blend of pumpkin and aromatic spices adds warmth and comfort to these pancakes. You get indulged in its comforting flavor after the first bite.
Fluffy: These pancakes are incredibly fluffy. They melt in your mind. Fluffy enough to bring a smile to our faces!
Easy to make: These are very easy to make. All the ingredients are easy to find, and the process is very simple and quick.
Easy to store: These pancakes are easy to store as well. You can keep them warm in a food warmer, refrigerate or even freeze them. Isn't it convenient?
When using a cooking pan I swear by the green pan. It's free of PFAS, PFOA, lead, and cadmium. It will never release toxic fumes. You won't regret it!
Pancake topping ideas
Here are a few topping ideas for you to try:
Nuts: Top these pancakes with pecans, walnuts, or raisins. They add a crunch to the dish and offer more nutrients.
Maple syrup: Pancakes and maple syrup is a pair made in heaven. You simply can't miss out on it! You can also use honey or any flavored syrup like chocolate or caramel.
Flavored Greek or coconut yogurt: Add a dollop of Greek yogurt or coconut yogurt for a creamy texture. You can use whipped cream as well.
Berries: Adding fresh berries such as strawberries or blueberries bring in a refreshingly sweet and slightly tart flavor.
Spices: Dust these pancakes with pumpkin pie spice or cinnamon powder for warmth.
Can you freeze these pancakes?
Although you can store the leftover batter for up to a day, I have a better way of storing it. You can make pancakes, let them cool down, and place them on a baking tray. Flash freeze them for an hour and stack them in an air-tight container placing a baking sheet between each pancake. Freeze the pancakes for up to 3 months. It is a super convenient way of storing the pancakes and saves you tons of preparation time.
You can reheat the pancakes in the microwave until they are warm and fluffy again.
Other Recipes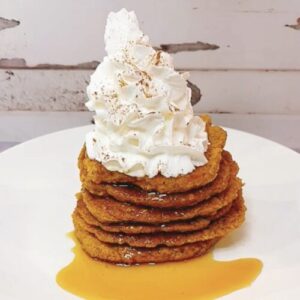 Pumpkin Oatmeal Pancakes
Healthy homemade pancakes made with pumpkin.
Equipment
blender

Griddle or non stick pan
Ingredients
2 eggs
1 1/2 cups old fashioned rolled oats
3/4 cup pumpkin puree
2/3 cup vanilla almond milk unsweetened or milk of choice
1 tbsp maple syrup
2 tbsp vanilla
2 tsp baking powder
1/2 tsp cinnamin
1/2 tsp nutmeg
dash salt
Instructions
Combine all ingredients into a blender and blend on high for up to 1 minute.

Heat coconut, butter, and olive oil in a pre-warmed griddle on medium heat. Once melted place about a 1/3 cup of batter onto the griddle. Using a spoon, spread the batter to help create the pancake. (see notes)

Cook for 2-4 minutes or until you start to see it slightly bubble around the edges.

Flip and cook for an additional 2-4 minutes.

Serve with a drizzled maple syrup and a spinkle of cinnamon.
Video
Notes
The batter will be a thick consistency.  It is important to cook quickly after blending.  Make sure to adjust the heat accordingly. If at any point the pan is smoking, then you have to lower the heat.  You can wipe the pan and reapply the oil/butter between batches to help prevent burning. 
Nutrition
Calories: 260kcal