Looking for a delicious, low-calorie, and high-protein lunch recipe? Try Turkey Stuffed Zucchini Boats!
These boats are easy to make but are loaded with textures and flavors from lean turkey meat,
spinach, and bell peppers.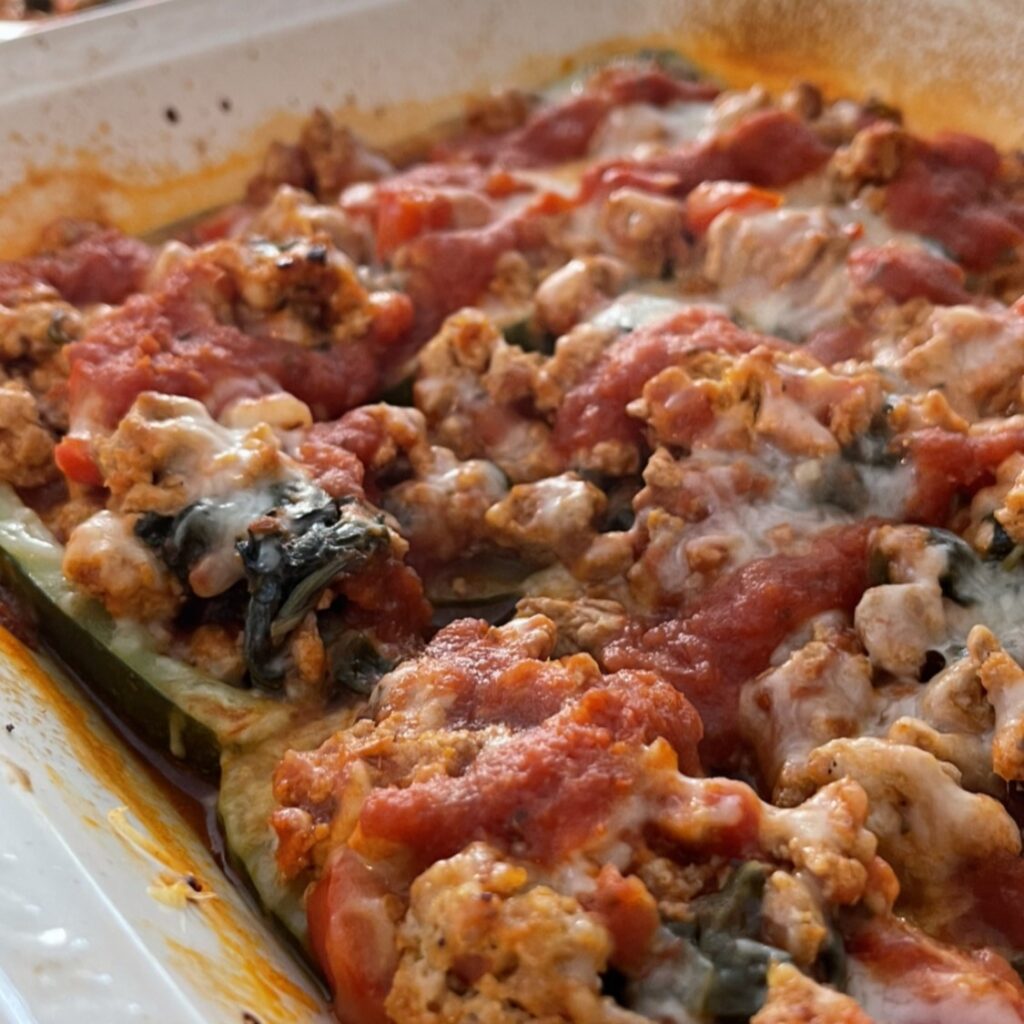 What to look for when buying zucchini?
The skin of a vegetable tells you a lot about its quality. So, when buying zucchini, make sure you choose the ones that have a vibrant green color.
The vegetable should be free from any blemishes, brown spots, blotches, or cracks.
Choose small to medium sizes for making these boats. Make sure you choose an even size so that they cook evenly.
Lastly, the ones with stems still attached to them are the good ones. So don't neglect those!
Variation ideas
Here are a few amazing ways you can add more flavors to this recipe:
Bring in a Mexican flair by using taco seasoning in the turkey mixture. You can add corn kernels and black beans to celebrate the unique Mexican flavors.
You can replace the tomato sauce with canned Rotel tomatoes as well. If using Rotel tomatoes, cook them with the turkey.
Garnish these boats with sour cream for more flavor.
If you are a cheese lover, feel free to sprinkle shredded parmesan or cheddar cheese and broil for a few seconds until the cheese melts.
The recipe is super healthy and works great with minced turkey. You can, however, use minced chicken or beef as well.
Can you make Turkey Stuffed Zucchini Boats in an air fryer?
Absolutely! Although I have made this recipe in the oven, if you want, you can make it in an air fryer as
well. You might have to adjust the size of these zucchini boats according to your air fryer basket. Other
than that, they will cook to perfection in an air fryer as well.
How to store Turkey Stuffed Zucchini Boats?
You can store turkey-stuffed zucchini boats by placing them in an air-tight container and refrigerating
them, and they will last for 2 days. Reheat them either in a microwave, air fryer, or oven.
Moreover, you can prepare the turkey stuffing in advance and refrigerate or even freeze it as well. Just
prepare the zucchini oats, stuff with premade stuffing, and enjoy!
Other Recipes
Turkey Burger Breakfast Burrito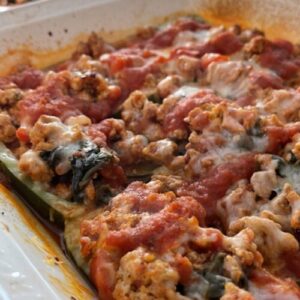 Stuffed Zucchini Boats (Turkey)
Zucchini stuffed with turkey and vetetables.
Ingredients
1 tbsp Extra virgin olive oil
6 Zucchini
1/2 jar Tomato sauce
8 oz Ground turkey lean
2 tbsp Garlic
1 tbsp Italian seasoning
1 Red bell pepper chopped
1/4 Red pepper flakes
2 cups Baby spinach chopped
1 cup Shredded cheese optional
Instructions
Preheat the oven to 350ºF (177ºC).

Cut the zucchini in half lengthwise and scoop the seeds out using a spoon. Spread half of the tomato sauce on the bottom of a baking dish. Place the hollowed-out zucchini cut side up on top of the tomato sauce. Set aside.

Heat the oil in a frying pan or skillet over medium-high heat. Add the turkey and cook until browned, breaking it into small pieces as it cooks.

Add the garlic, Italian seasoning, salt, and red pepper flakes to the turkey and stir to combine. Add the bell pepper and spinach and continue to cook until the spinach has wilted. Pour the remaining tomato sauce into the turkey mixture and stir to combine. Season with additional salt, if necessary.

Spoon the turkey mixture into the hollowed out zucchini boats.

Top with shredded cheese (optional)

Cover the baking dish with a lid or foil and bake for 20 to 25 minutes or until the zucchini is tender.

Divide zucchini boats between plates and enjoy!
Video
Nutrition
Calories: 280kcal