Acorn squash is a widely used winter vegetable that is loaded with nutrients. You can use this versatile vegetable to make delicious recipes like soups. However, one recipe that is everyone's favorite and is very homey, warm, and comforting is stuffed squash. It offers amazing flavors, is easy to make, and therefore works well for every occasion. This turmeric beef stuffed acorn squash offers a balance of flavors and nutrients, making it a perfect lunch or dinner recipe for the winter or holiday season.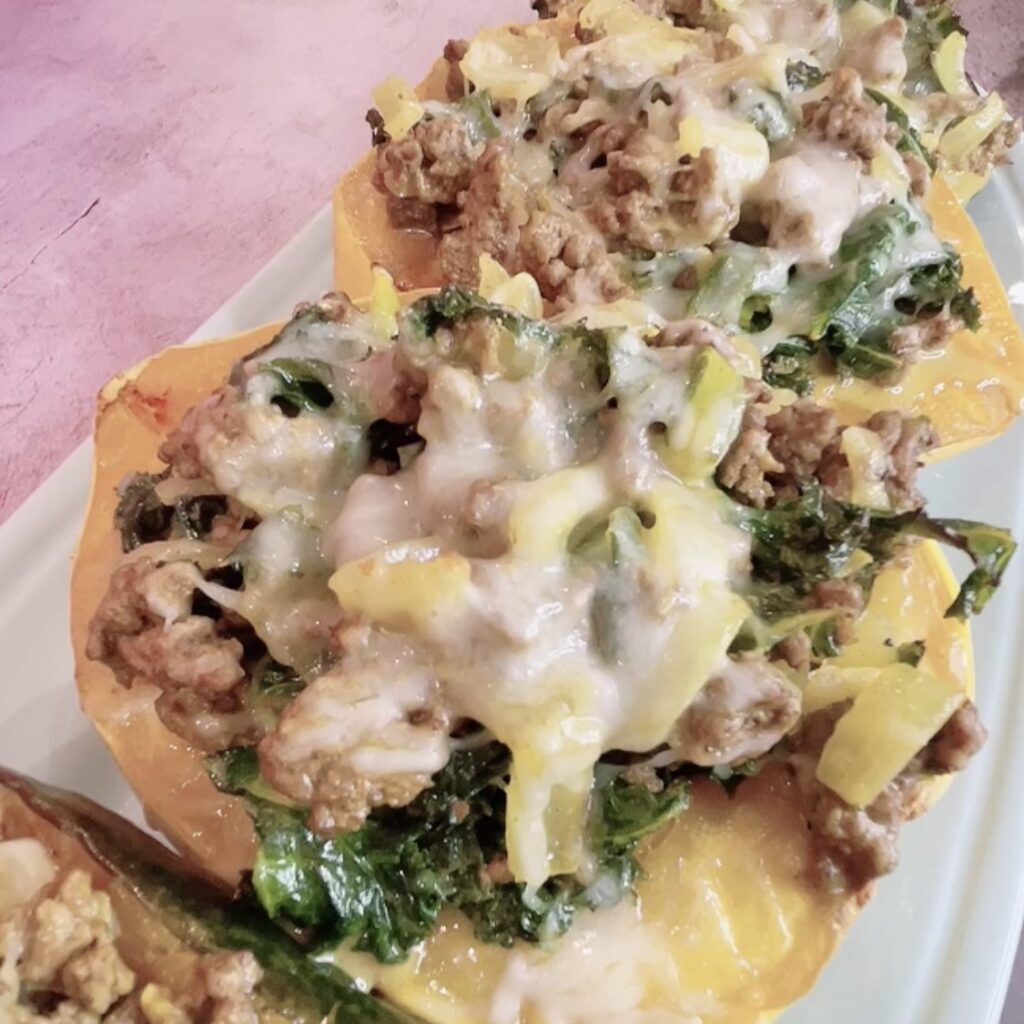 Here is the best Baking tray to use for this yummy dish!
What to look for when buying acorn squash for stuffed squash?
Choosing the right produce is crucial when making stuffed squash. It adds flavor and texture to the dish. So, keep a few things in mind:
Color: Acorn squash comes in a variety of shades of orange, yellow, or green. Among all these shades, I prefer using dark green squash. Also, the skin should have a dullness to it. If you see a few yellow spots, that's alright as long as they are not soft.
Texture: When you touch an acorn squash, it should be firm. As you apply a little pressure, the skin shouldn't form any dents. Firm produce is fresh produce.
Size and Weight: Always choose a medium sized acorn. As you hold it in your hands, it should feel heavier than its size.
Tips to Remember
Keep these few tips in mind when making this dish:
You can use ground lamb, pork, or turkey instead of beef as well.
Although I have used acorn squash for this recipe, you can use any other type as well. Buttercup, delicata, carnival, or kabocha works really well.
Add more vegetables like corn, mushrooms, celery, or bell peppers.
You can replace kale with spinach as well.
For more texture and flavor, you can add cooked rice to the stuffing as well.
You can sprinkle shredded cheddar or parmesan cheese to finish off the dish.
What to serve with turmeric beef stuffed squash?
Turmeric beef stuffed acorn squash is a complete meal. You can enjoy it on its own without any side dish. However, a good side dish always adds more flavor to the table. So, if you are planning on serving this dish at a dinner party, here are a few sides that you can serve with this tasteful recipe:
Salad: A fresh salad bring color to your dinner table. You can pair this stuffed squash recipe with your favorite fresh garden salad, Greek salad, r even a creamy potato salad.
Roasted vegetables: Since we are not using a lot of vegetables in this recipe, you can serve them on the side. Serving roasted vegetables like roasted potatoes, carrots, or green beans is usually a good choice.
Bread: Garlic bread, cornbread, or cheese bread goes so well with this recipe. It adds a crunchy element to the table.
Other Recipes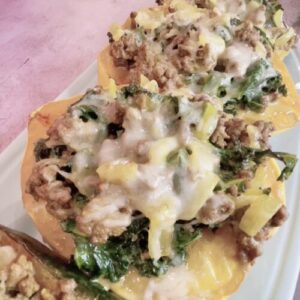 Turmeric Beef Stuffed Squash
Sauteed beef stuffed with acorn aquash.
Equipment
baking sheet

large saute pan

wooden spoon optional
Ingredients
1 tbsp Olive oil
2 acorn squash
1 pound ground beef lean
1 onion finely chopped yellow or white
2 cloves garlic
1 tbsp ginger
1 tbsp turmeric
tsp cinnamin
2 cups kale
1/2 full fat coconutt milk or full fat milk of choosing
shredded cheese optional
Instructions
Preheat oven to 350 degrees F (170 degrees C) and line the baking sheet with parchment paper.

Slice the acorn squash in half and rub the oil on the cut side. Place the squash with the cut side down on the parchment baking sheet and bake for 25-30 minutes or just until tender.

While the squash cooks, saute the beef in a large pan breaking it up with a wooden spoon to separate as it cooks. Drain the excess juice from the pan once the beef is cooked.

Add onion, garlic, and ginger to the beef and continue to cook for 3-5 minutes. Add the turmeric and cinnamon and stir to combine.

Add the kale and cook unwilted. Once the kale is cooked down you can add the coconut milk and a dash of salt if needed. Cook for a few minutes intil the milk begins to thicken .

Remove squash from oven and flip over so the cut side is facing up. Scoop the beef into the squash.

You the can sprinkle with cheese and place back in oven for 10 minutes or until the cheese is melted.
Video
Nutrition
Calories: 375kcal