Gluten-Free Pan-Seared Salmon Sushi Bowl is a quick and easy meal that has so much flavor. The marinated salmon is pan-seared to perfection, complementing the sushi rice and veggies. With a prep time of approximately 35 minutes and a cooking time of just under 10 minutes, this dish offers a tasty and nutritious option for lunch or dinner.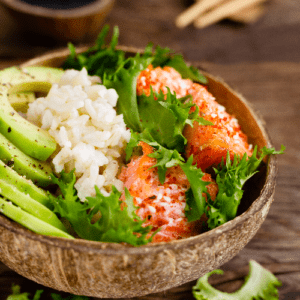 Salmon Sushi Bowl
Ingredients
For the Pan-Seared Salmon:
1 lb fresh salmon fillet sushi-grade, skinless, and deboned
2 tablespoons gluten free soy sauce or tamari
1 tablespoon sesame oil
1 tablespoon rice vinegar
1 teaspoon honey or maple syrup for a vegan option
1 teaspoon grated fresh ginger
1 tablespoon gluten-free cornstarch or rice flour for crisping
1-2 tablespoons cooking oil vegetable oil, avocado oil
For the Sushi Rice:
2 cups sushi rice short-grain white rice
2 1/2 cups water
1/4 cup rice vinegar
2 tablespoons granulated sugar
1 teaspoon salt
For the Bowl:
1 cucumber thinly sliced
1 avocado sliced
1 carrot julienned
1 cup edamame cooked and shelled
Nori seaweed sheets cut into thin strips
Pickled ginger optional, for serving
Wasabi optional, for serving
Gluten-free soy sauce or tamari for serving
Instructions
Cut the salmon into bite-sized cubes and place them in a bowl.

In a separate small bowl, whisk together the gluten-free soy sauce (or tamari), sesame oil, rice vinegar, honey (or maple syrup), and grated ginger to make the marinade.

Pour the marinade over the salmon cubes and gently toss to coat the fish. Cover the bowl with plastic wrap and refrigerate for at least 30 minutes to allow the flavors to meld.

Before cooking, pat the marinated salmon cubes dry with a paper towel to remove excess moisture.

In a separate bowl, toss the salmon cubes with gluten-free cornstarch or rice flour to coat them lightly. This step will help create a slight crisp when pan-searing.

Heat 1-2 tablespoons of cooking oil in a non-stick skillet or frying pan over medium-high heat.

Pan-sear the salmon cubes for about 1-2 minutes on each side, or until they develop a golden crust. Be careful not to overcook the salmon. Remove the salmon from the pan and set aside.
For the Sushi Rice:
Rinse the sushi rice in cold water until the water runs clear. Drain the rice.

In a medium saucepan, combine the rinsed rice and water. Bring to a boil over medium-high heat.

Once it boils, reduce the heat to low, cover the saucepan with a lid, and simmer for 15 minutes or until the rice is cooked and water is absorbed.

In a small bowl, mix the rice vinegar, granulated sugar, and salt until the sugar and salt dissolve.

Transfer the cooked rice to a large mixing bowl and gently fold in the vinegar mixture while the rice is still warm. Be gentle to avoid mashing the rice. Allow the rice to cool to room temperature.
Assemble
Divide the sushi rice into individual serving bowls.

Top each bowl of rice with the pan-seared salmon cubes.

Arrange the sliced cucumber, avocado, julienned carrot, and edamame around the salmon.

Sprinkle some nori strips over the top.

Serve the Gluten-Free Pan-Seared Salmon Sushi Bowls with pickled ginger, wasabi, and gluten-free soy sauce or tamari on the side for dipping.
Nutrition
Serving: 4g | Calories: 576.8kcal | Carbohydrates: 95.3g | Protein: 11.4g | Fat: 16.3g | Saturated Fat: 1.9g | Polyunsaturated Fat: 3.6g | Monounsaturated Fat: 8.7g | Trans Fat: 0.01g | Sodium: 611.3mg | Potassium: 634.3mg | Fiber: 8.4g | Sugar: 10.5g | Vitamin A: 2675IU | Vitamin C: 8.3mg | Calcium: 68.4mg | Iron: 3mg