If you're looking for an easy clean-up yet super delicious meal, you're in the right spot! Turkey burgers are loved in our home. We look forward to when the weather is warm. It means grilling becomes part of our daily life. Not only does grilling food taste amazing, but it seriously cuts down on kitchen cleanup.
This allows for more outside time with my kids playing and having fun!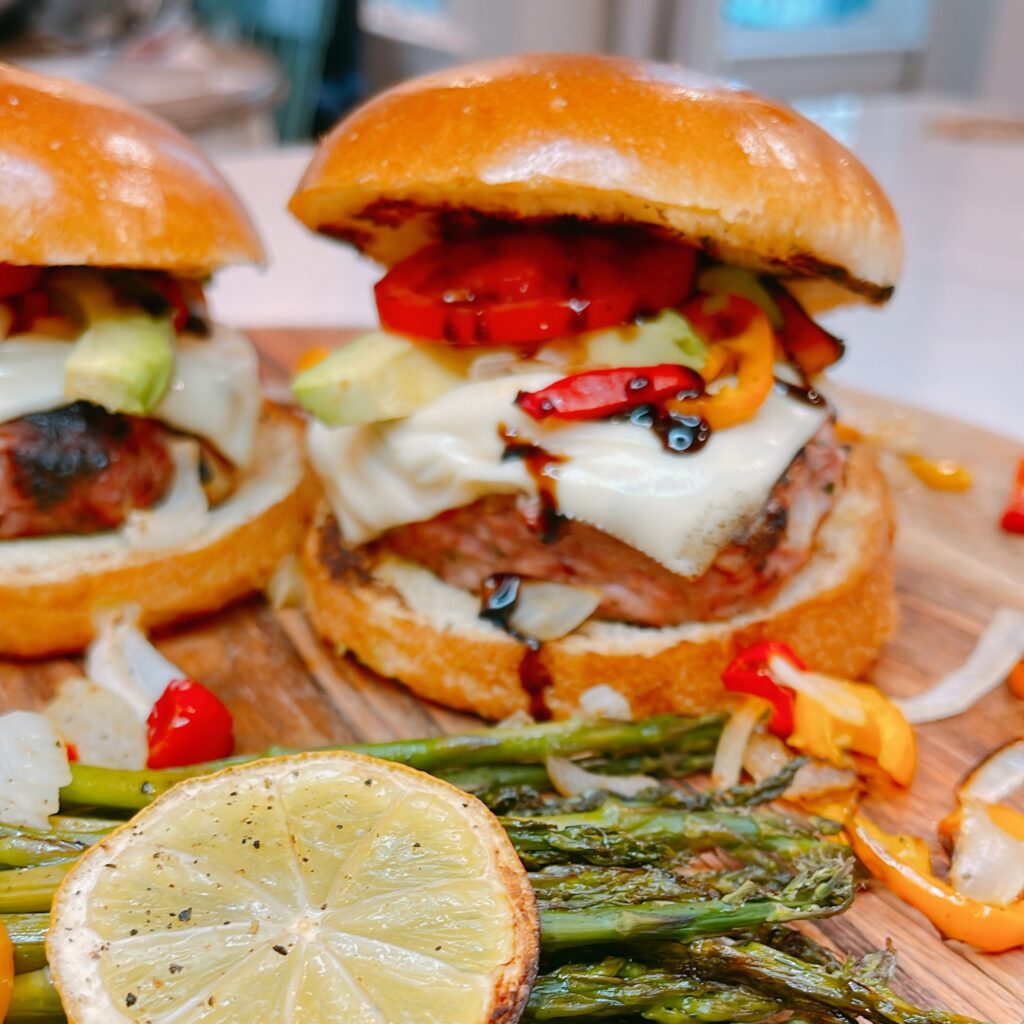 After you enjoy these amazing turkey burgers, be sure to save some for your morning breakfast burrito!
You won't be disappointed.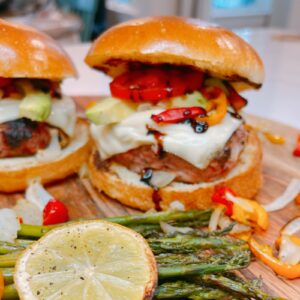 Grilled Apple Turkey Burger
Turkey burger filled with apples and onions topped with peppers and avocado.
Equipment
Grill

Sheet Pan wrapped in foil
Ingredients
1 bushel asparagus
4 small peppers green, yellow, orange, red or you color of choosing
1 white onion
1 lemon
1 lb. ground turkey
1 medium apple gala, fugi or of your choosing
2 tbsp olive oil
1/4 tsp salt
1/4 tsp pepper
3 tbsp Worchester sauce
1 tbsp basil paste fresh or dried basil will also work
1 medium avocado
4 slices American cheese optional
1 tbsp balsamic glaze
4 burger rolls recipe uses brioche but any burger roll works
Instructions
Grilling asparagus and peppers/onion
Turn grill and heat to 450 degrees

Line a baking sheet with foil and spray/drizzle with olive oil to prevent sticking

Cut the ends of the asparagus and place one end of the sheet

Dice peppers and place on other side of the baking sheet.Dice the full onion and place 1/2 of it with peppers. Keep other half of the onion for the turkey burger mixture

Drizzle with olive oil, salt and pepper

Cut lemon in half. Slice up one half of the lemon and place them on the asparagus (4-5 slices total). Save the other half for the burger mixture.

Place on grill and cook for 8-10 minutes
Turkey Burger
Peel and dice the apple (onion plus the 1/2 lemon are put aside)

Place ground turkey in a large bowl

Add the Worchester sauce, basil, onion, apple slices, salt, and pepper to the ground turkey.Squeeze in the remaining 1/2 lemon onto turkey mixture.

Mix together but make sure to not over mix. Just enough where the ingredients are evenly through the meat.

Separate the meat into four sections and mold into patties. (they may seem large but they will be perfect for a normal size burger bun. As they cook they do slightly shrink in size)

Place on grill and cook for 5 minutes on each side or until the core temperature reaches 165 degrees Fahrenheit***At this point if the asparagus and and pepper/onions looked cooked you can remove and let cool until burgers are ready***

Add cheese when there is about two minutes left of cooking to help melt.

optional- you can drizzle olive oil on the burger buns an place on grill for 30 seconds to warm up and lightly toast. They can burn easily so watch and remove once ready.
Making the burgers
Slice avocado and tomato and put aside.

Add the burger to the bottom part of bun.

Top with pepper/onions, slices of avocado, and tomato.

Drizzle with balsamic glaze.

Place the tops of buns on and plate with the asparagus!
Video