I LOVE to create turkey burger breakfast burritos with our leftovers! It's super easy and delicious! When grilling the night before, throw a few extra on for the next morning's breakfast! You can also air fry to make things even easier!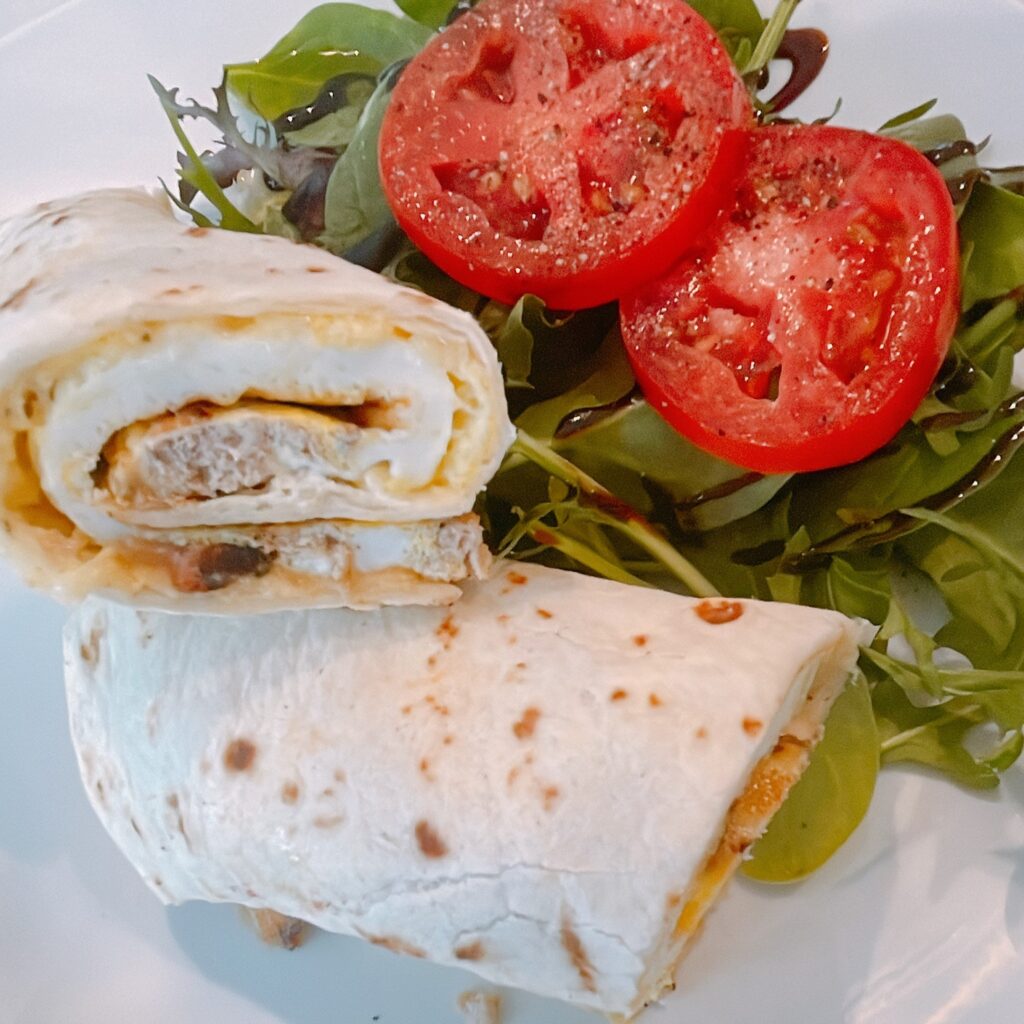 Having meals that you can work with for breakfast, lunch or dinner will help you save when you go to the grocery store. They can both be equally as delish AND taste totally different. That way you don't get bored. The BEST grilled turkey burger breakfast burritos are mixed with apples. It's a must-try!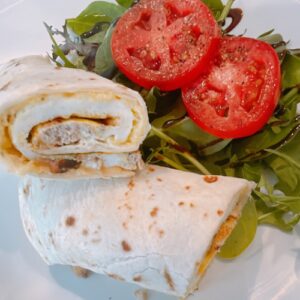 Turkey Burger Leftover Breakfast Burrito
leftover turkey burger cooked with eggs, cheese and rolled into a burrito.
Ingredients
Burrito
1 tbsp olive oil
1 cooked turkey burger this was made from leftovers but you can cook the ground turkey fresh and add that way as well
2 eggs
1/8 cup shredded cheese mozzarella or any of you choosing
1/2 tomato you can use the other half for the side mixed green salad
Optional Side salad
1 cup mixed greens
1/2 tomato
1 tbsp extra virgin olive oil
1 tbsp balsamic vinegar
salt and pepper to taste
Instructions
Chop turkey burger into bits

Heat a medium sized non stick pan on medium heat Add olive oil to pan and heat through

Add the turkey meat and cook through until warm. The meat is already cooked so no need to over do it and dry out the turkey

Crack 2 eggs into a bowl and using a fork whisk them wellAdd them to the pan and swirl around until the egg is evenly distributed in the panCover and let cook for 2-3 min

Sprinkle the cheese and add 2-4 slices of tomatoes on topCover and cook through for an additional 2-3 minutes

Remove lid and add tortillaCover and heat for 2 more minutes

Flip the tortilla and heat for 1 minSlide onto a cutting boardUsing your hand starting at one end, roll the tortilla up like a burritoCut in half and serve
Optional Mixed Green Salad
Plate the cup of mixed greensAdd the tomato, olive oil, balsamic vinegar, salt, pepperEnjoy!
Video