Looking for a quick, easy meal prep recipe you can grab on the go and enjoy? A chili lime chicken mason jar salad is just what you need. It is delicious, easy to make, store, and a perfect lunch recipe to enjoy!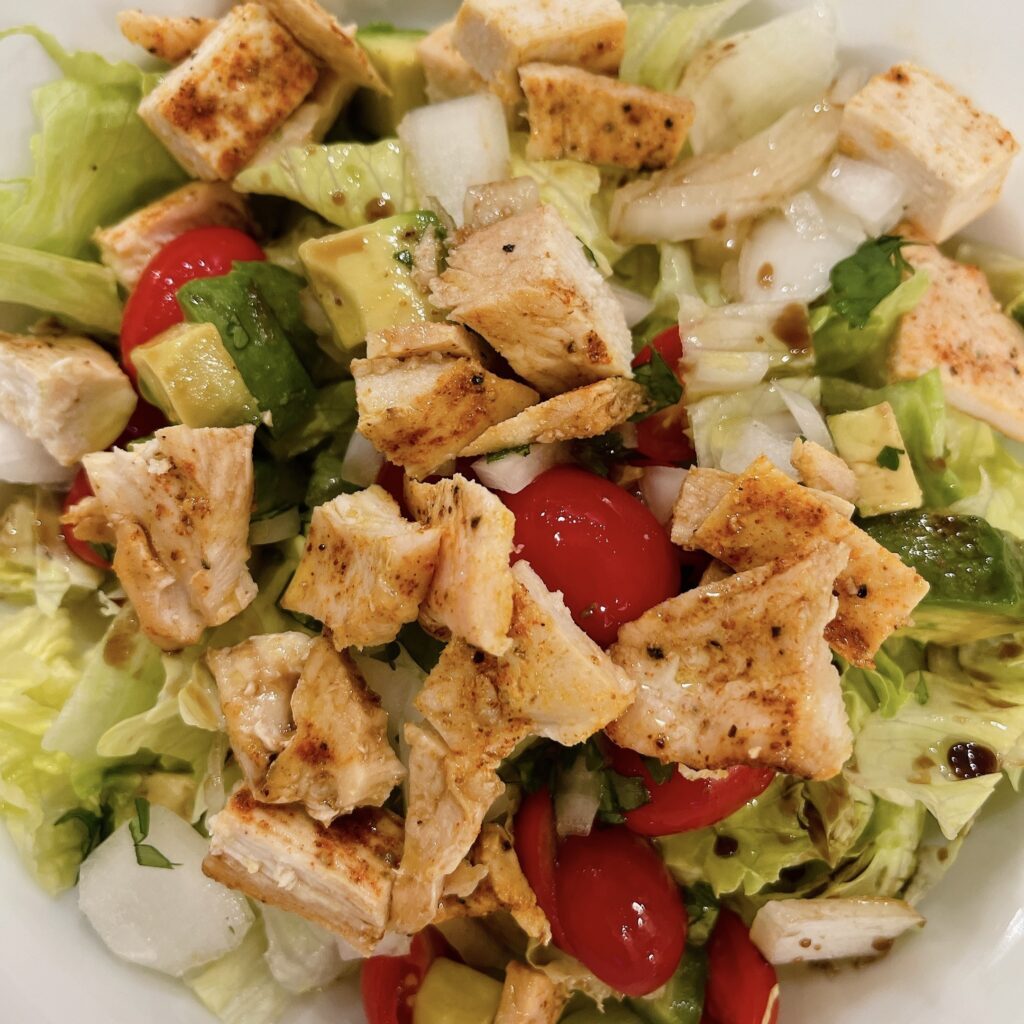 Why should you try this recipe?
This mason jar salad is an amazing recipe that works well for lunch! If you are wondering what's special about this one, we have a few reasons:
This recipe is super healthy. You get protein from chicken, nutrients from vegetables, and healthy fats from avocado oil. For someone having a healthy lifestyle goal, this recipe works well.
It is tasteful. You get aroma and flavor from the spices and marinated chicken. Plus, the vegetables add their twist.
It is super easy to make. And you can easily make it in large batches. It is a great meal prep recipe; you can prepare and store it in advance for later use.
Ingredient breakdown
Chicken breast: Use boneless chicken breast for this recipe. Baking allows you to cook larger batches at a time. You can also use boneless thigh meat as well. Thigh meat cooks faster, and you don't have to worry about the meat getting dry.
Avocado oil: Avocado oil is loaded with healthy fats and nutrients. You can, however, use olive oil as well.
Chili powder: It adds heat to the chicken, making it spicy and tasteful.
Smoked paprika: Smoked paprika has a slightly sweet and smoky flavor which makes the chicken tastier.
Garlic powder: It adds a savory and garlicky flavor. You can use freshly minced garlic as well.
Salt: Adjust the flavor according to your liking by adding salt to taste.
For the salad
Red bell pepper: I have used red bell pepper for its fruity flavor and beautiful bright color. You can add green, and yellow, or combine all colors for a more visually appealing dish. (you can substitute for onion)
Cherry tomatoes: They add juiciness and a unique tomatoey flavor to this salad. Plus, they are refreshing as well.
Baby spinach: It might have a grassy flavor, but baby spinach is loaded with nutrients, especially iron. It is the right ingredient for a healthy salad. I prefer using fresh spinach for this recipe.
Lime: Fresh lime juice enhances the salad's flavor by adding a refreshing and citrusy flavor. It also ensures the vegetables stay fresh for longer.
Cilantro: The herbaceous and citrusy flavor of cilantro also play its part in adding more flavor to this recipe.
How to store chili lime chicken salad jar?
Once the cooked ingredients cool down, add everything to a mason jar, seal the lid tightly and place the jar in the refrigerator. It will last for about 5 days.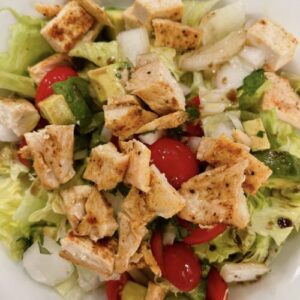 Mason Jar Chili Lime Chicken Salad
Blend of fresh salad ingredients placed in a jar for storing when on the go.
Ingredients
2 tbsp olive oil
1 pound Boneless skinless chicken breast
Vegetables
1/2 Lemon or Lime
1/2 onion
3 tbsp cilantro
1/2 cup grape tomatoes
lettuce of choice
1 avocado to put on when ready to eat. optional
Herbs
1/2 tsp paprika
1/2 tsp chili powder
1/2 tsp garlic powder
salt and pepper to taste
Instructions
Preheat the oven to 4000 F (2040 C).

Place chicken breasts in a baking dish. Drizzle with half of the oil and season with chili powder, paprika, garlic, and salt. Rub the seasoning and the oil all over the chicken.

Bake at 400 degrees for about 25-30 minutes.

Meanwhile, add the onion and tomatoes to a bowl with the lemon or lime juice, cilantro, and the remaining oil. Stir to combine.

Divide the peppers, tomatoes, and dressing between jars and add the cooled chicken and lettuce. Place the lid on the jars and store it in the refrigerator.

To serve, dump the contents of the jar into a bowl. Enjoy!

Remove the chicken from the oven and let it rest for 15 minutes. Cut the rested chicken into 1/2-inch cubes.
Video
Nutrition
Calories: 449kcal