One Pan Chicken Chicken and Veggies is a perfect meal to make during the week. It's a quick and delicious one-pan meal that is easy to clean up. You can prep the veggies and store them in an air-tight container. Once you're ready to cook, place the ingredients on a pan and bake in the oven. It goes great with rice and quinoa.
Disclaimer: This article contains affiliate links that I receive a small commission at no cost to you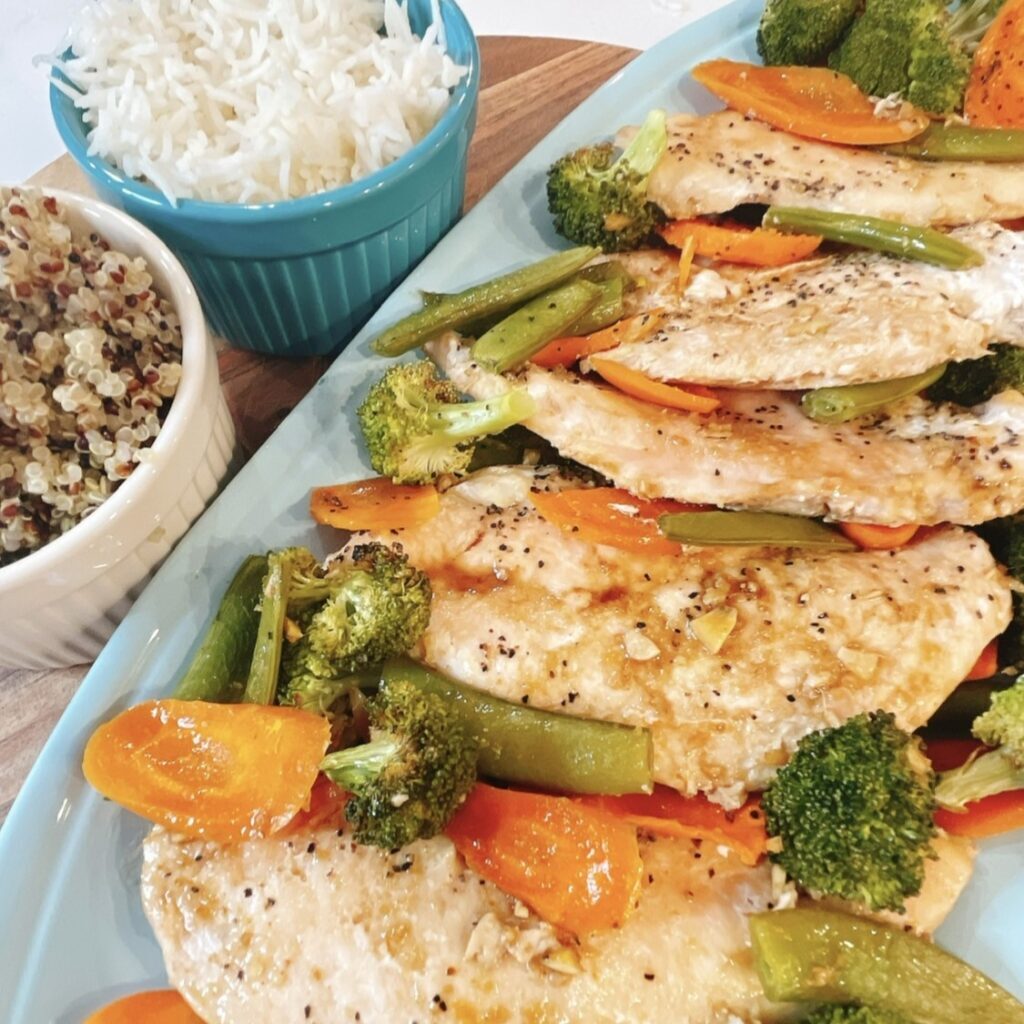 Ingredient Breakdown for One Pan Chicken and Veggies
Chicken– This recipe calls for chicken breast to create a lean protein meal. You can also use chicken thighs, steak, or salmon.
Vegetables
Broccoli
Carrots
Snap Peas
The teriyaki sauce pairs so well with these three veggies. Feel free to add to them with your favorite or substitute them
The Sauce
Soy Sauce
Rice Vinegar
Honey
Ginger
Juice from an orange
Garlic
Combining the ingredients listed above will make you the easiest and most delicious homemade teriyaki sauce. You can add salt and pepper to the sauce or directly to the food. Making sauces like teriyaki at home is a great way to enjoy your favorite dishes guilt-free.
Other Recipes
Oven Cooked Chicken Thighs and Veggies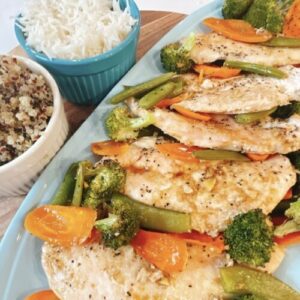 One Pan Teriyaki Chicken
Vegetables and chicken cooked on one pan to create a tasteful and easy clean up meal.
Ingredients
10 ounces chicken breast
4 garlic cloves minced
2 cups broccoli chopped
2 carrots sliced
2 cups snap peas
2 tbsp coconut aminos or soy sauce
2 tbsp honey
2 tbsp rice vinegar
1 tnsp ginger minced
1 tbsp sesame seeds
1/2 juice of an orange
Instructions
Preheat oven to 375ºF (191ºC) and line a baking sheet with parchment paper.

Place the chicken breasts on the baking sheet, surrounded with the broccoli, carrots, and snap peas.

In a small bowl, whisk together the coconut aminos, sesame oil, orange juice, honey, rice vinegar, garlic, and ginger. Pour half the sauce over the chicken and drizzle the rest over the veggies

Bake for 30 minutes, or until chicken is fully cooked. Remove the pan from the oven and sprinkle with sesame seeds. Divide between plates and enjoy!
Video
Nutrition
Calories: 505kcal