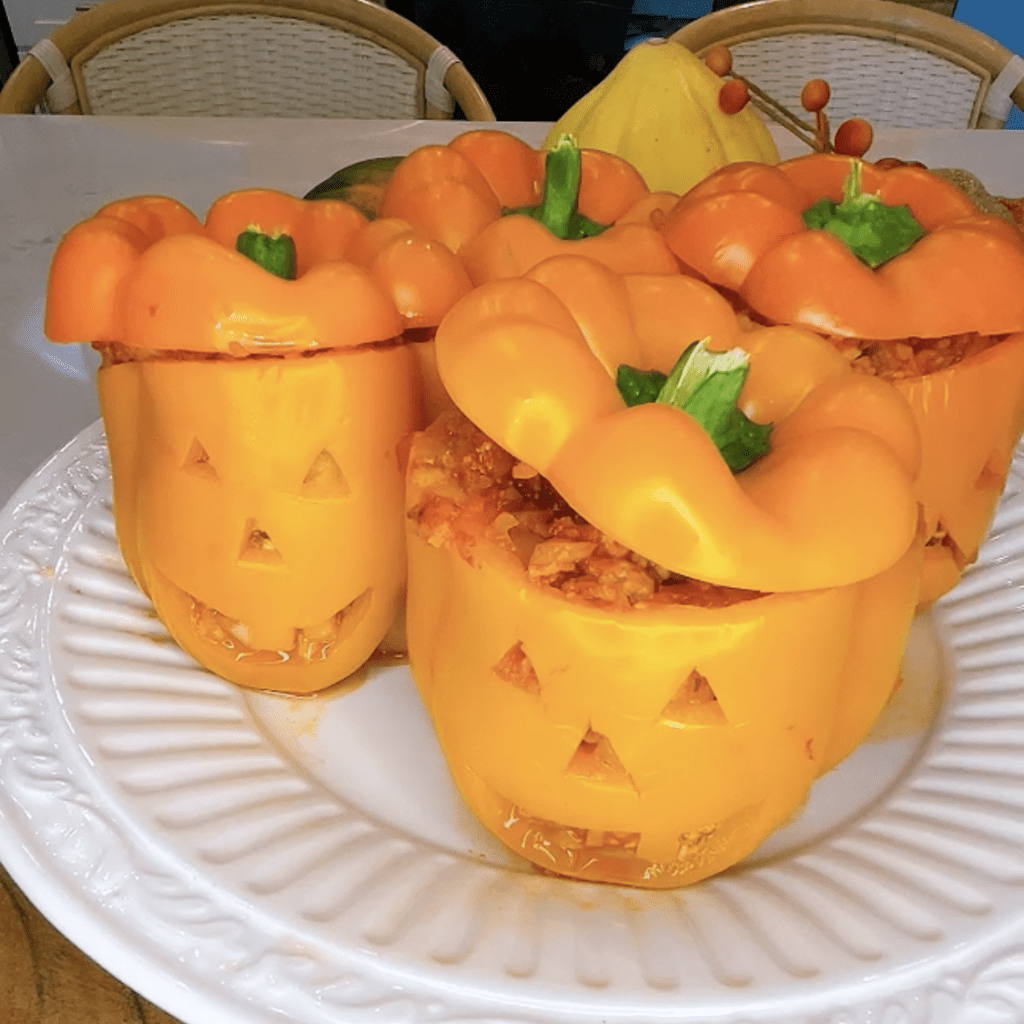 Why should you make sausage and cauliflower rice stuffed peppers?
Sausage stuffed peppers recipe are unique, delicious, and healthy. It celebrates unique flavors that come mainly from deer sausage, Italian seasoning, and cauliflower rice. It takes up a simple yet modern twist on the classic stuffed peppers.
This stuffed pepper recipe is not just easy to make, but it is also very tasty. There are so many reasons you should try it! The best one is easy and convenient. It uses deer sausages which are not widely used in recipes, let alone in stuffed peppers. So, you can try and enjoy different flavors. This recipe works well when you make it in large batches and is easy to handle.
Halloween Twist
The recipe was made in the fall so cutting out jack o'lanterns on the peppers made this meal yummy and fun! Especially when you're feeding kids. Make sure to place the stuffed pepper in a baking dish so the juice can stay in the dish and not in your oven!
What sausage works best for this recipe?
I have used deer sausages for this recipe. Deer sausage has a unique earthy and rich flavor. It has a natural saltiness, and the sausages are enriched with herbal flavors and spices. It is a unique ingredient you can enjoy for holiday festivities. If you are skeptical about using deer sausage or prefer any other flavor above it, no problem! You can use chicken sausage, beef, or even Italian pork sausage for this recipe. This recipe allows you to adjust the flavors and ingredients to your liking. So, feel free to use any sausage. Just make sure you remove its casing.
Variation ideas
There are many ways to add more flavors and textures to this simple recipe. That's what makes this recipe versatile. Here are a few amazing ideas you should try!
Vegetables: If you are a vegetable lover, feel free to add your favorite vegetables to this recipe. You can add corn, carrots, celery, spinach, or summer vegetables for more flavor, nutrients, and texture.
Brown rice: I have used cauliflower for its nutrients, but if you want to use rice, feel free to do so! You can use either white cooked rice or brown rice for filling.
Marinara/pasta sauce: Plain tomato sauce adds the rich flavor you need, but you can spice things up by adding marinara sauce or even pasta sauce.
Cheese: Finish the stuffed peppers off with shredded cheddar or mozzarella cheese. Broil until the cheese bubbles.
Salsa: Fresh salsa is also a great way to add flavor to this stuffed pepper dish.
Leftover meat: Switch sausages with leftover meat. You can use beef, pork, chicken or even turkey meat for this recipe.
Nuts: Add crunch using walnuts or pistachios.
Can you make sausage and cauliflower rice stuffed peppers in advance?
Yes! You can prepare the filling in advance and store it for later. Refrigerate the filling for up to 2 days or freeze it in a freezer-safe container for up to 15 days. You can reheat it and add it to the peppers before baking them.
Other Recipes
Oven Baked Chicken with Vegetables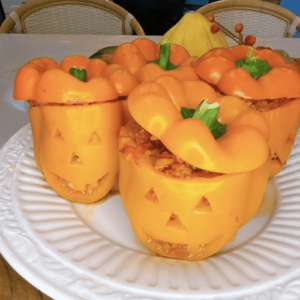 Sausage Stuffed Peppers
Ground sausage and cauliflower rice stuffed in bell peppers and baked.
Ingredients
1/3 cup water
4 bell peppers color of choice
1 pound ground sausage
1/2 onion yellow or white chopped
2 garlic cloves minced
Italian seasoning
2 cups cauliflower rice
2 cups tomato sauce jarred sauce
salt/pepper to taste
Instructions
Preheat the oven to 3500 F (1 760C).Add the water to the bottom of a baking dish.

Cut off the tops of the peppers and discard the seeds and ribs.

Heat a pan over medium-high heat. Add the sausage to the pan, breaking it up with a wooden spoon as it cooks. Once it is cooked through and no longer pink, about 8 minutes, drain any excess drippings from the pan.

Add the onion, garlic, Italian seasoning and salt to the pan with the sausage. Cook for 3 to 5 minutes until the onions have softened. Remove the pan from the heat and stir in the cauliflower rice and tomato sauce until well combined.

Stuff the peppers with the sausage and cauliflower rice filling. Place the peppers so that they are standing up right in the prepared baking dish. Cover with foil or a lid and bake for 45 to 50minutes or until the peppers are tender.

Divide between plates and enjoy!
Notes
If you want to make the peppers look like Halloween pumpkins you can score out the eyes and nose using a paring knife. Use orange bell peppers. Save the tops and place on top once the peppers are cooked and out of the oven.  You will have jack o lantern peppers!
Nutrition
Calories: 443kcal