With gluten-free foods becoming more and more popular, many are asking is quinoa gluten free. Yes, quinoa is naturally gluten-free, which means it doesn't contain the gluten protein found in wheat, barley, and rye. Quinoa is the perfect gluten free alternative. Just like potatoes and just like rice quinoa is an excellent option for individuals with celiac disease or gluten sensitivity who need to avoid gluten-containing grains.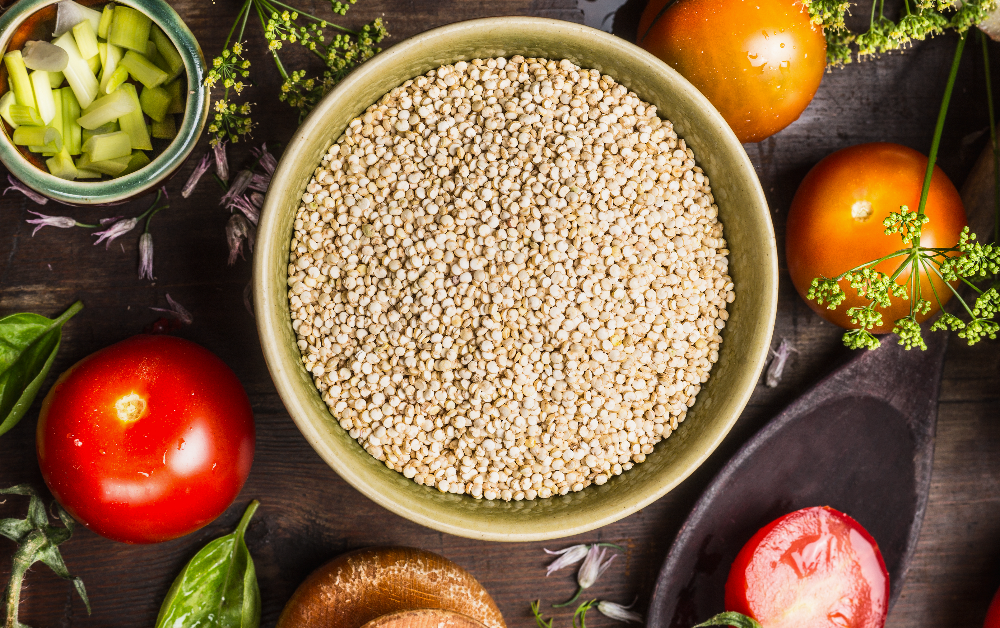 Nutrition Profile of Quinoa
Nutritional benefits of eating quinoa include:
It contains both soluble and insoluble fiber, which supports digestive health. Quinoa is rich in vitamins B and E, as well as minerals like magnesium, phosphorus, and iron.
Gluten free quinoa contains antioxidants such as quercetin and kaempferol, which help protect cells from oxidative stress. Quinoa contains heart-healthy monounsaturated fats.
Quinoa is incredibly versatile and can be used in a variety of dishes.
How Should I Enjoy Quinoa?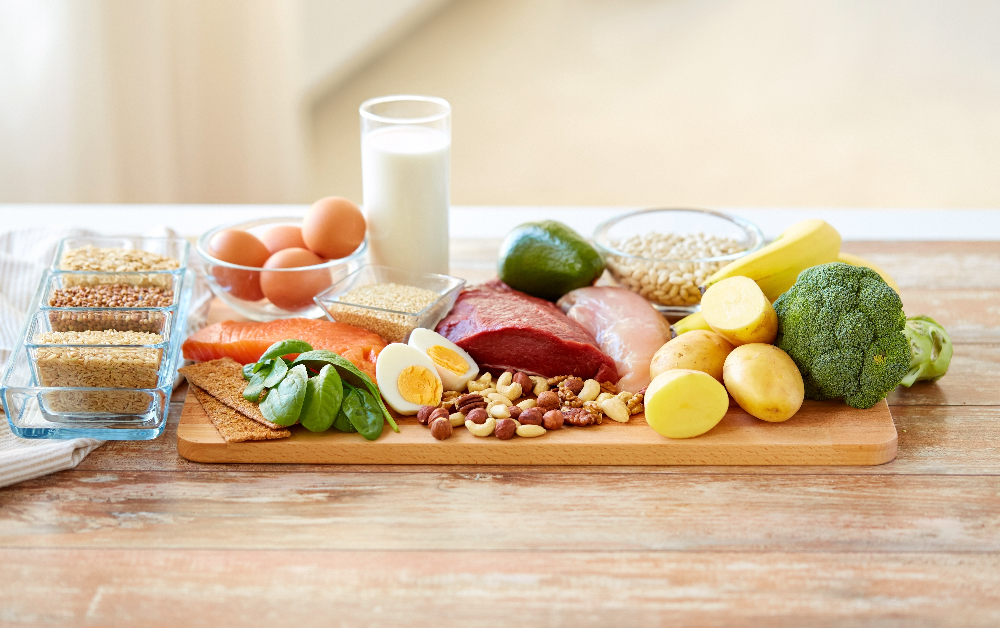 Here's how you can enjoy quinoa:
Serve quinoa as a base for stir-fries, stews, or roasted vegetables.
Add cooked quinoa to salads for extra protein and texture. (I love adding Quinoa to a Greek salad)
Quinoa can be a nutritious addition to soups and broths.
Use quinoa as a substitute for oats in breakfast bowls or porridge.
Use quinoa as a filling for peppers, wraps, or stuffed vegetables.
Other Gluten Free Grains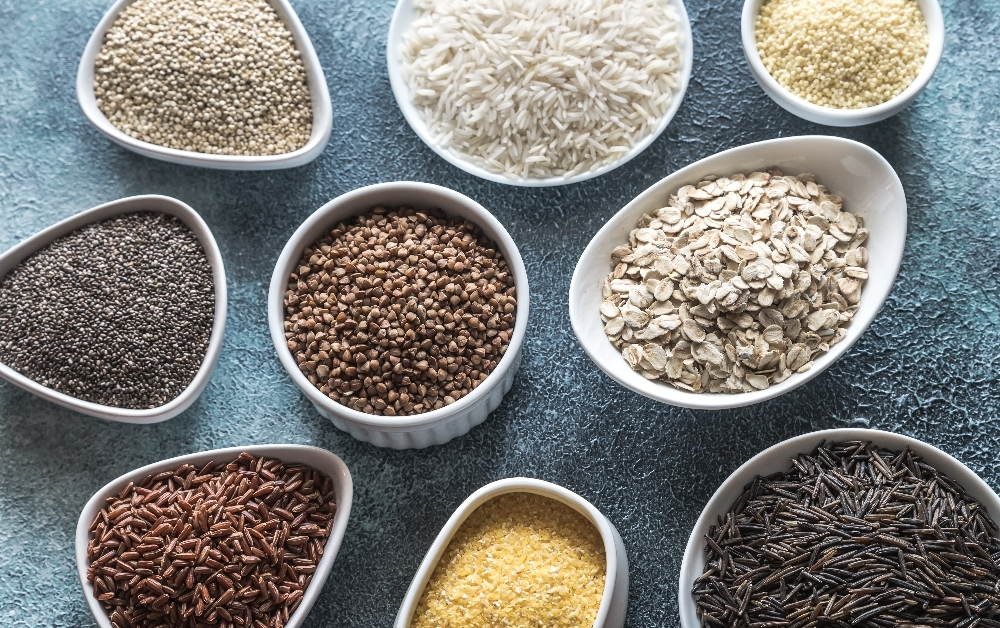 If you're looking for other gluten-free grains, consider these alternatives:
Brown rice
Millet
Buckwheat
Amaranth
Sorghum
Teff
Wild rice
Gluten-free oats (certified gluten-free to avoid cross-contamination)
When incorporating gluten-free grains into your diet, be mindful of cross-contamination, especially if you have celiac disease or are considered. Celiac patients should choose certified gluten-free products when possible and read the gluten free label carefully. If you're unsure about a particular grain's gluten-free status, you can contact the manufacturer for more information.
Remember, a balanced and varied diet is key to overall health, so consider rotating different gluten-free grains to ensure you're getting a range of nutrients.
Health Benefits of Quinoa
Quinoa is a highly nutritious whole grain that offers a wide range of health benefits. Here are some of the key health benefits of including quinoa in your diet:
1. Rich Source of Nutrients
Quinoa is packed with essential nutrients, including protein, fiber, vitamins, and minerals. It is a complete protein source, meaning it contains all nine essential amino acids that the body cannot produce on its own.
2. High in Fiber
Quinoa is a good source of dietary fiber, which is important for digestive health. Fiber can help regulate bowel movements, prevent constipation, and support a healthy gut microbiome.
3. Gluten-Free
Quinoa is naturally gluten-free, making it a great option for individuals with celiac disease or gluten sensitivity who need to avoid gluten-containing grains.
4. Rich in Antioxidants
Quinoa contains various antioxidants, including quercetin and kaempferol. These compounds help protect the body's cells from damage caused by free radicals, which are linked to chronic diseases and aging.
5. Weight Management
The combination of protein and fiber in quinoa can promote feelings of fullness and satiety, which may help control appetite and reduce overeating.
6. Heart Health
Quinoa is low in saturated fat and cholesterol and contains heart-healthy monounsaturated fats. Its fiber content can help lower cholesterol levels and reduce the risk of cardiovascular diseases.
7. Regulates Blood Sugar Levels
Quinoa has a relatively low glycemic index, which means it can help stabilize blood sugar levels and prevent rapid spikes and crashes in glucose levels.
8. Essential Minerals
Quinoa is a good source of essential minerals such as magnesium, iron, phosphorus, and manganese. These minerals play various roles in the body, including bone health, energy production, and enzyme function.
9. Supports Bone Health
Quinoa is a source of magnesium, which is important for bone health. It works together with calcium to support strong bones and may help prevent conditions like osteoporosis.
10. Easy to Prepare
Quinoa is incredibly versatile and can be used in a variety of dishes. It's relatively quick to cook and can be a convenient addition to salads, soups, stir-fries, and more.
Health Conditions Related to Gluten
Gluten-related health conditions primarily involve issues with the digestion and metabolism of gluten, a protein found in wheat, barley, and rye. The two main gluten-related health conditions are celiac disease and non-celiac gluten sensitivity. Here's a brief overview of each:
Celiac Disease
Celiac disease is an autoimmune disorder triggered by the consumption of gluten. People with celiac disease consume gluten, and their immune system responds by damaging the lining of the small intestine. This can lead to malabsorption of nutrients and various symptoms, including:
Digestive issues: Diarrhea, constipation, bloating, abdominal pain.
Nutritional deficiencies
Fatigue and weakness.
Skin rashes
Weight loss.
Mood disturbances.
Non-Celiac Gluten Sensitivity (NCGS)
Non celiac gluten sensitivity is a condition where individuals experience symptoms similar to those of celiac disease when consuming gluten, but they do not test positive for celiac disease or wheat allergy. The symptoms can be quite varied and may include:
Digestive discomfort: Bloating, abdominal pain, diarrhea, or constipation.
Fatigue.
Headaches.
Joint pain.
Mood changes.
Unlike celiac disease, there is no immune response or damage to the small intestine in NCGS. The exact cause of NCGS is still debated, and diagnosis is often based on the exclusion of other conditions.
How to Cook Quinoa?
1. Rinse the Quinoa:
Before cooking quinoa, it's important to rinse it thoroughly. Quinoa has a natural coating called saponin, which can give it a bitter taste if not rinsed off. Place the quinoa in a fine-mesh strainer and rinse it under cold running water for about 1-2 minutes, rubbing the grains gently with your fingers to remove the saponin.
2. Boil the Quinoa:
To cook quinoa, you'll need a ratio of about 2 parts liquid (such as water or broth) to 1 part quinoa. For example, if you're cooking 1 cup of quinoa, use 2 cups of liquid. Place the rinsed quinoa and the liquid in a saucepan and bring it to a boil over medium-high heat.
3. Let the Cooked Quinoa Rest:
Once the quinoa reaches a boil, reduce the heat to low, cover the saucepan with a lid, and let the quinoa simmer for about 15 minutes, or until the liquid is absorbed and the quinoa is tender. You'll notice that the quinoa's outer germ ring will separate from the seed, indicating it's cooked. Turn off the heat and let the cooked quinoa rest, covered, for an additional 5 minutes. This resting time helps fluff up the quinoa and allows any remaining liquid to be absorbed.
Frequently Asked Questions
Is Quinoa Cross Contaminated with Wheat?
Cross-contamination between quinoa and wheat can occur, particularly if they are processed or packaged in the same facilities. Quinoa itself is gluten-free and doesn't naturally contain the proteins found in wheat that trigger reactions in those with celiac disease or non-celiac gluten sensitivity.
Is Quinoa a Good Source of Fiber?
Quinoa is also a good source of dietary fiber. Including quinoa in your diet can help you increase your overall fiber intake and support a well-functioning digestive system. Incorporating quinoa into your gluten free diet is essential.
Is Quinoa a Plant Protein Source?
Quinoa is a nutritious plant-based source of protein that offers health benefits. It's naturally gluten-free and contains all nine essential amino acids, making it a complete protein source, especially with gluten sensitivities.
Is Quinoa a Protein?
Yes, quinoa is considered a protein. It is one of the few plant-based sources that contain all nine essential amino acids, making it a complete protein source. Quinoa's protein content is one of its notable nutritional features, making it a valuable addition to both vegetarian and non-vegetarian diets. It's the perfect protein to add to a gluten free diet.
Testing Quinoa for Hidden Gluten
Quinoa is generally considered gluten-free, as it does not contain the same proteins found in wheat, barley, and rye. However, cross-contamination during processing and packaging can sometimes introduce gluten-containing particles into quinoa products.
Here are some steps you can take if you're on a strict gluten free diet:
Read LabelsLook for products that are labeled as "gluten-free" or have a gluten-free certification from a reputable organization. This indicates that the product has been tested and meets gluten-free standards.
Check for Cross-ContaminationLook for labels that mention whether the product was processed in a facility that handles wheat or gluten. These labels usually say something like "May contain traces of wheat" or "Processed in a facility that also handles wheat."
Buy Whole QuinoaIf you're concerned about cross-contamination, consider purchasing whole quinoa seeds instead of pre-packaged quinoa products. Whole quinoa seeds are less likely to be cross-contaminated since they haven't undergone extensive processing.
Can you Meal Prep Quinoa?
Cooked quinoa can be stored in an airtight container in the refrigerator for several days, making it a convenient gluten free grain option for meal prep.
We love being involved with the gluten free community providing safe gluten free alternatives to your daily life.