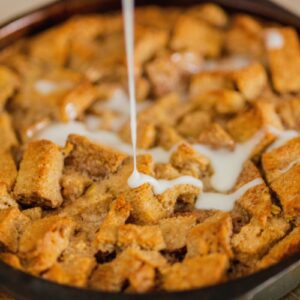 Sweet Potato Bread Pudding (Gluten-Free)
Ingredients
10 Cups Gluten-free bread Day old bread works best. You can lightly toast the bread if it's fresh to give it a stale texture.
2 1/2 cups Sweet potato puree skin removed, and cut into chunks (2 medium-sized potatoes)
4 cups Heavy cream or milk of choice
7 large Egg yolks
1 stick Butter
4 tbsp Sugar
1 tbsp Vanilla
1 tsp Cinnamon
1/2 tsp Nutmeg
Sauce for Drizzle On Top
1/2 stick Butter
1 cup Brown sugar
1/2 cup Heavy cream
1 tsp Vanilla
Instructions
Preheat oven to 350℉

Cut the bread into cubes and lay them on a baking sheet so they are not touching one another. Add the bread to the oven and toast for 4 minutes or until it is ever so crisp. Do not over-toast the bread. Remove from and oven and set aside.

In a large bowl, combine the heavy cream, egg yolks, sugar, vanilla, cinnamon, and nutmeg.

Add the lightly toasted bread to the mixture and using a spoon make sure all the pieces are covered. Cover with foil and let it sit for 30 minutes.

In a greased 9×13 pan, add half of the bread mixture and evenly across the pan. Scoop the sweet potato puree on top and evenly spread it out, Ad the remaining bread on top and spread evenly so there are essentially 3 layers to the pan (bread, sweet potato, bread)

Cover and bake for 30 minutes
Sauce
While the bread is baking, you can prepare the sauce to drizzle on top.

In a small saucepan, melt the butter and brown sugar on medium-low heat until melted and combined

Add the heavy cream and vanilla and cook until warm and bubbly.

Remove the bread pudding from the oven and pour the sauce over top.

Serve warm and enjoy!