The Twice-baked potato is a classic comfort food that many love, but if you're gluten-free finding the best recipe to fit your needs can be challenging. We are excited to share this gluten-free version of one of our favorite side dishes!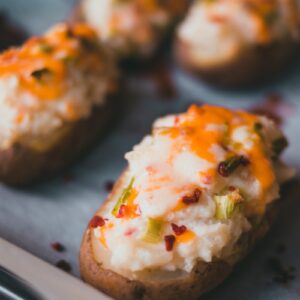 Twice Baked Potato (Gluten-Free Recipe)
A twice-baked potato cooked to gluten-free perfection
Ingredients
6 large Russet Potatoes Russet are great baking potatoes.
1/2 cup Sour Cream
1/2 stick butter softened 4tbsp
1/3 cup Cream Cheese Make sure to check the label for gluten-free. We used Philadelphia cream cheese.
1/3 cup Milk 2% is used in the recipe but you can use what you like.
1/4 cup Chives
1 1/2 cups Shredded Cheese cheddar is recommended but you can use any cheese that you can shred.
2 tbsp Olive oil
Salt and Pepper to taste
Instructions
Preheat the oven to 400℉

Wash the potatoes in cold water and pat dry.

Wrap the potatoes individually in aluminum foil and place them on a baking sheet. (you can poke a few holes in the potato with a fork to help speed up cooking time.)

Bake for 1 hour or until the potato is fully cooked through.

Remove from oven and unwrap from foil. Let them cool for about 15 minutes. This is important because if you cut them they're super hot, the skin can easily rip, and your potato boat will not be easy to stuff.

Once slightly cooled, slice the potatoes in half lengthwise.

Scoop out the potato guts so you can make potato skin boats. Place the potato scoops in a large bowl.

Add in the salt/pepper, butter, sour cream, cream cheese, and milk. You can use a hand mixer or a large fork to eventlymix everything together. You can choose to make it smooth or lumpy depending on how much you mix.

Once mixed, add in the green onions and mix through.

Scoop the mashed potato mixture back into the potato skins and top with the shredded cheese. Place on the baking sheet and bake for 20 minutes or until the cheese is melted and bubbly.

Remove from oven and sprinkle with remaining green onions. Serve warm and enjoy.